Contact Us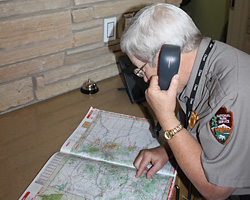 Phone
Quarry Visitor Center in Utah (staffed year round)
(435) 781-7700
Canyon Visitor Center in Colorado (staffed only in summer)
(970) 374-3000
Email
You can also email us for questions about the monument.
Mail
(for Visitor Information)
Dinosaur National Monument
PO Box 128
Jensen, UT 84035
or for our Business Offices
Dinosaur National Monument
4545 E HWY 40
Dinosaur, CO 81610
Fax
(970) 374-3003
Area Information
Do you need information about restaurants, hotels, or other amenities near Dinosaur National Monument? Please contact these tourism offices:
Uintah County Travel & Tourism (Vernal, Utah)
(800) 477-5558
Rangely, Colorado Chamber of Commerce
(970) 675-5290
Moffat County Tourism
1111 West Victory Way (inside the Centennial Mall behind Village Inn on Hwy 40)
Craig, Colorado
(970) 824-2335


Did You Know?

Mormon crickets are wingless grasshoppers that swarm across roads through the summer in the western United States. These flightless insects can form such large swarms that the road appears to move and change colors where they cross.