Contact Us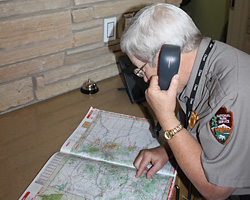 Phone
Quarry Visitor Center in Utah
(435) 781-7700
Canyon Visitor Center in Colorado
(970) 374-3000
Email
You can also email us for questions about the monument.
Mail
Dinosaur National Monument
4545 E. Highway 40
Dinosaur, CO 81610-9724
Fax
(970) 374-3003
Area Information
Do you need information about restaurants, hotels, or other amenities near Dinosaur National Monument? Please contact these tourism offices:
Uintah County Travel & Tourism (Vernal, Utah)
(800) 477-5558
Rangely, Colorado Chamber of Commerce
(970) 675-5290
Moffat County Tourism
1111 West Victory Way (inside the Centennial Mall behind Village Inn on Hwy 40)
Craig, Colorado
(970) 824-2335


Did You Know?
Split Mountain, the name John Wesley Powell gave to one of the Dinosaur's most recognizable features, is aptly named: over millions of years, the Green River has carved a canyon into the center of the mountain, splitting it in two.