We will try to update this page in a timely manner, however, due to the range in elevations and soil types for our roads and trails, conditions can change rapidly in Dinosaur National Monument. The Echo Park and Island Park Roads often become impassable after a rain storm. during winter, some areas may receive heavy snow while others are clear and dry. If you are headed into the park and you have doubts about the accuracy of this information, please call the visitor center at (435) 781-7700 or email us.
January 4, 2016 Update
Cold and snowy weather has made many of the trails and roads snow covered. Many monument roads are not maintained during the winter. Travel is not advised on Island Park, Echo Park, or Yampa Bench roads at this time. Check weather forecasts as conditions may change rapidly.
Dinosaur Quarry Area (Utah)
Split Mountain Road: Open, patchy snow and ice
Cub Creek Road: Open to intersection with Blue Mountain Road with patchy snow and ice on the road. The road to the Josie Morris Cabin is closed for the winter. That portion of the road is open to hiking and cross country skiing if conditions permit.
Fossil Discovery Trail: Patchy snow
Sound of Silence Trail: Patchy snow. Lots of elk/deer trails may create some confusion on location of trail.
Desert Voices: Patchy snow
River Trail: Patchy snow
Box Canyon Trail: Patchy snow
Hog Canyon Trail: Patchy snow
Rainbow Park / Island Park Area (Utah)
Island Park Road: Road is plowed to the monument boundary but is snow covered beyond that point. This road is not maintained in winter. Travel is not advised on the road during winter or immediately after a snow or rain storm as it becomes extremely muddy and slippery.
Jones Hole Area (Utah)
Road to Fish Hatchery: Snow covered but plowed. Watch for blowing or drifting snow
Jones Hole Trail: Patchy snow and some muddy areas.
Ely Creek Trail: Patchy snow. Not maintained beyond waterfall to Ruple Ranch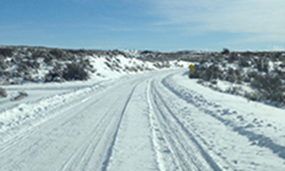 Harpers Corner/Echo Park Area (Colorado)
Harpers Corner Road: Road is closed at the Plug Hat Picnic Area, approximately 5 miles from US Highway 40, with compact snow and ice on roadway. Watch for falling rocks at Plug Hat Butte. Watch for animals, especially at dusk and dawn. The closed portion of the road past the gate Road is open for skiing and snowshoeing and snowmobiling to the junction with the Echo Park Road.
Echo Park Road: Snow covered. This road is not maintained in winter and travel is not advised.
Yampa Bench Road: Snow covered. Road is not maintained in winter and travel on it is not advised.
Access Roads to Yampa Bench Road and Monument Boundary: Roads are snow covered. Some roads are not maintained in the winter.
Harpers Corner Trail: Snow covered
Ruple Point Trail: Snow covered
Deerlodge Park (Colorado)
Deerlodge Road: Patchy snow and ice. This road is not maintained in winter.
Gates of Lodore (Colorado)
County Road 318: Patchy snow
Roads 34 & 34N: Patchy snow