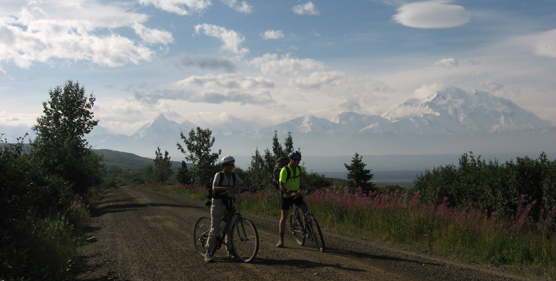 photo courtesy jessica toubman
Things to Know While Cycling
Bicycling is a great way to enjoy the Denali Park Road. Help us make it a pleasant and safe experience.
Cyclists

may ride

on park roads, parking areas, campground loops and the designated Bike Trail between the Nenana River and the Denali Visitor Center. Bicycles are prohibited on all other trails.
Stay attuned

to road surface, traffic, and weather conditions as you're riding. Change comes quickly and constantly here. Travel single file, keep to the right, and comply with traffic regulations.


Take it easy when riding down hills - the road features many steep sections with blind corners, and cyclists have been known to accidentally veer into oncoming bus traffic (or large animals, like grizzly bears) when traveling too fast down hill. Such a situation puts both the cyclist, and the bus passengers, in danger.

Motorists

generally show courtesy to cyclists by slowing to "no-dust" speeds and passing only when it is safe to do so. Return the favor. Slow down, move to the right, or stop when you encounter vehicles.
Bicycles can be

transported

on the Savage River Shuttle and some shuttle buses. Space is limited. Check availability at the Wilderness Access Center in the park or on among the shuttle bus schedules on our site.
Bike racks

are provided at campgrounds, rest areas and visitor centers. If you go day hiking from the Park Road, carry your bike 25 yards from the roadway and hide it from view. If you're leaving it overnight, tag it with contact information. Ask a park ranger for details.
Wild animals

are curious and opportunistic. Food and scented items must not be left unattended at any time. Use a food storage locker provided at campgrounds and other locations, or use a bear-resistant food container provided free with a backcountry camping permit.
Cycling is a great way to see Denali National Park and get some exercise at the same time. Visitors are allowed to bike all 92 miles of the Park Road.
The road is paved to mile 15 (Savage River) and is graded gravel beyond. Much of the roadway beyond mile 31 is narrow and there are no shoulders. Travel restrictions for motor vehicles begin at mile 15, so traffic volume will ease up after this point.
Starting Your Trip
For a day-trip, you are welcome to either start at the park entrance, or drive to Savage River and begin cycling farther into the park from there. Alternatively, you can buy tickets for a
shuttle bus
, ride the bus into the park, and get off at whatever point you choose to start cycling. This allows you to tailor just what parts of the Park Road you ride, although it involves the expense of the bus tickets. Buses are limited to two bikes per bus, and not every shuttle is able to carry bikes. If you choose to
reserve a bus in advance
, you should call 1-800-622-7275 and specify that you wish to bring bikes on your shuttle.
If you wish to camp overnight in the park during your cycling trip, you need a backcountry permit and will need to follow some slightly different rules - please refer to our
backcountry camping and cycling
page for more information.
On the unpaved portion of the Park Road, motorists generally show courtesy to cyclists and do their best to avoid "dusting" them by driving very slowly. You can return the favor by slowing down or stopping when you meet a bus on a narrow section of road. This makes it much easier for buses and other vehicles to pass you on the sometimes quite narrow road.
Spring Cycling

Increasingly popular is a visit in spring to cycle the Park Road.
Road crews begin plowing the Park Road in late March, ultimately opening it to mile 30, Teklanika River. However, spring snow and wintry conditions can hamper their progress, and it is difficult to predict each year just when the road will open. We encourage you to call or email before
visiting in the spring
.
Once the road has opened, however, the public is welcome to drive into the park and bike farther in than vehicles may drive. Day trips into the park require nothing more than the usual
park entrance fee
.
Overnight cycling trips
are possible, too, with a backcountry permit.
The Kantishna Area
Some former mining routes originate in the Kantishna area, at the western end of the park road. Most routes cross private lands. Because of the need to get permission from the landowner before using these routes, you may be able to use only a portion of them. You are responsible for not trespassing on private property.
Other Considerations
Cyclists need to keep in mind a few other special considerations. First, there are no repair stations along the way - so please plan to fix your own flats and other common problems. Also, Eielson Visitor Center at mile 66 is the only place to refill your water - so make sure you carry sufficient water or have a filter / potable aqua tablets for water from streams and rivers. Obey all
area closures
and treat wildlife the same as if you were on foot - you cannot run faster than a bear, and you cannot cycle faster than a bear. Plan for many types of weather at any time in the park. Sun, rain, hail, wind and even snow are all possible in the summer.
Using the park buses

Several shuttle and camper buses each day are equipped to carry two bikes per bus into the park. Check our bus concessioner's webpage and/or our shuttle page for more information on which buses each day are equipped with bike racks.