Road Open To: Mile 3 (Park Headquarters)

The Park Road is currently open to Mile 3, Park Headquarters. Snow and ice beyond that point prevent vehicle travel, though pedestrian travel (skiing, mushing, etc) is permitted. More »
Bear Resistant Food Containers (BRFCs)
Bear Resistant Food Containers (BRFCs)
These hard plastic portable containers are a vital part of Denali's bear/human conflict management program. You must store all food, garbage, and other scented items in a BRFC when camping overnight in Units 1-21 and 23-43. BRFC's are recommended for overnight camping in all other units. Their consistent use has resulted in a bear population that does not associate humans or their property with food sources. A small BRFC weighs 3 lbs. and holds 3-5 days of food for one person, and the larger BRFC weighs 5 lbs. and carries 7-10 days of food. BRFCs are issued free of charge with backcountry permits and must be returned within 48 hours of completion of your backcountry trip. If the BRFC is lost or damaged, you may be held responsible for its replacement.
BRFCs Approved for Use in Denali National Park & Preserve
The Interagency Grizzly Bear Committee (IGBC) is the authority consulted for what products are and are not permissible in Denali.

If using your own BRFC, be prepared to show it to the BIC staff for approval before a permit is issued.

The following brands of BRFCs are approved for use on backcountry trips in Denali:
Backpacker's Cache by Garcia Machine (this is the brand issued to permitted backpackers free of charge by the Backcountry Information Center)
Bear Keg by Counter Assault
Contender 101 & 102 by The Bare Boxer

BearVault models BV250 Solo, BV300, BV 350 Solo, BV 400, BV450 Solo and BV500

To view photos of these containers and additional product information, click here.

The following brands of BRFCs are NOT PERMITTED for backcountry use in Denali:
BearVault models BV100B, BV110B and BV200
Ursack or ANY OTHER Kevlar, fabric or fabric-aluminum hybrid bear-resistant bag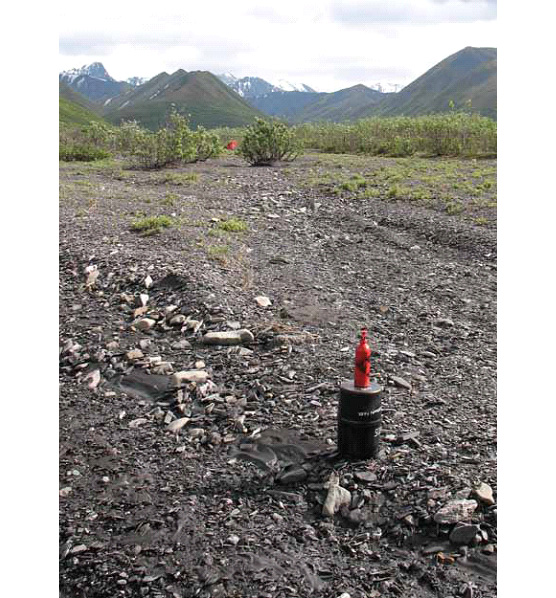 nps photo
Did You Know?

Mount McKinley, located within Denali National Park and Preserve, is the highest mountain on the North American continent. Measured from the 2,000 foot lowlands to its snowy summit at 20,320 feet, the mountain's vertical relief of 18,000 feet is greater than that of Mount Everest.