Climbing Regulations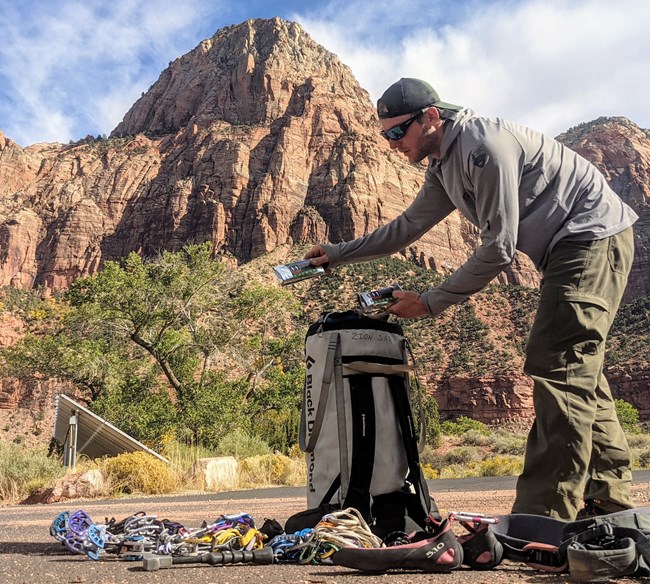 Overnight Bivys
Permits are required for all overnight bivouacs, but are not required for day climbs. Bivy reservations can be made in advance for the most popular climbs. All permits must be picked up at the Zion Canyon Visitor Center the day before or the day of your climb.
Learn more about climbing bivy permits here.
It is illegal to camp at the base of the wall or in your vehicle inside the park, unless in an established campground with a campground reservation.
Human Waste
Tube or bag human waste and carry it out. Do not drop your waste or leave it behind in any way.
Guiding
Commercial guiding is not allowed in the Zion Wilderness, which includes all Zion climbs.
Bolting and Route Development
The National Park Service does not inspect, maintain, or repair bolts and other climbing equipment anywhere in the park. Make sure your climb is adequately protected by visually inspecting any pre-existing bolts or fixed pins. Your safety is your responsibility.
Zion National Park is world renowned for big wall and traditional climbing. Most routes in the park offer adventurous climbing utilizing traditionally placed protection such as cams, nuts, etc. Bolted routes, also known as sport climbs, are rare in Zion National Park, prohibited in the Zion Wilderness, and are often sparsely protected.
A fixed anchor is defined as any piece of climbing equipment that is left in place to facilitate a safe ascent or rappel. Examples include, but are not limited to, bolts, pitons, and webbing. Only place fixed anchors as a last resort. Before placing fixed anchors on a route, think seriously about whether the route warrants them. All bolts must be placed using a hand drill only. Power drills are not allowed in Zion.
"The placement of fixed climbing anchors, including climbing bolts, for the creation of bolt intensive face climbs, also called sport climbs, within the Zion Wilderness is prohibited." -Superintendent's Compendium. Climbers should seek to develop routes which can be primarily protected by traditional climbing equipment, with bolts being used only when necessary.
"The establishment of bolt intensive face climbs is considered incompatible with wilderness preservation and management due to the concentration of human activity which they support and the types and levels of impacts associated with such routes." -NPS Director's Order 41
Equipment, including but not limited to fixed ropes, may not be left unattended for longer than 24 hours or it will be considered abandoned property. Abandoned property may be removed by the NPS and is subject to the following regulations: CFR 2.22
If you are planning on establishing a new climbing route in Zion National Park, please come to the Wilderness Desk at the Zion Canyon Visitor Center to discuss the proposed route with a ranger. We can help you determine if your proposed route is in designated Wilderness and are happy to discuss any other important considerations. Contact the Wilderness staff at 435-772-0170 for additional information.
Last updated: October 23, 2021