Climbing Regulations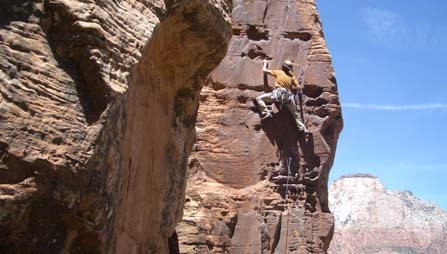 Climbers can access routes along the main canyon/Zion Canyon Scenic Drive by obtaining a shuttle ticket and riding the park shuttle up-canyon, obtaining a private commercial shuttle, bicycling, or walking.


Watch a video about wilderness.

Watch a Leave No Trace video.
Regulations
Permits are required for all overnight bivouacs, but are not required for day climbs.

It is illegal to use a power drill to place bolts.

It is illegal to camp at the base of the wall or in your vehicle.

Tube or bag human waste and carry it out. Do not drop your waste.
Guiding
Commercial guiding is not permitted in the Zion Wilderness.
Minimum Impact Climbing
Hundreds of people come from all over the world to experience Zion's big walls. Please help us keep them beautiful by practicing Leave No Trace principles.

When approaching a climb use established trails to prevent further erosion of slopes.

White chalk causes undesirable visual impacts; add red pigment if chalk is used.

Gardening, the pulling of vegetation from cracks, is prohibited.

Do not remove fixed pins.

Never climb directly above trails where hikers may be hit by dislodged rocks.

Remove all old, worn rope and equipment.

Make sure your climb is adequately protected by visually inspecting any pre-existing bolts or fixed pins.
Last updated: September 28, 2020