Wilderness Climbing Permits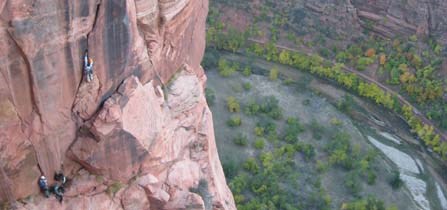 Permits are not required for day climbs, but they are required for all overnight bivouacs. It is illegal to camp at the base of the wall or in your vehicle.

Advance Reservations: up to 3 months in advance
Over half of all available permits are available using an online calender reservation system. Reservations are available online during a three month time frame. On the fifth day of every month at 10:00 am MT, reservations for the next month become available. If they are still available, they can be made until 5:00 pm MT on the day before your trip.
Make a Climbing Reservation: 3 months in advance

For a trip in... calendar reservations are available on....
March.... January 5
April... February 5
May.... March 5
June... April 5
July... May 5
August... June 5
September... July 5
October... August 5
November... September 5
December... October 5
January... November 5
February... December 5
There is a $5.00 non-refundable fee for an online calendar reservation, and there is an additional charge for a permit that is determined by the size of your group.

Climbing areas reservable online:
Desert Shield
Lunar Ecstasy
Monkeyfinger
Moonlight Buttress
Prodigal Sun
Spaceshot/Leaning Wall
Touchstone Wall
Tricks of the Trade
Walk-In Permits
About one-third of climbing permits are not availble through the reservation system. They are available as walk-in permits and can be obtained at park visitor centers the day before or the day of your trip.
Hours of Operation

Zion Express Membership
If you are a frequent visitor to Zion, consider enrolling in the Zion Express Membership. It allows members who have obtained a reservation to convert it to a permit online, three days before their trip. The entire permit process can be completed online. Stop by the Wilderness Desk to enroll.
Permit Cost:
$15.00 - 1-2 people
$20.00 - 3-7 people
$25.00 - 8-12 people
Last updated: June 21, 2018