News Release
Zion National Park records 90 millionth shuttle boarding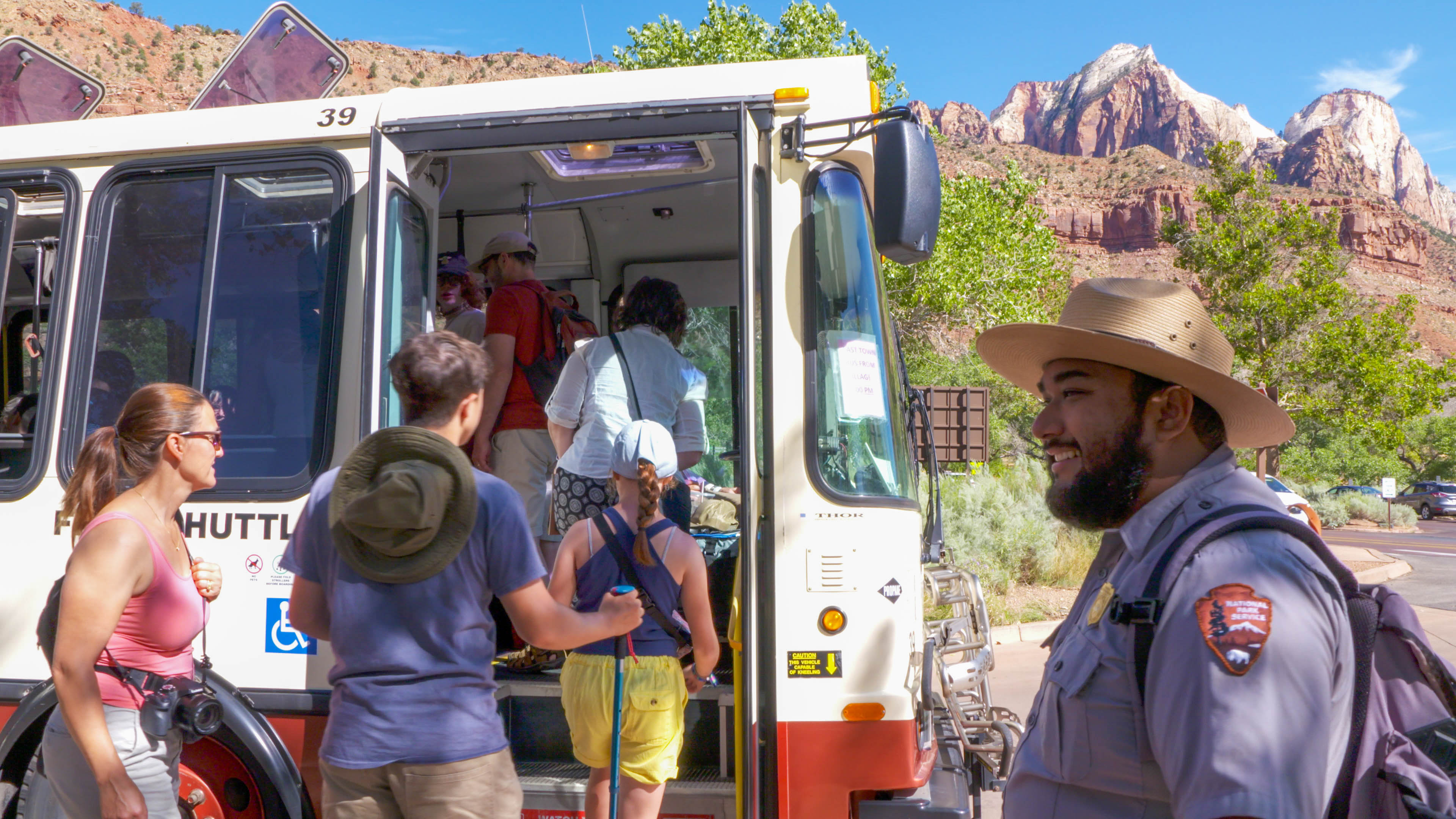 News Release Date:
August 30, 2023
Contact: zion_newsdesk@nps.gov, 435-772-0162

SPRINGDALE, Utah – Zion National Park recently recorded the Zion Canyon Shuttle System's 90 millionth boarding.
 
"The Zion Canyon Shuttle System has been essential in our work conserving this special place so that visitors can enjoy it forever," said Jeff Bradybaugh, Zion National Park superintendent. "In 2000, this was a significant change in how we addressed increasing visitation in Zion Canyon. This milestone demonstrates how successful its operation has been. I am thankful to the women and men who operate our shuttle system, providing safe and efficient transportation to thousands of park visitors every day!"
 
History 
Zion National Park developed the system in consultation with our Town neighbors, engineers at the Federal Highway Administration and UDOT, and with state, county, and municipal partners' input. The resulting system, which has operated from spring to winter every year since 2000, provides service for millions of riders a year.  
Since the shuttle system began operation, the number of visits recorded at Zion has risen from about 2.4 million in 2000 to a record 5 million in 2021. With the number of visits still consistently exceeding those recorded before the start of the COVID-19 pandemic, Zion is making other improvements that will sustain the system's success into the future. 
In 2021, Zion National Park received a $33 million grant from the U.S. Department of Transportation (USDOT) to begin replacing its aged shuttle bus fleet with new battery-electric transit buses. The fleet replacement project will couple funding through USDOT's Nationally Significant Lands and Tribal Program with contributions from the National Park Service, Iron and Washington Counties and the Zion National Park Forever Project, the park's official nonprofit partner.

The Future 
Later this summer, Zion will begin the phased retirement of its propane powered fleet of shuttle buses. The park will begin service with several new, electric shuttles on the Springdale Line in fall 2023. The park plans to bring additional electric buses into service on the Zion Canyon Line in 2024. 

Photos and Video
Get public domain photos and videos.
 
About the National Park Service. More than 20,000 National Park Service employees care for America's national parks and work with communities across the nation to help preserve local history and create close-to-home recreational opportunities. Learn more at www.nps.gov, and on Facebook, Instagram, Twitter, and YouTube
Last updated: August 30, 2023