News Release
See video of Utah Department of Public Safety rescuing two stranded hikers in Zion National Park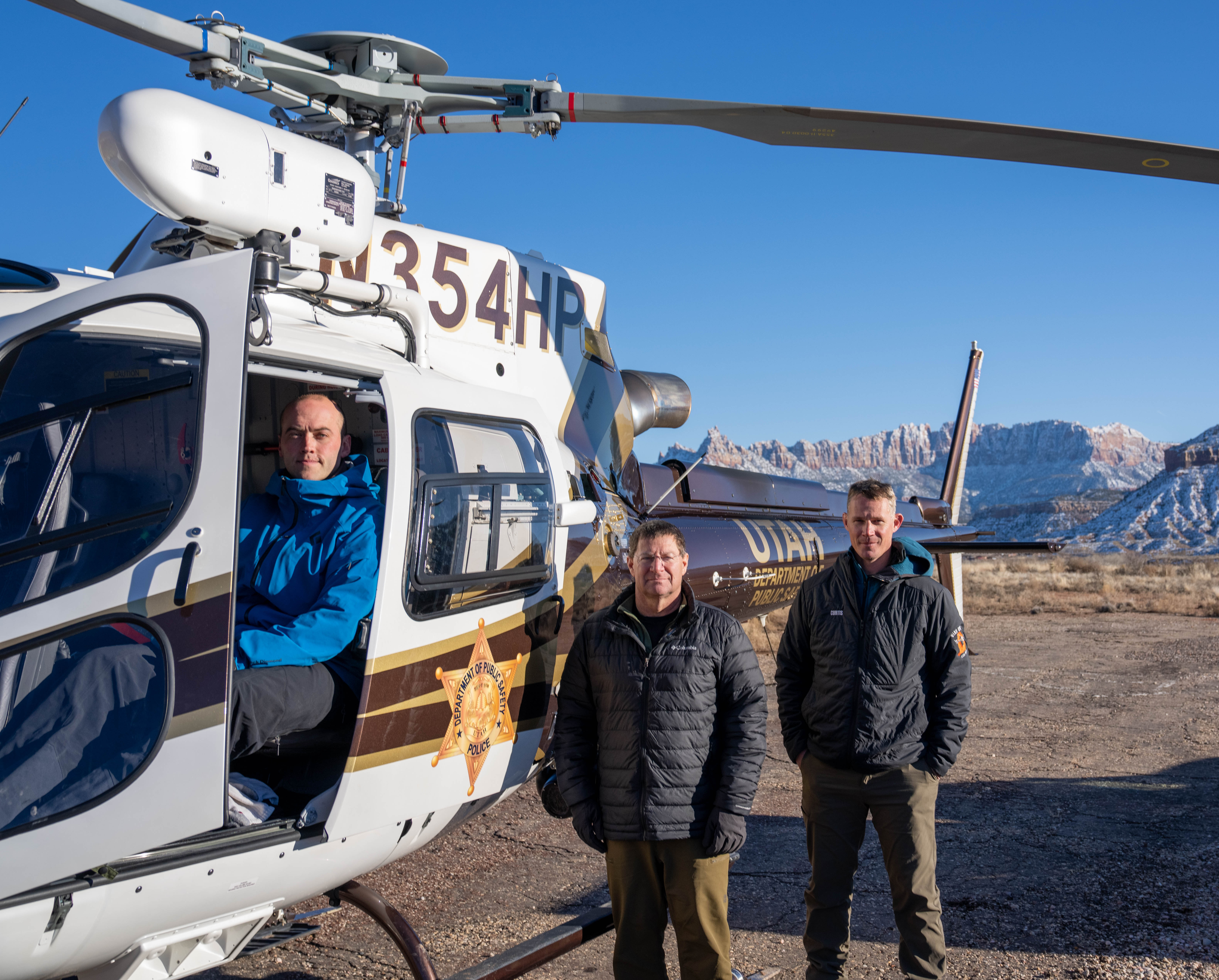 News Release Date:
January 26, 2023
Contact: National Park Service, Jonathan Shafer, 435-772-0145
Contact: Utah Department of Public Safety, Cameron Roden, 385-290-2925
SPRINGDALE, Utah – Two hikers stranded in freezing temperatures for more than 24 hours were rescued from a remote part of Zion National Park thanks to collaboration between the National Park Service and Utah Department of Public Safety.
The rescue
On Saturday, January 21, Zion received a report of two overdue hikers. The pair attempted to hike the Subway route from the top-down on Friday, January 20, but they did not return as planned. In response, Zion sent rangers up the Kolob Terrace Road to stage a rescue team and to prepare a landing zone for a helicopter from the Utah Department of Public Safety.
The helicopter crew, from the Utah Department of Public Safety, used Forward Looking Infrared (FLIR) to locate the hikers. They then lowered a rescue specialist, who assisted the hikers into the hovering helicopter using a hoist.
 
The Utah Department of Public Safety crew transported the hikers to a waiting National Park Service medical team for care. One hiker was dangerously hypothermic and transported to a hospital. That hiker is now reported in stable condition. This rescue could not have happened as quickly as it did without the support of Utah Department of Public Safety and their St. George based helicopter.
"We dedicate a lot of time and training to be prepared for any situation that we may face. Although we cannot train for every scenario, the crew was well prepared for this mission, and did an outstanding job evaluating the situation and coming up with a way to overcome the difficulties of this particular rescue. We appreciate working with the Rangers at Zion and their professionalism.  They always do an excellent job thinking of contingency plans and providing great support to the crew during the missions," Chief Pilot Luke Bowman Utah DPS said.  
"We appreciate our partnership with the Utah Department of Public Safety. Their execution of this rescue was outstanding," Zion Chief Park Ranger, Daniel Fagergren said. "Helicopters are not always available, and, even when they are, conditions don't always allow them to fly. Winter conditions create an extremely challenging rescue environment. Currently, many of our canyons drop to sub-zero temperatures at night, streams and pools are iced over and deep snow covers the trails at higher elevations. When you visit, you need to understand and be prepared for the conditions you might face here. These kinds of operations are inherently dangerous for our staff and our partners, and they don't all end like this one."
Plan ahead
Conditions at Zion can change quickly, and it is essential that you prepare before you visit the park. Use the free resources provided by the National Park Service on our park Website, and the NPS App so that you know before you go. When you get to the park, ask a ranger what to expect, and do not take risks that will endanger you or potential rescuers.
 
See the rescue
See video of the rescue provided by the Utah Department of Public Safety.
Last updated: January 26, 2023