Museum Collections and Archives
The Zion National Park Museum Collection contains over 300,000 documents, photographs, oral histories, slides, and maps, and artifacts related to topics ranging from before the establishment of the park to the Civilian Conservation Corps to the park's current activities. Approximately 22,500 objects are housed in the natural history collection, including study skins of mammals and birds, insects. paleontological specimens, and preserved plants. Zion National Park's collection of cultural history artifacts contains over 30,000 objects that tell the stories of indigenous life in the region, the early Church of Latter-day Saints settlements and development of the canyon, the historic lodge and the Union Pacific Railroad, projects completed in the 1930s by the Civilian Conservation Corps, the planning and implementation of the park's shuttle system, and the historic and contemporary works of art that have depicted Zion National Park.

The Zion National Park Museum also manages the museum collections for Bryce Canyon National Park and Cedar Breaks National Monument. These Include: historic collections, photographs, geological and paleontological artifacts, pressed plant specimens, art, and archaeological artifacts. There are over 250,000 artifacts in the Bryce Canyon National Park Collection, including over 6,000 archaeological and 12,000 paleontological artifacts. The Cedar Breaks National Monument Collection contains over 5,000 artifacts, including over 1,000 biology specimens. In total, the Zion Museum manages over 880,000 items.

The Zion Human History Museum exhibits artifacts and archives from the permanent collections. The museum has a temporary gallery next to the Zion Forever Project gift store which hosts changing exhibits. For more information about the Museum and Archive Program at Zion as well as the history of Zion's museums, check out the Museum Program and Museum History resources created of the 2019 exhibition, Keepers of Sanctuary: Zion's First 100 Years.

Access and Use
The museum collection is open by appointment only. Hours are 8:00 am-4:30 pm Monday through Friday, excluding federal holidays, and subject to staff availability. Please contact museum by e-mail at zion_museum@nps.gov if you have research requests, are interested in donating an object to the museum, or have further questions.
Images
Digitized materials from the Zion museum, including historic photographs, herbarium specimens, and more can be found at NPGallery.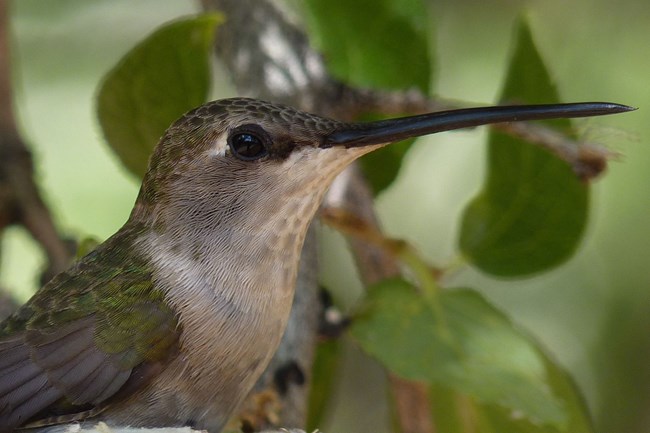 Feathered Treasures: Birds in Zion National Park
Learn more about the Birds of Zion. Explore observable characteristics such as bills and talons, plumage, size and shape used to identify bird species in the wild.
Last updated: August 2, 2022