Collections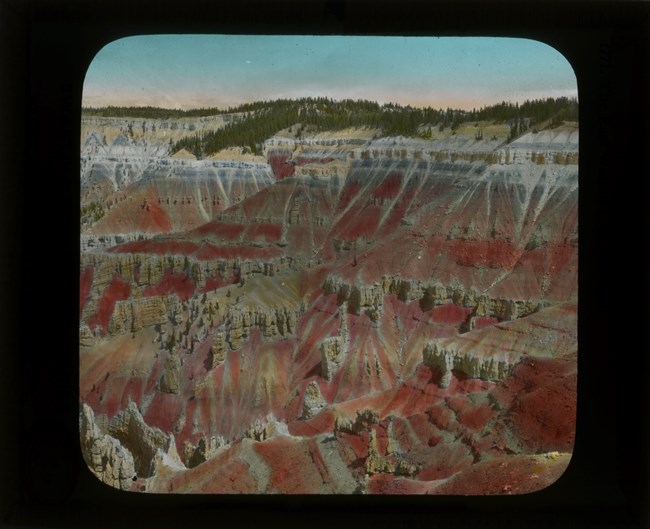 Museums in the National Park Service collect, preserve, study, and provide access to both natural and cultural resources and preserve these materials as educational tools for staff, researchers, and the public. The museum collections and archives at Cedar Breaks National Monument includes over 70,000 of these important items such as archival documents, natural history specimens, archeological artifacts, photographs, historic objects, and ethnographic objects. These collections contain materials which detail the history of the park from its early development and the Civilian Conservation Corps to the plants and animals of the area.
Access and Use
The museum and archives collections of Cedar Breaks are housed at Zion National Park and are managed alongside the collections from Bryce Canyon National Park. Research in the Bryce Canyon, Cedar Breaks, and Zion collections are available by appointment only. Historic photographs and digital collection items can be viewed anytime on NPGallery. For more information about hours and access, visit the Zion Archives website.
Archives
The National Park Service is reorganizing the Cedar Breaks Archives. We will share new finding aids when the reorganization is done. Please contact us at e-mail us with any collections related questions.
Research Permits
Cedar Breaks includes about 80% recommended wilderness, so research and other activities occur with that designation in mind. The park's high-altitude location on the west edge of the Colorado Plateau makes it a scientifically unique area, containing a range of life zones from cold desert to alpine tundra as well as an impressive array of geologic formations. Significant plants in the park include several rare species, namely Cymopterus minimus, Silene petersonii, and Erigeron proselyticus, as well as the bristlecone pine, Pinus longaeva, some of which are estimated to be over 1650 years old. The Cedar Breaks archives house research from permitted studies conducted in the monument. More information about research permits and researcher requirements can be found on the National Park Service Research Permit and Reporting System.
Last updated: November 1, 2022