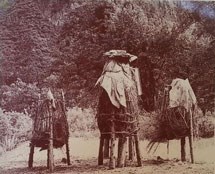 Acorn Granaries
The oak represented a stable food source because acorns could be stored for extended periods. Black oak acorns were preferred over other oaks by Miwok, Mono Lake Paiute, and Western Mono peoples. Black oaks don't consistently produce good crops of acorns in good years, each family might collect and store about 2,000 pounds of acorns for use over the next several years. Yosemite Valley supports some of the best black oak woodland in the Sierra Nevada, and early people lit fires regularly to maintain them. Fires killed young pines and cedars that could outgrow and overshadow the oaks.

The chuckah was the Ahwahneechee's pantry. Each chuckah could hold several hundred pounds of acorns, providing a substantial part of a family's diet throughout the year. People built chuckahs with sloping tops to shed rain and snow and lined them with aromatic plants that naturally repel insects.

Acorns were gathered in the autumn, dried, and stored until needed. Before they were eaten, the nuts were cracked, the peanut-like skin removed, and they were pounded to a fine flour. To remove bitter tannins, the flour was leached, placed carefully in a sand basin, and water poured over it for several hours. The leached flour was then mixed with water in a watertight cooking basket. Special, red-hot stones were placed in the basket, stirred constantly, and after about 20 minutes, the acorn mush boiled, thickened, and was fully cooked. The mush was called nu'ppa by the Central Miwok, or sometimes nappati by the Southern Miwok. The Miwok also made 'ule', a jelled loaf of thick acorn mush.