Indian Village of the Ahwahnee
Bark House
Bark-covered homes were used by Miwok people living in Yosemite Valley. Built on a framework of pine or cedar poles lashed with grapevines, they were long-lasting. Today many people think of them as the only kind of Miwok house, but this was not the case. Only brush-covered, dome-shaped dwellings appear in the earliest-known photographs of Miwok people. When bark covered structures are first evident in photos of Yosemite, they were simple shelters which provided protection from summer sun and thunderstorms rather than for year-round use.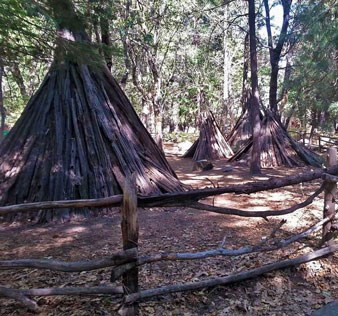 The construction of a cedar-bark home required a number of old-growth cedar trees which had been dead for at least two years (allowing the bark to loosen). Cedar bark was easier to obtain after the start of European-American lumbering operations. Most photographs of Miwok bark homes taken at the turn of the century show commercial lumber also used in the houses' construction.
When materials were readily available, bark homes were relatively easy to build and lasted a number of years. It is more difficult to make brush shelters that effectively shed rain and snow, and they frequently need re-building.
They look like tipis, but they are not called tipis. Tipis are constructed with a lodgepole pine framework with buffalo hide covers, and they are typically used by nomadic Plains Indians.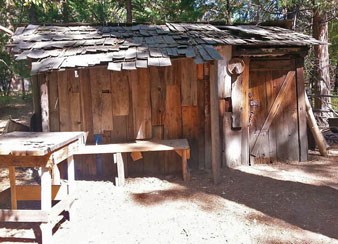 Miwok Cabin
Soon after non-Indians settled in Yosemite in the 1850s, local Indian people began emulating the building styles of the Euro-Americans. Cabins such as the one pictured were used as residences in this area until the 1920s. Built directly on the ground, they often had a central fire pit and a smoke hole in the roof, blending elements of traditional Miwok architecture with those of Euro-Americans.
Today, Miwok and Paiute people live in houses, apartments and mobile homes, just like other Americans. While some people have built traditional dwellings for demonstrations purposes, living in old-style houses is a thing of the past.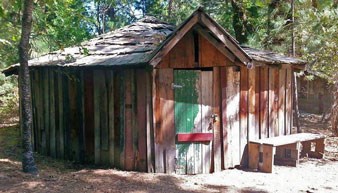 Chief's House
Miwok leaders had larger homes than others in the village, for they often hosted dinners and events for large groups of people. By the turn of the century many Miwok people built structures like the one shown in the picture: they were based on Miwok homes, but built using Euro-American technology. At least two houses like this were built and occupied in Yosemite.
One, built in the 1920s near today's Yosemite Medical Clinic, belonged to Mary Wilson, a Miwok leader. It was probably destroyed after Wilson's death in 1930. After the Yosemite Indian Village was moved in the 1930s, Wilson's daughter, Phoebe Hogan, had a similar structure built near her home, just west of Camp 4. It was razed in the 1960s when the last Indian village was removed from Yosemite Valley.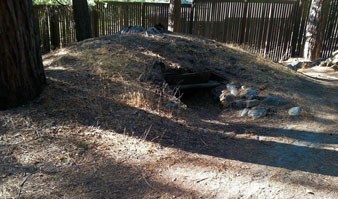 Sweathouse
The sweathouse, heated by an oak-wood fire, was used by men before hunting and for curative purposes. After one to three hours in the sweathouse, the deer hunter would emerge and bathe himself with wormwood or another aromatic plant to remove human scent, which would allow the hunter to get closer to his quarry.
This sweathouse replaced several earlier sweathouses that stood on this site. The first was built in the 1930s by Chris Brown ("Chief Lemee"), as part of the re-created Indian Village constructed here in the late 1920s.
This sweathouse is built on a framework of incense cedar poles covered with successive layers of buckbrush, wormwood, pine needles, cedar bark and earth.
Ceremonial Roundhouse
The roundhouse, or hanni', was the center of village religious activities and focal point of large, affluent villages. Most Miwok roundhouses were earth-covered, but after contact with non-Indians, the majority were built with split-wood shake roofs, as they were easier to maintain.
This roundhouse has a roof of incense cedar bark, a roof-style that probably did not occur before contact with non-Indians. Built in 1992, it replaced one that was built on this site in 1973. The 1992 construction was a cooperative effort of the National Park Service, the American Indian Council of Mariposa County, the Youth Conservation Corps, and Yosemite Conservancy.
The roundhouse is used for ceremonial activities by members of the local Indian community at various times of the year.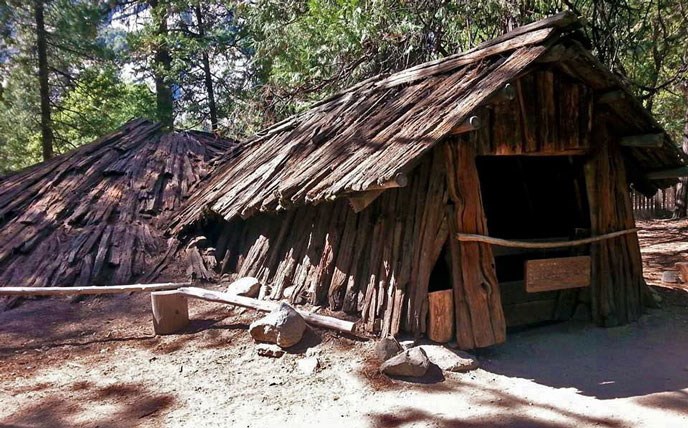 Last updated: September 27, 2021