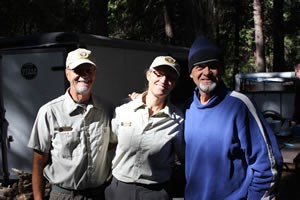 Overview
Individual volunteer and volunteer internship positions generally last at least 30 days for those who stay in the park, or at least three months for those who commute. These positions may include camp hosts, visitor information assistants, wildlife researchers, wilderness patrols, volunteer crew leaders, etc. Volunteers who will stay in the park (in park housing or campgrounds) must work a minimum of 32 hours per week. Park housing is very limited, as are campsites that are available for individual volunteers. Not all volunteers live in the park. Volunteers from within commuting distance may volunteer intermittently. "Virtual volunteer" opportunities also exist, allowing volunteers to support Yosemite from their own homes.

Individual positions can be very competitive. All specific positions are advertised on https://www.volunteer.gov/gov. You may also fill out a general position application online or by downloading the volunteer application and mailing or faxing it to us (volunteer application [52 kb PDF]). We keep general applications on file in case a position that fits your interests comes open (applications are kept until September 30 of each year; you must reapply for future years).
What's the difference between a regular volunteer position, and a volunteer internship? Volunteer Internships are full-time (40 hour/week) career-development positions with an educational component. They should not be confused with federal internships in the Pathways program, which may be paid positions. Student Conservation Association Interns, some Yosemite wilderness positions, and the Yosemite Leadership Program are some of our intern programs.
The park partners with non-profit organizations to facilitate some volunteer opportunities, such as month-long visitor information assistants through the Yosemite Conservancy. For these positions, apply directly through the partners.