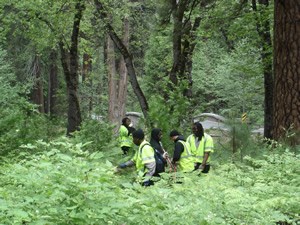 Overview
Throughout the year, we have several special events such as Junior Ranger Day, Earth Day (both in April), Apple Picking Day (mid August), and Yosemite Facelift (late September), where volunteers can just show up, no application needed. We list these events on this website when we know the dates for each year.

For all special events and drop-in days, the park asks participants to wear long pants and closed-toe shoes, appropriate gear for the weather, and bring sun protection, water, and snacks. The park provides tools and protective equipment.

All participants must sign a volunteer agreement [42 kb DOCX]. If you'd like to fill out the in advance, this form will be posted with each special event or drop-in project as they are planned (you can also sign one on the day of the project on-site). Guardians must sign the form for participants under the age of 18.
Drop-In Volunteering
Help keep Yosemite beautiful! The Volunteer Drop-In Program is a family-friendly way you can take an active role in protecting and preserving our natural resources. Whether you're new to the park or returning, come have new experiences while removing invasive species, collecting seeds, picking up litter, and more.
Yosemite Valley
The Drop-In Program will be offered in Yosemite Valley each Friday from 9:30 am - 12:30 pm from June 1 through September 14, 2018. Meet in front of the Valley Visitor Center. Youth under 18 must be accompanied by a parent or guardian. Schedule is subject to change.

June 1: Pollinator project
June 8: Pollinator roject
June 15: Pollinator project
June 22: Pollinator project
June 29: Pollinator project
July 6: Pollinator project
July 13: Pollinator project
July 20: Remove bull thistle from Cook's Meadow
July 27: Remove bull thistle from Cook's Meadow
Aug 3: Seed collection
Aug 10: Seed collection
Aug 17: Pollinator project
Aug 24: Pollinator project
Aug 31: Art Center work
Sept 7: Art Center work
Sept 14: Art Center work
Forms
While volunteer agreements will be available upon arrival, you can also print and fill them out ahead of time to bring to the work leader: