Explore Thermal Basins
One of the greatest experiences in Yellowstone is witnessing the geologic wonders of the park. Topping the list of geologic wonders are hydrothermal features: hot springs, mudpots, fumaroles, and geysers. Well over 10,000 different hydrothermal features have been estimated to be active within the park.
Even more incredible might be that over half of the world's active geysers are found here. Every year, some 500-700 geysers are active. In 2011, it was determined that 1,283 geysers have been recorded as erupting in Yellowstone. This is truly incredible, when all of the rest of the world's geysers combined number less than 500.
Hydrothermal features are extremely dynamic, changing throughout the day, across seasons, and over the years. This makes revisiting the different thermal basins so interesting. Besides seeing familiar sites, you can also see how those areas have changed since the last visit.
Hydrothermal Systems and Features
The park's hydrothermal system is the visible expression of the immense Yellowstone volcano. Heat from the volcano is transferred to the groundwater, which makes makes its way to the surface as a hydrothermal feature.
Thermal basins are areas where several hydrothermal features are found. Sometimes features are connected, exhibiting distinct behavior based on the activity of a connected feature.
There are four main types of hydrothermal features in Yellowstone: hot springs, mudpots, fumaroles, and geysers. There are also travertine terraces, which form where the water of hot springs travel through limestone bedrock.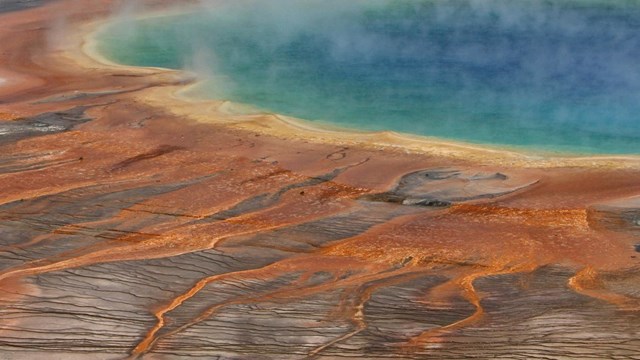 Hydrothermal Systems
Yellowstone's hydrothermal systems are the visible expression of the immense Yellowstone volcano.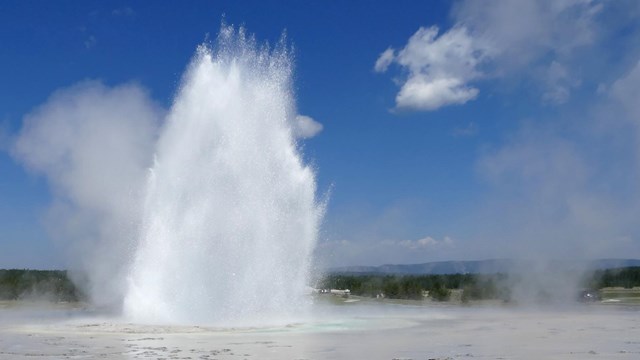 Hydrothermal Features
More than 10,000 hydrothermal features are found here, of which more than 500 are geysers.
Virtual Exploration
Want to get a better sense of where some popular features are out in some of the thermal basins before you visit? Unable to visit Yellowstone, and still want to get a sense of these amazing geologic wonders? Take a virtual stroll about these tours of some of Yellowstone's thermal basins.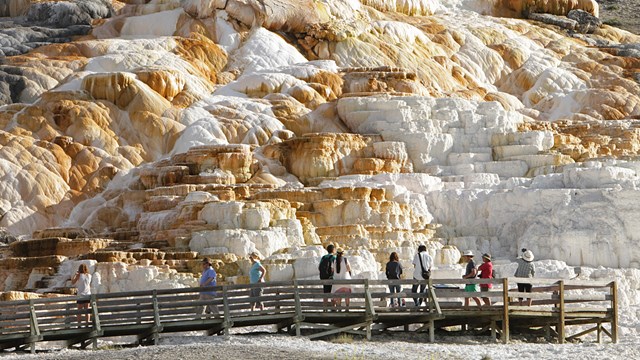 Mammoth Hot Springs
Virtually wander around Mammoth Hot Springs, where the underlying limestone allow large terraces to form above ground.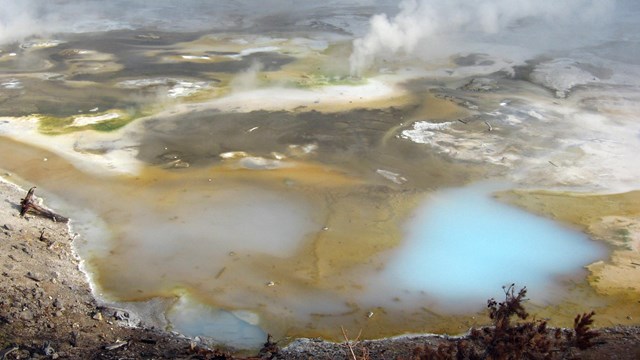 Norris Geyser Basin
Take a virtual trip around the hottest geyser basin in the park, then plan a visit in person.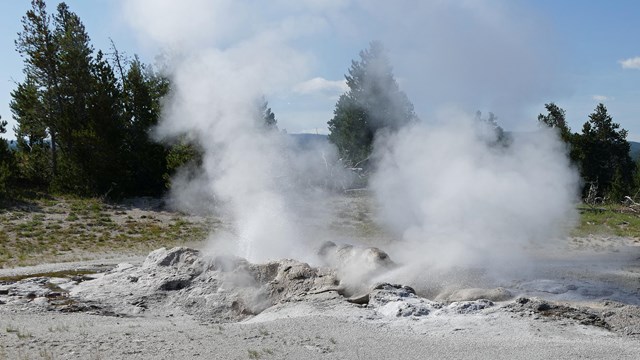 Fountain Paint Pot
Explore this popular thermal area where you can see the four major types of hydrothermal features.
Last updated: May 3, 2021