Current Geyser Activity
Visit our keyboard shortcuts docs for details
Duration:

4 minutes, 41 seconds
Old Faithful was once called "Eternity's Timepiece" because of the regularity of its eruptions. However, this geyser never erupted at exact hourly intervals as many believe. Ranger Darlene Bos explains how we predict eruptions for this popular geyser. Additional filming by David Restivo and Jay Elhard.
Geyser predictions are also available from several sources:
Follow @GeyserNPS

on Twitter for Old Faithful eruptions.

Download the free NPS app on iTunes or Google Play.
Contact us by phone for a recorded message with current predictions.
Visit the Geyser Times website.
Notes on Predictions:
- Predictions are not available when the Old Faithful Visitor Education Center is closed, typically early November through mid-December and mid-March through mid-April.
- The last prediction made will remain up until a new prediction is available.
Behavior
Geyser activity changes with time; the table below was last updated November 2020. Predicted geysers are marked with an asterisk (*).
Upper Geyser Basin
Location
Average Interval
Duration
Height (ft/m)
Artemisia
Irregular (9-31 hours)
5-25 min
30'/9m
Aurum
Irregular (4-22 hours)
70 sec
20'/6m
Baby Daisy
35-55 min
3 min
25'/8m
Beehive
Irregular (intervals range from 22-36 hours to over two weeks)
5 min
150+'/45+m
Castle*
13 hours 30 minutes (+/- 45 minutes)
2nd major after a minor: 14 hours 45 minutes (+/- 45 minutes)
15-20 min (frequent minor eruptions)
75'/24m
Daisy*
2 hours 45 minutes (+/- 30 min or longer if windy)
3.5 min
75'/24m
Depression
Irregular (2.5 to 4+ hours)
6 min
10'/3m
Fan & Mortar
Irregular. Five eruptions so far in 2020: 8/10; 8/31; 9/6;10/30; 11/4
35 min
100+'/30+m
Giant
Last eruptions: 10/3/2008; 2/8-9/2009; 1/15-16/2010; 1/22/2010; 9/28/2015
90+ minutes
200+'/60+
Giantess
Last eruptions: 1/3/2011; 5/7-8/2011; 9/13/2011; 1/29/14; 8/26/20; 9/10/20
4-48 hours
150+'/45+m
Grand*
6 hours 30 minutes (+/- 60 minutes)
8-12 min
160+'/48+m
Lion
Variable intervals between series;
60-90 minute intervals within a Lion series
6-7 min initial
3-5 min succeeding
60'/18m
30'/9m
Little Cub
30-45 minutes when regular
3-5 min
5'/1.5m
Oblong
3-7 hours
5-7 minutes
25'/8m
Old Faithful*
94 or 68 min (+/- 10 minutes)
1.5-5 min
106-184'/30-55m
Plume
Irregular. Dormant since 2012.
1 min
25'/8m
Riverside*
6 hours 30 min (+/- 30 min)
20 min
75'/24m
Lower Geyser Basin
| Location | Average Interval | Duration | Height (ft/m) |
| --- | --- | --- | --- |
| Fountain | 4.5-7 hours | 25-50 min | 50'/15m |
| Great Fountain* | 11 hours 30 minutes (+/- 2 hours) | 45-60 min | 70-200+'/22-60+m |
Norris Geyser Basin
Location
Last Eruptions
Duration
Height (ft/m)
Echinus
Irregular. 1/9/18;1/26/19
3-5 min
30+'/9+m
Steamboat
See the Steamboat page for latest eruptions
10+ min (water phase)
Hours to days (steam phase)
300+'/90+m
Visit our keyboard shortcuts docs for details
Duration:

5 minutes, 49 seconds
With over half the world's geysers, Yellowstone offers tremendous opportunities to see geology in action. Explore the mechanics of geysers, their role in the park's history and what they can teach us about the world in which we live.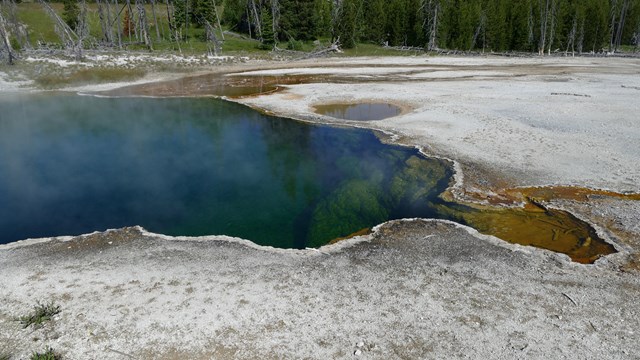 Hydrothermal Features
Learn about hot springs, geysers, mudpots, and fumaroles.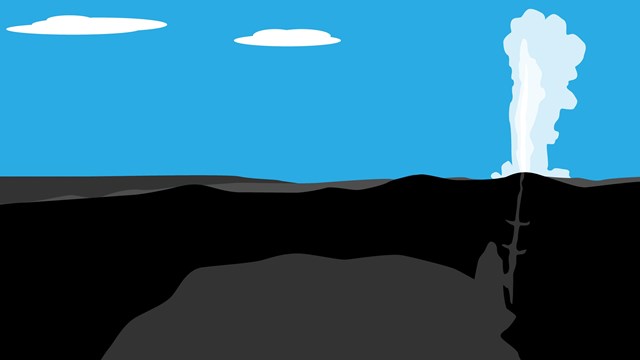 Predict Old Faithful
Calculate your own prediction for Old Faithful's next eruption.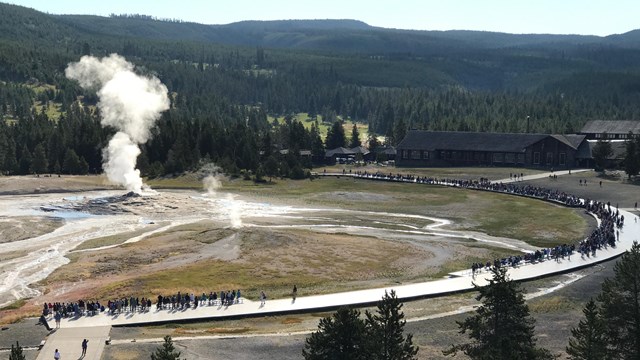 Webcams
Watch Old Faithful erupt or see the Upper Geyser Basin, Mount Washburn, Yellowstone Lake, and some of the park entrances.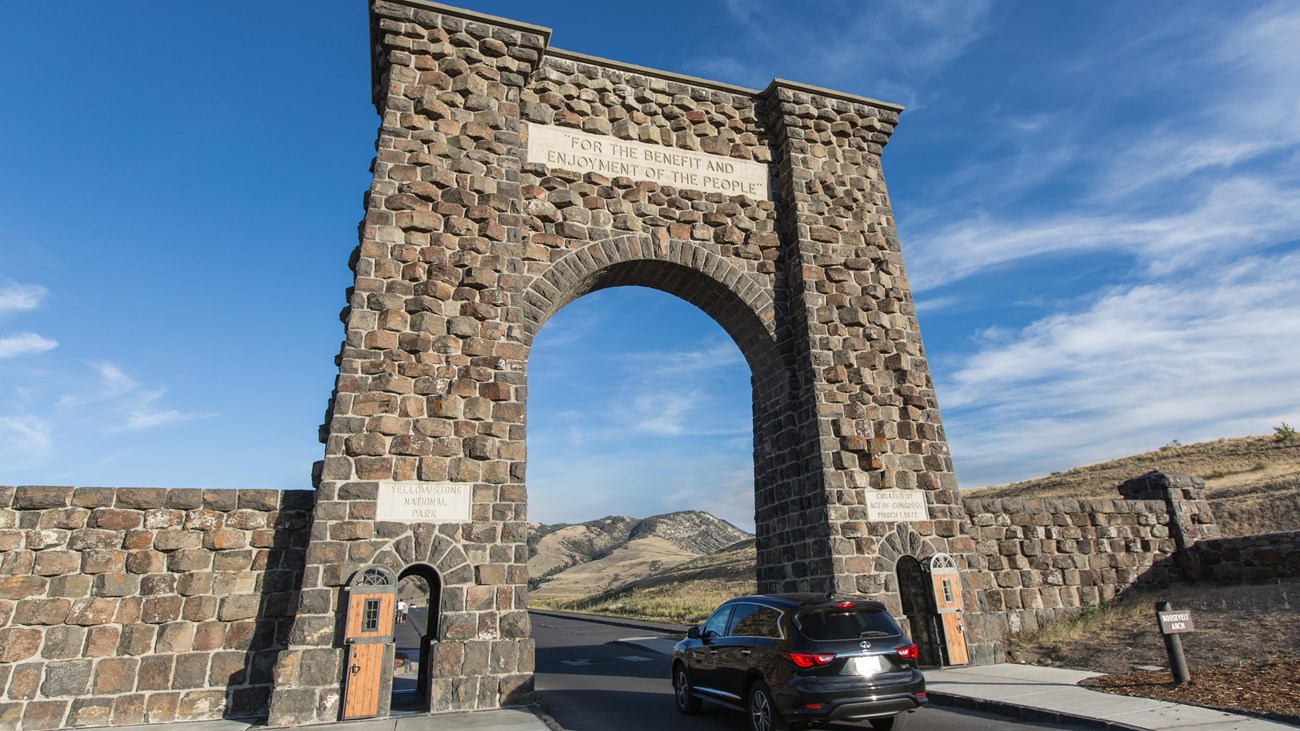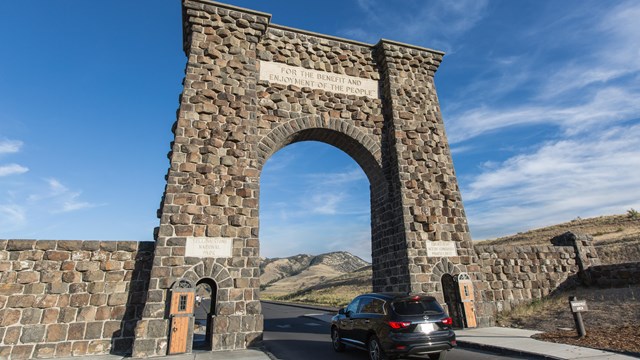 Current Conditions
Learn about things that could affect your visit before you arrive.
Last updated: May 25, 2023