News Release
National Park Service releases new issue of Yellowstone Science magazine covering park vital signs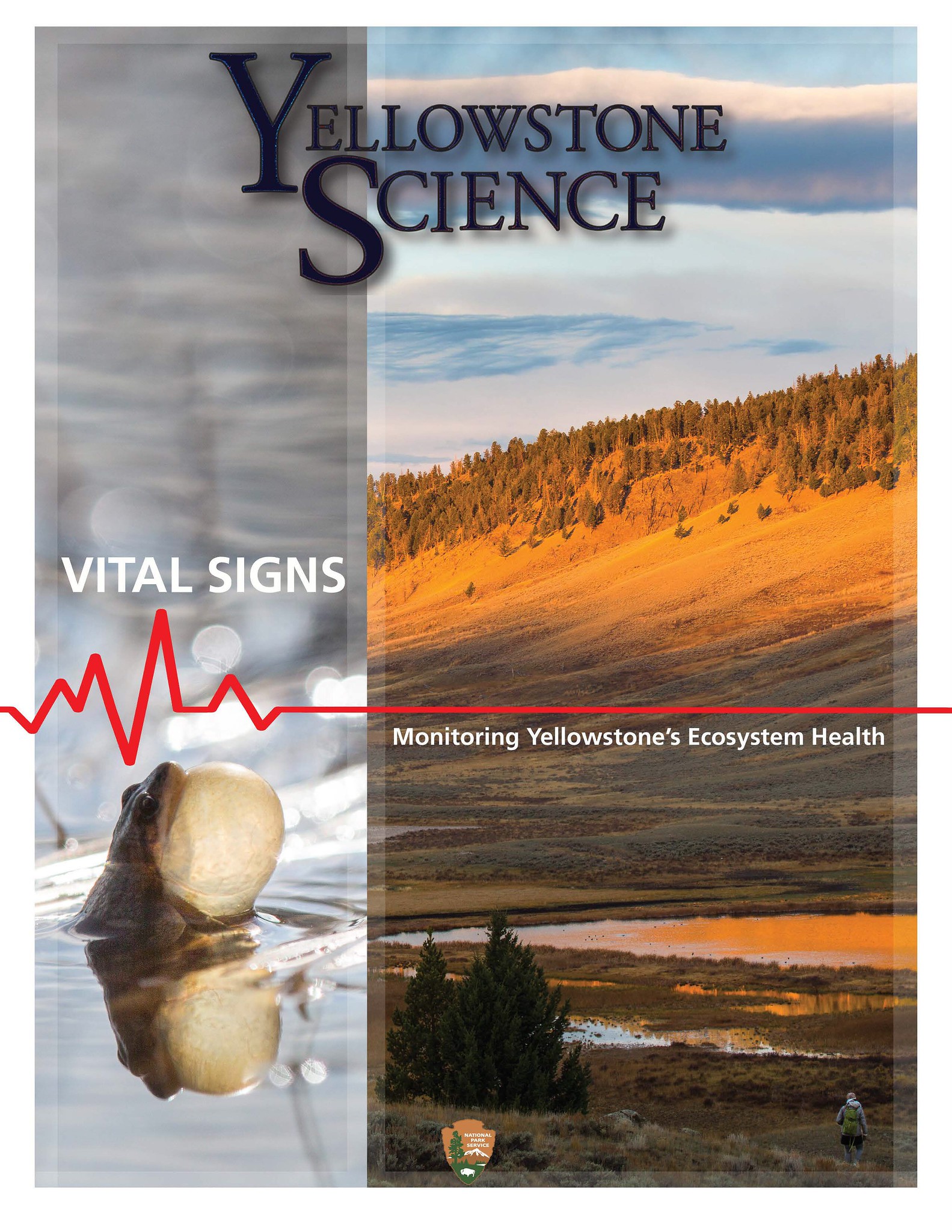 News Release Date:
September 18, 2019
Contact: Morgan Warthin, (307) 344-2015
The
latest issue of Yellowstone Science magazine
, the park's premier periodical devoted to natural and cultural resources, is available online today. Produced in cooperation with the National Park Service's Greater Yellowstone Inventory & Monitoring (I&M) Network, the new issue focuses on vital signs, a suite of ecological indicators that measure the health of the Greater Yellowstone Ecosystem (GYE).
"Just like doctors who measure vital signs to track human health, scientists study ecological indicators," said magazine guest editor Andrew Ray. "Vital signs monitoring efforts are widely used to understand and measure the health of plants, animals, ecosystems, parks, and even the Earth itself."
Since 2008, the park and the network have released four
Vital Signs Reports
that provide snapshots about the status of each vital sign monitored in Yellowstone. Appearing a decade after the first report, this issue of
Yellowstone Science
provides an in-depth look at what scientists have learned about some of these vital signs.
The magazine includes a collection of articles that together emphasize the need to increase the number of vital signs that are monitored in Yellowstone, the importance of expanding monitoring programs across the GYE, and the value of communicating about trends in vital sign conditions to decision makers and the public.
"Our ability to understand and respond to threats like climate change and visitor impacts is heavily dependent on quality data and science," said Yellowstone Superintendent Cam Sholly. "Ensuring the long-term health of this ecosystem requires us to continue building a robust scientific and monitoring capacity so we can protect this incredible place for the future."
Highlights from this issue include:  
In-depth articles about how drought and fire have historically shaped vegetative communities and how forecasted changes in drought and fire may interact with invasive species accelerating their movement to higher elevations.
Short articles on vital signs including birds, bats, amphibians, fish, insects, aquatic plants, invasive plants, white bark pine, climate, and soundscapes.
Articles that emphasize why long-term monitoring of ecological vital signs is needed for assessing the health and carefully managing large protected areas for the benefit of future generations.
Articles that describe partnerships and citizen science opportunities that would ensure the long-term success of a vital signs monitoring program for Yellowstone National Park and the region.
The Greater Yellowstone Inventory & Monitoring Network is one of 32 Inventory & Monitoring networks across the country. All are working to provide park managers, researchers, and park visitors with reliable scientific information about key park resources.
Yellowstone Science
shares information from scientists and researchers with the public to highlight in-depth, science-based knowledge about the Greater Yellowstone Ecosystem. The production of
Yellowstone Science
is made possible in part by a generous grant to Yellowstone Forever by Canon U.S.A.
An image of the issue's cover can be found on Flickr.
Last updated: September 18, 2019