Permits & Reservations
2022 Flooding Campsite Closures
Current campsite closures (may be extended or reopened early as repairs are addressed):

Rainy Lake
Windmill Rock View R56 - Reopening August 12th
Logging Camp R19- Reopening August 12th

Finlander Island R59 - Closed through August 18th
Fish Camp Island R13 - Closed through August 26th
Anderson Bay West R90 - Closed through August 26th
Lost Bay R20 - Closed through August 26th
Shelland Island R106 - Closed through August 26th
Saginaw Bay West R104 - Closed through August 26th

Namakan Lake
Catamaran N15 - Closed through August 31st

Sandpoint Lake
Granite Cliff S. S7 - Closed through August 31st






 
Voyageurs Entrance Fee - Free
There is no fee to enter Voyageurs National Park; enjoy your visit!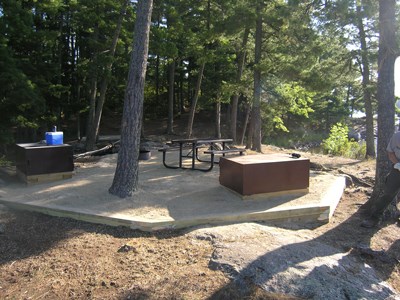 Camping Permits
All tent campsites within Voyageurs National Park require a reservation fee and nightly amenity fees.
High Use Season:

May 1st through September 30th

Reservations available November 15th for the following season.

Low Use Season: October 1st through April 30th

Reservations available March 15th for the following season.
Houseboat Permits
All houseboats, sailboats, and cabin cruisers (defined as registered vessels that contain sleeping facilities, cooking and food storage facilities, and a no-discharge toilet) require a permit for overnights in Voyageurs National Park.
Houseboat Season: May 1st through October 31st (depending on lake conditions)

Reservations available November 15th for the following season.
Tour Boat Reservations
Ranger-led boat tours require a fee at Voyageurs National Park.
Reservations for Ranger-led boat tours become available typically April 15th for the summer season.
Your Fees Benefit the Park
The fees you may pay when visiting Voyageurs National Park make a difference! We participate in the Congressionally-authorized Federal Recreation Lands Enhancement Act (FLREA). In Voyageurs, 96 percent of the fee revenue collected in the park stays here to help fund park projects related to the fee program.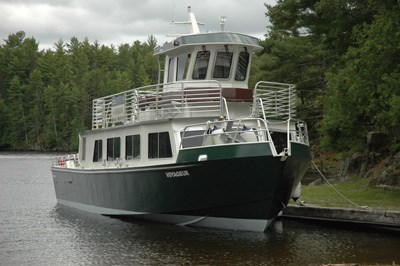 Special Use Permits (SUP)
All activities considered to either be a special event or special park use activities (including but not limited to: public gatherings, weddings, sporting events, and other special events) are required to obtain a Special Use Permit (SUP).
Tour Boat Charters
The park's tour boats are available for charter through a Special Use Permit.
Commercial Use Authorizations (Buisness Permits)
To conduct business in the park (e.g., private tour boat charters, fishing guide services, water taxis, boat rental), you must obtain an active Commercial Use Authorization (CUA).
Last updated: August 10, 2022