Winter Activities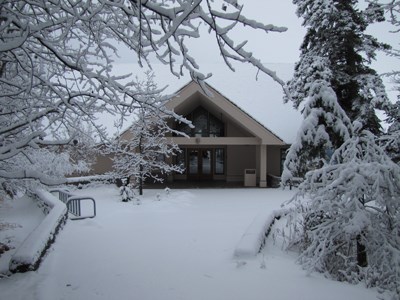 Come Enjoy this Winter Wonderland!
Winter visitors enjoy the beauty of Voyageurs National Park by snowmobile, on cross country skis, in an auto on the ice road, on snowshoes, or in ice-fishing houses. Voyageurs invites visitors who want to get out of the cold to come to the Rainy Lake Visitor Center.
Be prepared for your adventure. Plan ahead and watch the weather. Here are tips for winter safety while snowmobiling, ice fishing, and enjoying all that winter has to offer.
Trail Conditions
Read the latest Winter Ice and Trail Conditions Report (Posted weekly during the winter months) for the most updated park ice and trail conditions. For additional area trail conditions, please visit:
Winter Trail Maps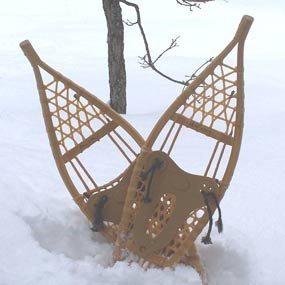 Snowshoe Trails and Loan Program
Explore the winter landscape by snowshoe. Find a winter trail that's right for you.
Don't have any snowshoes? Voyageurs National Park has many snowshoe sizes and shapes available free-of-charge during regular visitor center hours. Call the Rainy Lake Visitor Center at (218) 286-5258 for availability.
Crosscountry Ski Trails and Loan Program
Enjoy the tranquility of cross country skiing in Voyageurs National Park. Find a cross country ski trail that's right for you.
Cross country skis are available at the Rainy Lake Visitor Center. Adult and child-sized skis, boots and poles are available free-of-charge during regular visitor center hours. Call the Rainy Lake Visitor Center at (218) 286-5258 for availability.
Thanks to the following groups for helping provide cross country skis:
In memory of George and Darlene Stoiber
Friends of Voyageurs National Park
ISD 361 Community Education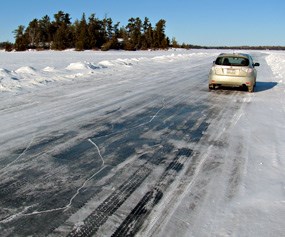 Ice Roads
The Rainy Lake Ice Road departs from the Rainy Lake Visitor Center boat launch.
The Kabetogama Lake Ice Road travels between the boat launches of the Ash River and Kabetogama Lake Visitor Centers.
Routes vary depending on conditions
The ice road is open to cars and trucks of less than 7,000 lbs. gross vehicle weight. Snowmobiles are not permitted on the ice road.
The speed limit is 30 mph.
When heavy snow, slush, or thin ice exists, the ice road may be closed or shortened for safety. Travel beyond the plowed section is unsafe.
Ice Fishing
Ghostly winter quiet, rugged piney shorelines, and outstanding angling make Voyageurs National Park an ice angler's dream. Place icehouses at least 50-feet from the center of snowmobile trails and the ice road. Check ice conditions before going out. Fishing license and ice house registration is required.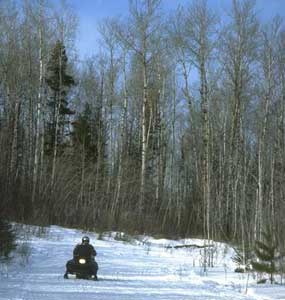 Snowmobiling
Snowmobiling is allowed on frozen lake surfaces and designated safety portages in Voyageurs National Park. The park provides 110 miles of staked and groomed trails for snowmobiling.
All land areas, including rock faces, are closed to snowmobiles with the exception of designated safety portages. Hill climbing is prohibited.
Obey all closure signs. Areas are closed to protect your safety and to protect sensitive resources.
Watch For:
Pressure ridges – they change the surface of the lake. Always stop and inspect ridge areas before crossing. Pressure ridges are marked with two crossed orange caution stakes on each side.
Slush and open water – avoid them by staying on staked and groomed trails.
Sledding Hill
A new addition to our winter activities is the Sphunge Island-Kabetogama Lake Sledding Hill. Take the Kabetogama-Ash River Ice Road from the Kabetogama Lake Visitor Center just a short distance and turn left onto the Sphunge Island Loop. Visitors will find picnic tables and a fire ring at the bottom of the hill near the sledding hill parking lot. The sledding hill consists of a small hill for younger children and a larger hill for older children and adults.
Last updated: March 3, 2021