Geology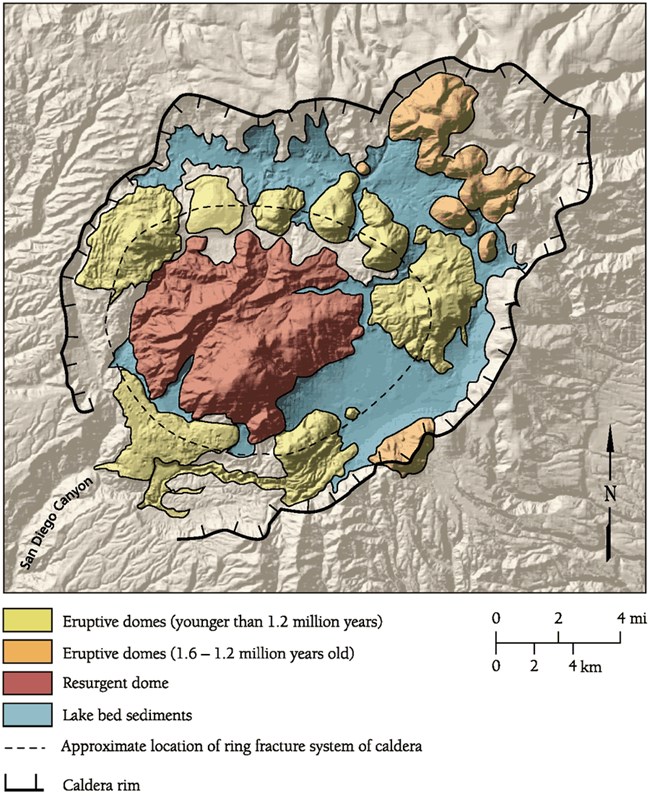 Valles Caldera National Preserve is located in the Jemez volcanic field at the intersection of two major fault systems, the Rio Grande Rift and the Jemez Lineament. The rift, a stretching and thinning area of the earth's crust, extends from central Colorado to the state of Chihuahua, Mexico, and the lineament, a chain of volcanic fields, spans from east-central Arizona to the Raton-Clayton volcanic field in northeastern New Mexico.

The Jemez volcanic field started forming more than 14 million years ago with a series of eruptions, including at least two especially explosive events. The most recent event (about 1.25 million years ago) formed Valles Caldera. Following the eruption, the surrounding earth collapsed into the volcano's drained magma chamber, forming the broad, 12- to 15-mile-wide circular caldera you can visit today.

Since that time, an additional 15 eruptions have created numerous volcanic domes within the caldera, including the major central resurgent dome, Redondo Peak, which serves as the type locality (or model) for understanding caldera resurgence worldwide.

The caldera is dormant, but not extinct, and still displays signs of volcanic life with hot springs and boiling sulphuric acid fumaroles. The unusual geologic and landscape characteristics of Valles Caldera led to its designation as a Natural National Landmark in 1975.
Explore the Volcanic Landscape
Sulphur Springs

The premier location to witness volcanic activity at Valles Caldera.

Cerro La Jara

Cerro La Jara is the youngest volcanic dome in the park.

Obsidian Valley

A significant source of volcanic glass for toolmaking and trade for 12,000 years.
Last updated: December 5, 2022