Current Conditions
Human Health
COVID-19
The National Park Service (NPS) is working service-wide with federal, state, and local public health authorities to closely monitor the COVID-19 pandemic and follows guidance from the Centers for Disease Control and Prevention (CDC).
In areas CDC identifies as HIGH COVID-19 community level, masks are required in NPS buildings regardless of vaccination status. In LOW and MEDIUM COVID-19 community level areas, masks are optional. Signs at park buildings share the current status.
When recreating, please follow state health orders and recreate responsibly by physical distancing, wearing a face covering when physical distance cannot be maintained, avoiding high risk activities, and staying home if you feel sick.
The CDC has offered guidance to help people recreating in parks and open spaces prevent the spread of infectious diseases.
Hanta Virus
This is a rare but serious disease that humans can contract through contact with infected rodents or their urine, saliva, blood, or droppings. Reduce exposure by staying out of structures not open to the public.
Learn more at the CDC's web page on hantavirus.
Plague
Fleas, which transmit bubonic plague, are present throughout the Gunnison's prairie dog colonies at Valles Caldera National Preserve. Reduce exposure by keeping your distance from prairie dogs.
Learn more at the CDC's web pages on plague.
Park Closures
With the impacts of the Cerro Pelado Fire and the potential for flash floods as a result, the following area remains closed:
The southeast part of the park that is south and southeast of NM-4, which includes Rabbit Mountain and the Coyote Call Trail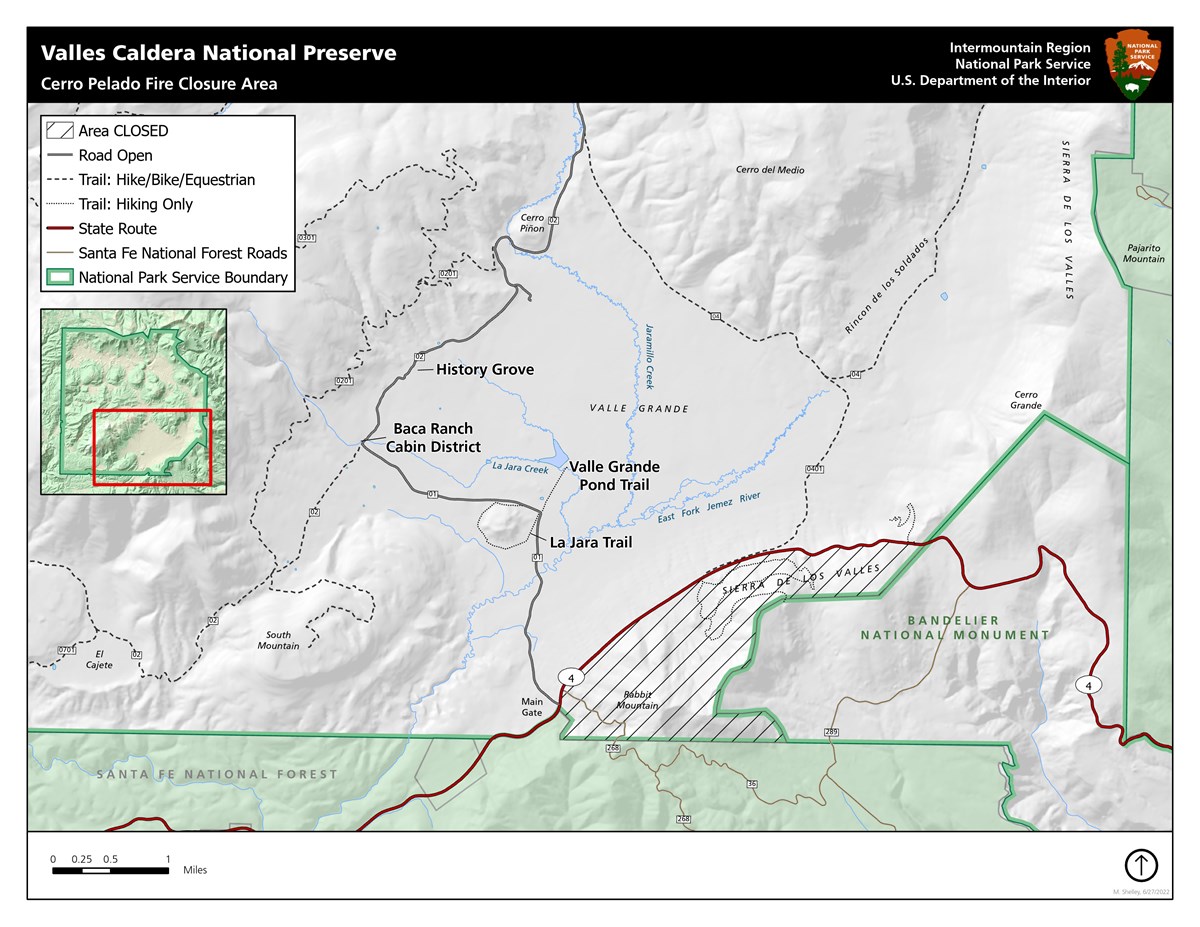 Loading weather forecast...
Fire
San Antonio Fire - 8/7/22
On August 7, a lightning fire was reported near the junction of VC09 and VC12. The fire is burning in a single ponderosa pine tree. A fire crew is continuing to monitor the fire, and rain is expected in the area throughout the week of August 8. Light smoke from the fire may be visible in Valle San Antonio.
Toledo Fire - 8/2/22
Current estimated acreage: .1 acres
On the afternoon of August 2, a hiker reported a fire on the Rito de los Indios Trail, near the NE corner of Valles Caldera National Preserve (1/2 mile north of VC09/ VC13 junction). The fire was ignited by lightning and burned in needle cast beneath a large Ponderosa pine.
La Jara Fire - 7/21/22
The La Jara Fire was reported on the afternoon of 7/21 within the Cabin District of Valles Caldera National Preserve. The fire was ignited by lightning and burned in a single live Ponderosa pine. Firefighters from the National Park Service and U.S. Forest Service were able to extinguish the fire the same evening.
Cerro Pelado Fire
Latest information: https://inciweb.nwcg.gov/incident/8075/
Estimated acreage: 45,617 acres
Primary contact: 2022.CerroPelado@firenet.gov or 505-312-4593
The Cerro Pelado Fire is considered 100% contained with crews monitoring for any signs of heat or smoke. Cerro Pelado Fire's estimated 45,617 acreage burned by land ownership:
USFS – 37,078 acres (81%)
Private – 2,634 acres (6%)
American Indian Reservation/Trust – 4,132 acres (9%)
National Park Service – 1,773 acres (4%)
Freelove Fire - 4/28/22
Estimated acreage: 3.5 acres
Thursday afternoon, 4/28, a new fire started on the western side of Valles Caldera National Preserve in the Freelove Canyon area. 3.5 acres burned in the old 2013 Thompson Ridge Fire footprint. Quick action by the Southern Area Red Team and local responders contained the fire. No activity has been seen from the fire as of May 1. The cause of the fire is believed to be a lightning strike.
Additional Information
Last updated: August 8, 2022