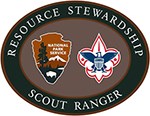 The
Resource Stewardship Scout Ranger Program
invites Boy Scouts to participate in educational programs and/or volunteer service projects at national park sites to spark their awareness of the national parks and to provide them with the opportunity to learn more about protecting our natural and cultural resources.
Time spent completing merit badges in the park can also be counted towards the Resource Stewardship Scout Ranger Program. Be sure to check out the
Merit Badges You Can Complete at Valley Forge (PDF Document)
for ideas.