Resource Stewardship Scout Ranger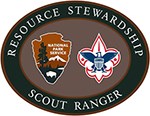 The
Resource Stewardship Scout Ranger Program
invites Boy Scouts to participate in educational programs and/or volunteer service projects at national park sites to spark their awareness of the national parks and to provide them with the opportunity to learn more about protecting our natural and cultural resources.
Time spent completing merit badges in the park can also be counted towards the Resource Stewardship Scout Ranger Program. Be sure to check out the
Merit Badges You Can Complete at Valley Forge (PDF Document)
for ideas.
How to earn a certificate or patch
To earn a certificate, Scouts must participate in any of the programs below for a minimum of 5 hours. To earn a patch, Scouts must participate in any of the programs below for a minimum of 10 hours. You can also count hours spent doing educational programs or service projects at other national park sites!
How to participate
1. Explore the Valley Forge National Historical Park website to learn about the park.
2. Print out a Scout Activity Sheet to keep track of your hours.
3. Participate in the Valley Forge programs listed below.
4. Go to the front desk at the visitor's center, turn in your Scout Activity Sheet, tell us what you learned, and receive your certificate or patch!
Valley Forge Scout Programs
Educational Programs
Attend a ranger-led walk.
Listen to a Soldier Life talk at the Muhlenberg Brigade Huts.
Watch the park film in the Theater.
Listen to Washington's Leadership talk at Washington's Headquarters.
Complete the Valley Forge Junior Ranger Program.
Volunteer Service Projects *
*Volunteer Service Projects require a volunteer agreement form from all those volunteering, and anyone under the age of 18 must be accompanied by an adult. Please plan accordingly. Plan your trip to Valley Forge in advance!
Special Programs
Last updated: January 4, 2020