Crayfish Corps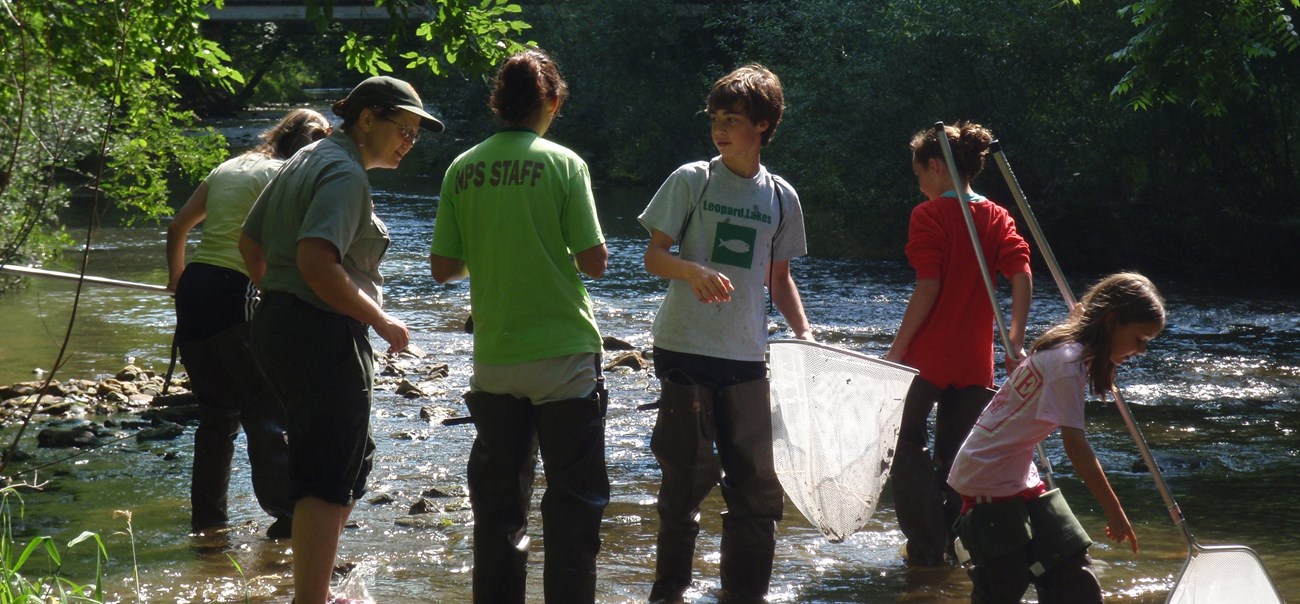 What is the Crayfish Corps?
The Crayfish Corps is a volunteer program in which members of the public join park staff in working to suppress the population of non-native invasive rusty crayfish (Faxonius rusticus) in Valley Forge National Historical Park. The rusty crayfish first invaded Valley Creek in 2008 and began to threaten the populations of native crayfish.
Members of the Crayfish Corps will assist National Park Service staff by physically removing rusty crayfish from the creek. The long-term goal of this work is to maintain a ratio of one rusty crayfish or less for every four native crayfish present in Valley Creek.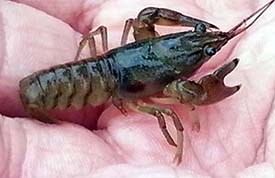 Why Are the Rusty Crayfish Bad?
The rusty crayfish are considered a non-native, invasive species in the park and throughout Pennsylvania. Originally from the Ohio River Basin, this crayfish has been transported to new environments throughout the northeast primarily by bait fishermen, biological supply houses, aquaculture, and the pond and aquarium trade.
The rusty crayfish is bigger, more aggressive, and eats up to twice as much as native crayfish in Valley Creek. They are able to eliminate all other crayfish species through direct competition for food and shelter and increasing the susceptibility of native crayfish to predators. Rusty crayfish may also reduce the amount of aquatic vegetation, reduce aquatic insect populations and ultimately negatively affect large predators such as trout.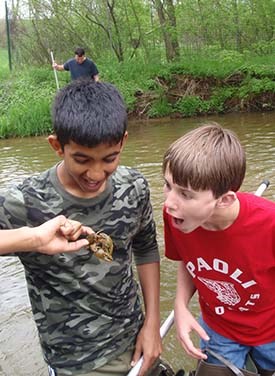 How Can I Help?
Crayfish Corps is active between May and August. This allows us to catch the most rusty crayfish and gives the stream time to rest in the off season. Crayfish removal is accomplished using hand nets and participants should be prepared to get in the stream and get wet!
All ages are welcome and park staff will provide necessary training and equipment, including nets and a limited number of hip boots. Participants should wear their own closed-toe water shoes if possible. Receive a Crayfish Corps button the first time you participate and earn a Crayfish Corps t-shirt after participating three times!
Public dates have been filled for 2022 — contact us to get on the email list. Check back for 2023 dates in March.
Some dates fill up quickly, so sign up early! The best way to reserve your space is to email the Natural Resources staff directly at the email below.
To join the Crayfish Corps visit volunteer.gov, or email our Natural Resources staff.
Crayfish Corps Resource Brief 2019
The Crayfish Corps Resource Brief 2019 (PDF 1.2MB) is a document that reports on the impact of this volunteer program on crayfish populations in the Valley Creek.
Last updated: August 25, 2022