Ranger Programs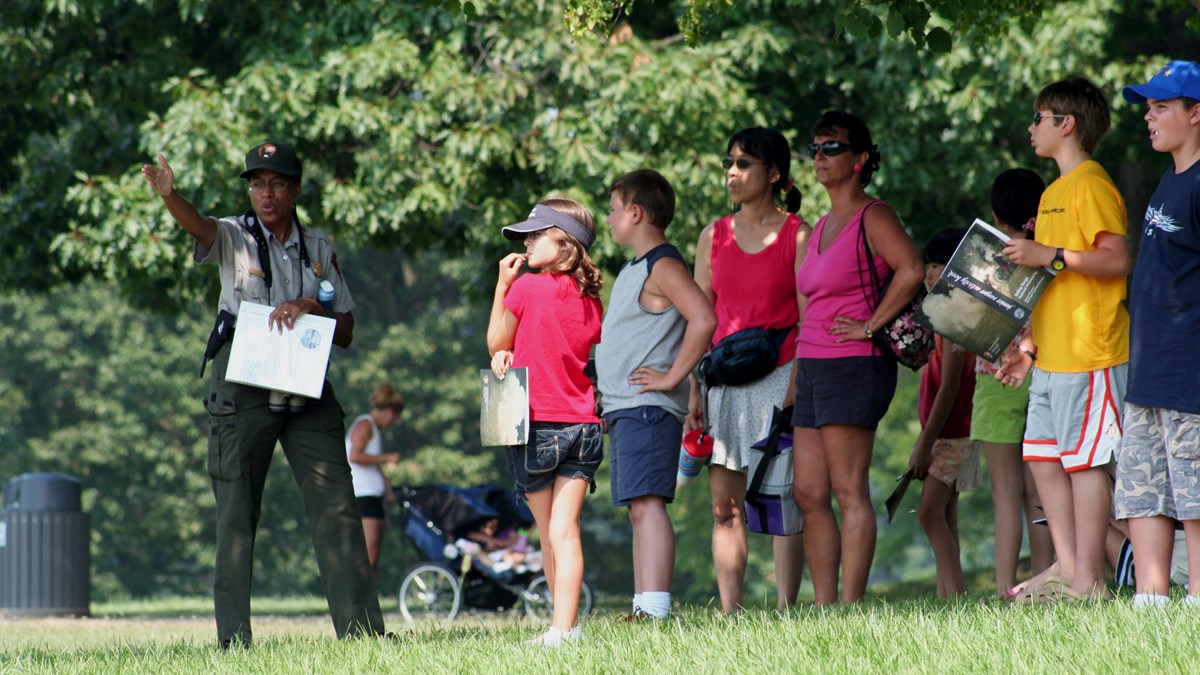 There are many different kinds of free ranger-led programs offered at Valley Forge, including living history, walking tours, talks, demonstrations, and special events.

Most programming takes place during the spring, summer, and fall, however there are also some special programs offered in the winter. Check the event calendar for upcoming program opportunities!
---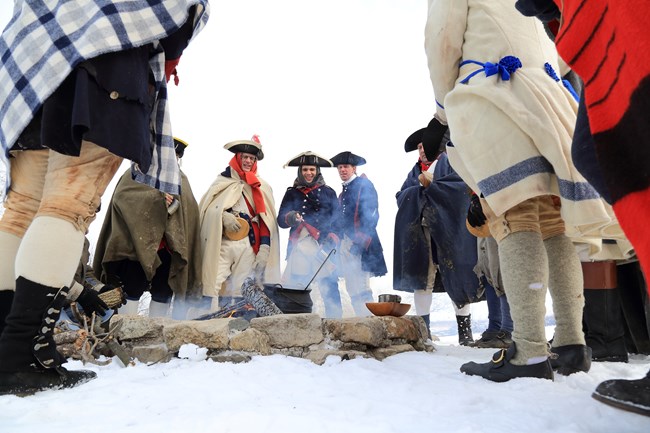 Living History
Ranger-Led Programs at Muhlenberg's Brigade Huts (Encampment Tour Stop #2)
Not currently scheduled. Programs to resume in spring 2022.
Join a ranger dressed in 18th century living history clothing outside the huts at Muhlenberg's Brigade from 11:30 AM to 4PM on Saturdays and Sundays (weather permitting).
There will also be brief 10-15 minute ranger-led talks (weather permitting) at 12PM, 1PM, 2PM, and 3PM.
If the weather is in doubt, please call the park at (610) 783-1000 to confirm whether or not the programs are taking place.
Join the Continental Army!
Not currently scheduled.
Programs take place on the first Saturday of each month from February through April.
Programs begin at 11:00 AM at the Visitor Center. Please arrive between 10:00 AM and 10:45 AM to "muster," or sign in.
Children are invited to Join the Continental Army and experience a day in the life of the continental soldier. Recruits will be mustered, or registered, by receiving enlistment papers and continental currency. Recruits will then be issued wooden (dummy) muskets and learn how to stand, march, and carry their musket as one of Washington's soldiers would have done. Park rangers dressed in continental uniform will train the recruits in a full musket drill.
Attendees are encouraged to participate in the series of three Saturday training sessions in order to advance in skills and be promoted within the ranks of the Continental Army.
These events are weather dependent. Please call the Visitor Center at (610) 783-1099 to confirm the status of the program.
Activities will take place outdoors, so please dress accordingly and wear sturdy shoes.
"Muhlenberg Days" (Encampment Tour Stop #2)
Not currently scheduled.
Join Living History staff and volunteers at the Muhlenberg Brigade Huts to experience camp life through interactive activities and special demonstration such as cooking and bread baking. These demonstrations provide an up-close and personal understanding of the experiences and hardships of the encampment.
Landscapes and Structures (Art in the Park) Program
There is amazing physical beauty in Valley Forge National Historical Park, and Landscapes and Structures of Valley Forge is a program that gives visitors the opportunity to capture the beauty of the park through an artistic medium. Photography, painting, drawing, and sketching are all encouraged. Join a ranger in a stress free, judgment free environment and flex your artistic muscles. Come and have fun! The program is free and advance registration is not required.
You can join the program's Facebook community here.

Check the event calendar and search using the keyword "Art in the Park" to find any upcoming programs.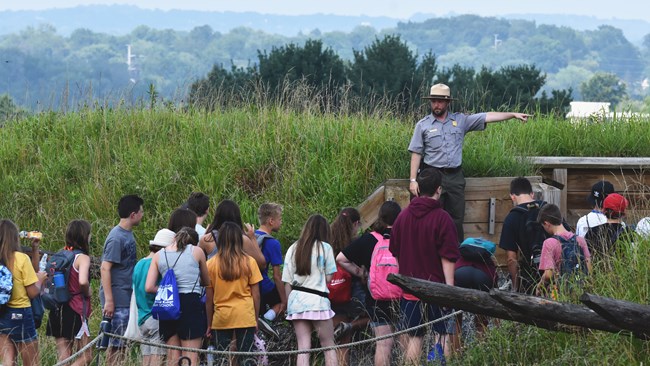 Walking Tours
Ranger Led Walk: March to Valley Forge
Not currently scheduled.
This free, ranger-guided walk (1/2 mile) explores the Valley Forge winter encampment and its impact on the American Revolution. A living history program will take place at the huts following the walk.
Schedule
Starting the first week of April through mid-June weekends at 10:50 am and 2:50 pm
Mid- June through Labor Day daily at 10:50 am, and 2:50 pm
Day after Labor Day through end of October weekends at 10:50 am and 2:50 pm
History Hike
Not currently scheduled.
Join a park ranger on a three-mile guided hiking program that explores some of the park's trails and historic sites. Come learn about the history of the Valley Forge encampment and how Continental soldiers lived off these landscapes and nearby resources. All programs last about two hours and begin and end at the Artillery Park (Tour Stop #7).
Washington's Headquarters and Train Station
Washington's Headquarters
Due to the flooding on 9/2/21, the interior of Washington's Headquarters is closed to the public until further notice.
Tour the house virtually here.
Valley Forge Train Station
Closed due to the pandemic.
Contains museum exhibits, located adjacent to Washington's Headquarters.
Artillery Demonstrations
Currently not scheduled due to the pandemic.
Join rangers and volunteers for live cannon and musket firing demonstrations.
Last updated: December 1, 2021