Elliott Roosevelt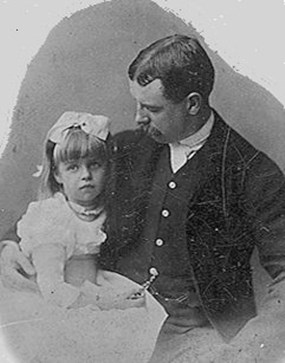 Elliott Roosevelt was born on February 28, 1860. He was the third of the four Roosevelt siblings. As Elliott and Theodore grew up, they were very competitive with each other. Competitions of physical ability were often documented in Theodore's journals. At a young age, Elliott was more academically successful than Theodore and appeared to be the most promising of the four children. However, he was eventually surpassed by Theodore.
Throughout his lifetime, Elliott maintained a pleasant and charming personality. It was this affable nature that would prove to mask a growing drinking problem that started at a young age.
Elliott was Theodore's best-man on October 27, 1880, on Theodore's first marriage to Alice Roosevelt. In 1883, when Elliott was 23, he met the beautiful Anna Hall, and they wed quickly. Elliott and Anna had three children, Anna Eleanor (1884–1962), Elliott Jr. (1889–1893), and Gracie Hall (1891–1941).
After this point, Elliott developed a "casual drinking" problem, which soon became alcoholism, an affliction to which Gracie later succumbed. Despite this, Eleanor adored her father, and he in turn doted on her. Eleanor would always remember her father's tender affection for her, and she wrote a book about his hunting adventures. While not excusing his conduct, she sensitively tried to highlight his positive virtues.
Due to his alcoholism, Elliott moved to Abingdon, Virginia, where he would constantly write letters, mostly to Eleanor. On occasion, he would, to the jubilation of Eleanor, return back home for a few days. Finally, he succumbed to his alcoholism. At the age of 34, Elliott attempted suicide by jumping out a window. He survived the fall, but suffered a seizure and died on August 14, 1894.

Meet Elliot's mother, Martha Bulloch Roosevelt.
Meet Elliot's father, Theodore Roosevelt, Sr.
Meet Elliot's older sister, Anna.
Meet Elliot's younger sister, Corrine.
Meet Elliot's brother, Theodore Roosevelt, Jr.
Last updated: August 14, 2019