Anna Roosevelt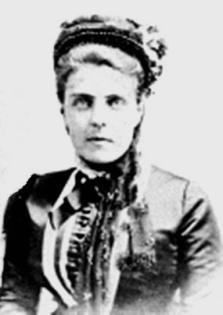 Anna Roosevelt was Theodore's eldest sibling and was born on January 18, 1855. She and her three other siblings were born in the home at 28 East 20th Street. Anna was afflicted with a curvature of the spine that led to her being partially crippled and confined by corrective steel braces as a child. Her restricted movement concerned Anna's father who sought the help of a young doctor by the name of Charles Fayette Taylor. He designed a flexible brace that was so successful in allowing movement that Theodore Sr. raised money to found the New York Orthopaedic Hospital with Taylor as its first director.
'Bamie', as she was nicknamed, had a great deal of energy despite her physical challenges and this proved necessary to her family on several occasions. Mittie was often distracted by illness or by her grand social life and Bamie increasingly took a central role in running the Roosevelt household, particularly after the premature death of her father in 1878. In fact, her brother Theodore's first daughter, Alice, remarked that Bamie seemed to be born into middle age, so significant were the adult responsibilities put into her hands from childhood. Unlike many children in a similar situation, Bamie had the natural maturity, judgment and wisdom to "hold the family together" said Alice. In fact, Alice, was looked after during her infancy by Bamie after Alice's mother died suddenly following childbirth. As she grew older, Alice was often sent to Bamie for a dose of discipline and to receive the structure that the Roosevelts in the White House were not able to exert. She later remarked that Bamie was the most influential person in her entire life.
In 1895 at age 40, Anna Roosevelt married US Navy Lt. Commander William Sheffield Cowles (1846—1923), a divorcee who was 49. They had one child, William Sheffield Cowles, Jr. (1898 - 1986). Throughout his life, Bamie's brother Theodore often turned to her for counsel in letters and personal conversations. In fact, it was said by their niece Eleanor that TR made few important significant political decisions and even fewer personal decisions without getting the input of his sister. She remained a trusted confidante for his entire career. As president, T.R. would often refer to Bamie's house as the "other White House."
Anna Roosevelt Cowles died on the night of August 25, 1931, aged 76. Her last words, "Never mind, it's all right," were reportedly spoken to her friend Sara Roosevelt, Franklin Delano Roosevelt's mother, before Bamie slipped into a coma and died.

Meet Anna's other sister, Corinne Roosevelt!
Meet Anna's brother, Elliot Roosevelt!
Meet Anna's father, Theodore Roosevelt Sr.!
Meet Anna's mother, Martha Bulloch Roosevelt!
Last updated: August 14, 2019