Hiking Boiling Springs Lake Trail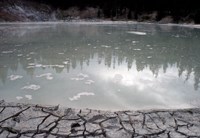 Start: parking area west of Warner Valley Campground
Round Trip Distance: 3 miles
Round Trip Time: 2 hours
Terrain: easy 200 foot climb
Elevation: 5800 feet
Parking Demand and Trail Use Increase Anticipated in 2019
Use of this trail and demand for parking is anticipated to increase this summer due to a temporary closure of the Bumpass Hell Trail for a rehabiliation project. Please note:
Overflow parking will be available south of the existing parking area.
Please do not park in the campground or at Drakesbad Guest Ranch unless you have have a paid campsite or are a guest at the Ranch.
Please park only in pullouts; vehicles that prohibit two-way traffic on the Warnery Valley Road may be ticketed or towed (to ensure emergency access is available).

Trail Description
A number of steam vents are located under Boiling Springs Lake, keeping the temperature of the lake around 125 degrees. The mudpots on the southeast shore are among the best in the park.
The trail crosses a meadow and then goes through forest to the lake and around it. Trees include incense-cedar, ponderosa pine, Douglas-fir, white fir, sugar pine, and others. A variety of wildflowers are found and it is a good area to observe birds.

Learn more about hydrothermal areas in the park here.


Last updated: April 20, 2021