Thing to Do
Bike to Wildcat Campground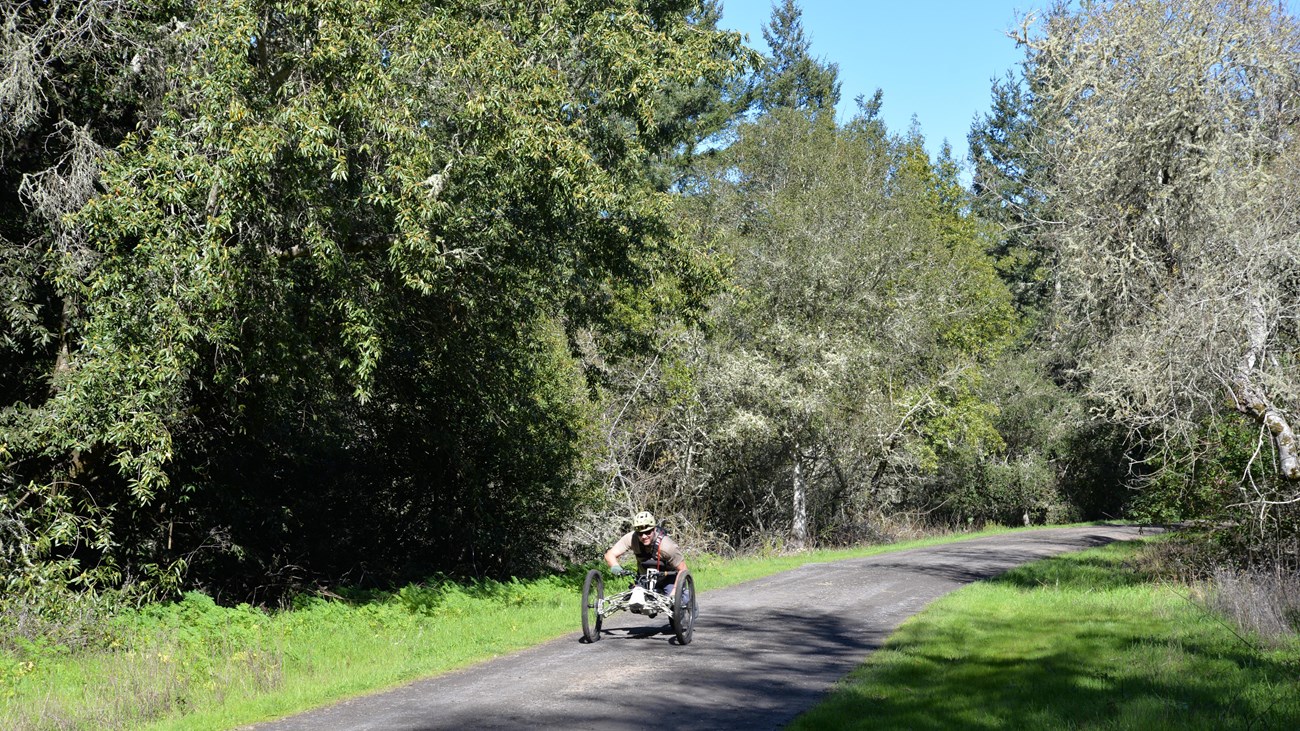 Distance: 13.4 miles (18 km) roundtrip, strenuous
Biking to Wildcat Campground is no easy feat—but a lot of work yields a lot of reward! Enjoy your lunch at sunny Wildcat Campground or spend some time at Wildcat Beach, after you bike up and over one of the highest points of Inverness Ridge.
This route begins from the Five Brooks Trailhead. Follow the Stewart Trail northwest for 0.3 miles (0.5 km) to the junction with the Olema Valley Trail. Keep right to stay on the Stewart Trail as it begins a long climb up the side of Inverness Ridge. After another 0.8 miles (1.3 km), keep left to stay on the Stewart Trail as it switchbacks for 2.6 miles (4.2 km) to reach Fir Top, the highest location (1324 ft/404 m) along the southern end of Inverness Ridge. Due to the dense Douglas fir forests, there are no far-reaching views from this point. Continue following the Stewart Trail and enjoy a 2.7 mile (4.3 km) descent from the top of the ridge to Wildcat Campground, where there are vault toilets and potable water. A well-worn path leads along the south side of Wildcat Camp to the beach.
Riding a bike is not permitted on the beach itself; if you don't want to leave your bike unattended at Wildcat Campground, please walk it down the beach access path. Please don't lock bikes to picnic tables or other campground infrastructure.
Aside from the Olema Valley Trail and the southern sections of the Glen Trail and the Glen Camp Loop Trail, all other trails that intersect with the Stewart Trail pass through the Phillip Burton Wilderness and are closed to bicycles.
Visit the park's Bicycle Riding at Point Reyes National Seashore page for specific regulations pertaining to bicycles and tips and information about trail etiquette and safety.
Bicyclists must yield to all other users, especially horse riders.
Class I e-bikes under 750 watts (1 h.p.) are allowed on the Stewart Trail.
The speed limit for all bikes is 15 mph (24 km/h).
Please ride respectfully.
This route description alone is not a substitute for a trail map. Print out the park's South District trail map (3,422 KB PDF) before your visit, or pick one up at a visitor center on your way.
Always check current conditions before heading out into the park and familiarize yourself with park regulations. Please practice Leave No Trace principles.
Visit the park's Trail Advisories and Closures page for current information about closed trails, trails blocked by trees, or other temporary hazards or advisories.
Allow 3 to 5 hours to ride a bike to Wildcat Beach and back. Allow for more time to relax and/or explore Wildcat Beach.
Pets are prohibited on the Stewart Trail, as well as on the other trails in this area. Visit the park's Pets page to learn where pets are welcome at Point Reyes National Seashore.
Entrance fees may apply, see Fees & Passes information.
Permits and reservations are not required for day use. However, permits are required for backcountry camping at Wildcat Campground. Details on how to reserve a permit are available on the park's backcountry camping page or under the "Where to Stay" tab in the app.
Winter
The heaviest rainfall occurs in the winter months. Come prepared for rain and drizzle to possibly last for several days. More rain falls east of Inverness Ridge than on the west side. In between winter rains, it is often sunny, calm, and cool.
Spring
Most spring days are windy. Expect cool temperatures in March. By late May and early June, temperatures can be quite warm on the east side of Inverness Ridge.
Summer
Although there is very little rain during summer months, there is often dense fog. Patchy morning fog may burn off by mid-day. Afternoons are often sunny and warm with a light breeze inland. By contrast, the beaches and headlands are often 20 degrees cooler with heavy fogs common throughout the day in July, August and September.
Fall
The coastal areas of Point Reyes experience some of the clearest days in late September, October and early November. The occasional storm will start rolling through in late October, bringing clouds, wind, and rain. The strongest winds occur in November and December during occasional southerly gales.
Accessibility Information
The Stewart Trail to Wildcat Camp is an old ranch road that is currently maintained as a multi-use trail for the public and as a service road for NPS vehicles to drive to Wildcat Campground. The trail tends to be at least 8 feet (2.4 meters) wide throughout it's duration.The Stewart Trail is open to bicycles, strollers, and other wheeled devices. The trail surface is comprised of compacted dirt and gravel. Since this trail ascends from sea level to 1,324 feet (404 meters) in elevation in a bit more than 3 miles (5 kilometers) and due to its steep grades along many sections of the route, the ride uphill is going to be very challenging for most bicyclists, particularly for anyone without knobby tires.
Last updated: November 3, 2023