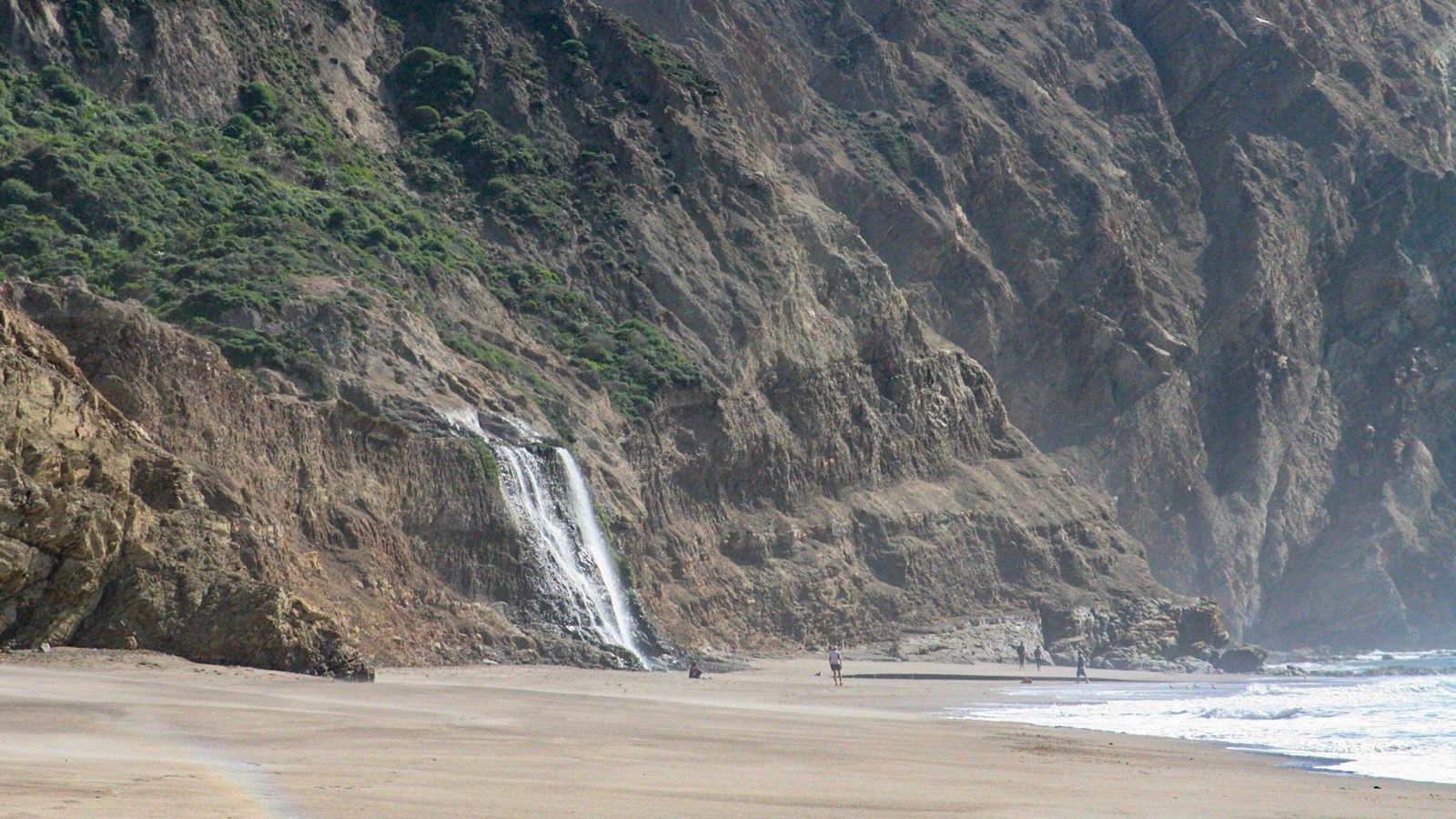 Location:
Wildcat Beach, Point Reyes National Seashore. Geo-coordinates: 37.9694, -122.7911
Beach/Water Access, Scenic View/Photo Spot, Toilet - Vault/Composting, Trash/Litter Receptacles, Water - Drinking/Potable
Wildcat Beach is a 2.9-mile-long (4.7-kilometer-long) beach deep within the Phillip Burton Wilderness in the southern part of the national seashore. The only safe location to access Wildcat Beach is at Wildcat Campground, which is a minimum of 5.5 miles (8.8 kilometers) from the nearest trailhead. The shortest route to Wildcat Campground is along the Coast Trail from the Palomarin Trailhead in the southern part of Point Reyes National Seashore near Bolinas. The route from the Bear Valley Trailhead is at least 6.3 miles (10.1 kilometers). Visitors may also hike or ride their bicycles 6.7 miles (10.7 kilometers) from Five Brooks along the Stewart Trail to get to Wildcat Campground. Visit our Hike to Wildcat Beach page for more detailed descriptions of these routes. A vault toilet and a potable water faucet are located at Wildcat Campground.
Follow Wildcat Beach south from Wildcat Campground for about a mile (1.6 kilometers) to get to Alamere Falls. A bit beyond the falls, Double Point rises abruptly at the south end of the beach. Follow Wildcat Beach north from Wildcat Campground for about two miles (3.2 kilometers) to reach a boulder-strewn section of beach below Miller Point. Tidepools may be found both at the north and south end of the beach.
Beach Safety
Visitors should use caution when visiting Wildcat beach. High tides frequently cover much of the beach. Tide Predictions for Point Reyes may be found on NOAA's Tides and Currents site.
Hypothermia (the ocean water may be as low as 50°F [10°C]), sneaker waves, and rip currents are just a few beach hazards of which visitors should be aware while visiting Point Reyes Beaches. Please visit our Safety Issues Associated with Beaches page for more information.
Glass: Glass containers are prohibited on all Point Reyes Beaches.
Take only pictures; leave only footprints: Almost everything one finds at Point Reyes' beaches is protected by law, including shells, rocks, fossils, flowers, and artifacts.
Wildlife: Do not chase or feed the gulls (or any other birds) and keep your distance from seals and sea lions.
Drones: Launching, landing, or operating a drone from or on lands and waters within the boundaries of Point Reyes National Seashore is prohibited.
Metal-detectors: Metal-detectors are prohibited throughout the National Seashore.
Pets: Pets are not permitted on Wildcat Beach, nor on any of the trails leading to Wildcat Beach. Visit our Pets page for more information.
Camping: Camping on Wildcat Beach is prohibited, but, with a valid permit, is allowed in designated sites within Wildcat Campground. Visit our Backcountry Camping page for more information on camping at Point Reyes.
Wood fires: A permit is required to have a wood fire at any beach in Point Reyes National Seashore. Visit our Beach Fires page for more information.
Fishing: Fishing is permitted at Wildcat Beach. Please visit our Fishing page for more information and regulations.
Visit the park's Beaches of Point Reyes page for more details.
Help Keep Your Beaches Clean!
Follow Leave No Trace Principles to reduce our impact on the places we love. Vault toilets are located at trailheads and at Wildcat Campground. Please help protect marine life and keep your park beaches clean by disposing of trash in the garbage cans located at Wildcat Campground and at trailheads. If you build any driftwood structures during your visit, please disassemble them before you leave.
Last updated: November 27, 2023