Lesson Plan
Becoming George Washington Unit 1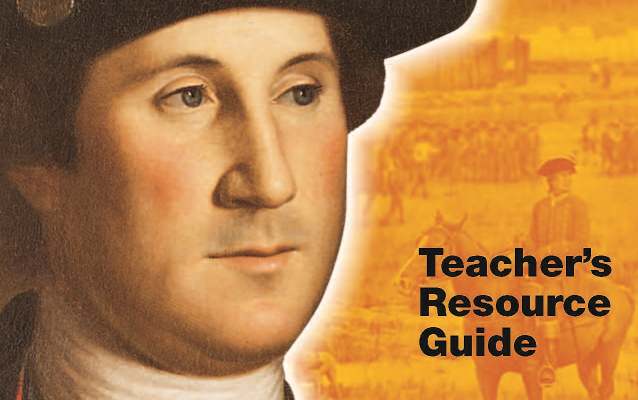 Grade Level:

Upper Elementary: Third Grade through Fifth Grade

Subject:

Literacy and Language Arts,Social Studies

Lesson Duration:

90 Minutes

Common Core Standards:

6-8.RH.1, 6-8.RH.2, 6-8.RH.4, 6-8.RH.7, 6-8.RH.9, 6-8.RH.10, 4.RI.1, 4.RI.2, 4.RI.3, 4.RI.4, 4.RI.6, 4.RI.9, 4.RI.10, 5.RI.1, 5.RI.2, 5.RI.3, 5.RI.4, 5.RI.6, 5.RI.7, 5.RI.8, 5.RI.9, 5.RI.10, 6.RI.1, 6.RI.2, 6.RI.3, 6.RI.4, 6.RI.5, 6.RI.7, 6.RI.10

State Standards:

College, Career, and Civic Life (C3) Framework for State Social Studies Standards

Additional Standards:

National Standards for History: Historical Thinking, Standard 2, 3, 4 and Era 2 Standard 1B

Thinking Skills:

Remembering: Recalling or recognizing information ideas, and principles. Understanding: Understand the main idea of material heard, viewed, or read. Interpret or summarize the ideas in own words. Analyzing: Break down a concept or idea into parts and show the relationships among the parts.
Essential Question
What can you learn about young George Washington's personality and ambitions from reading his journals ?
Objective
Student objectives: Students will…
• List what they know about Washington, correcting items on their list as they research the man
• Analyze his 1748 writing as a surveyor
• List three ways he has changed by reading his 1753 writing on a military mission
Background
By studying young George Washington's writings as a 16-year-old surveyor and writings from his first military trip five years later students will learn about his character and ambitions. The lesson will also help dispel some of the myths and misconceptions about Washington. Students will be introduced to a young man who is strong, brave and ready to make a name for himself.
Young George Washington Grades 4-6, has a 6 page lesson plan for the teachers and the following additional material: Additional Sources, Resource Pages 1-6, Images 1-5 and an answer key. The lesson uses Washington's own words, images and maps to show his character and ambitions and how he matures over time. The lesson highlights two of young Washington's adventures, his 1748 trip as a surveyor and his 1753 military trip to ask the French to leave the area.
Preparation
Download the PDF lesson plan with the resources and images
Make copies for the students
Teach and discuss with the students
Materials
Download The Lesson Plan Young George Washington Grade 4-6
Download The Images Young George Washington Grade 4-6
Download The Resource Timeline Young George Washington Grade 4-6
The student resources includes Washington's original writings and modern adaptions of those writings.
Download The student Resources Young George Washington Grade 4-6
Lesson Hook/Preview
We can learn about Washington's personality and ambitions by reading his early writings and seeing how they change over time.
Procedure
Follow lesson procedures in the downloadable lesson plan document.
Vocabulary
Surveyor: a person who measures the land and locates boundaries of land ownership
Additional Resources
Fort Necessity National Battlefield contains three sites important to young George Washington; Jumonville Glen where Washington's troops fired the first shots of the French and Indian War, Fort Necessity where the first battle of the French and Indian War was fought, and Braddock's Grave where Washington buried the defeated General Braddock.
Bibliography and other resources
Introduction to the teacher's resource guide Becoming George Washington
Related Lessons or Education Materials
Check out the other units: 
Unit 1: Young George Washington Grades 4-6
Unit 2: Young George Washington Grades 7-12
Unit 3: Becoming a Leader Grades 4-6
Unit 4: Becoming a Leader Grades 7-12
This teacher's resource guide was written by Carolyn P. Yoder for French and Indian War 250, Inc. and was made possible by the Grable Foundation and the US Dept. of Education.
Contact Information
Last updated: December 21, 2018