Permits & Reservations
EXCURSION RESERVATIONS
Are currently unavailable
BUS TOUR/SCHOOL GROUP RESERVATIONS
To plan a group visit, send an email. Please note that many park amenities, such as museums, programs and tours, are not available as the site follows current health guidelines. Contact us first to see what might be available on the day of your desired visit. Note that the park is currently operating with reduced visitor capacity and may be unable to support your desired trip.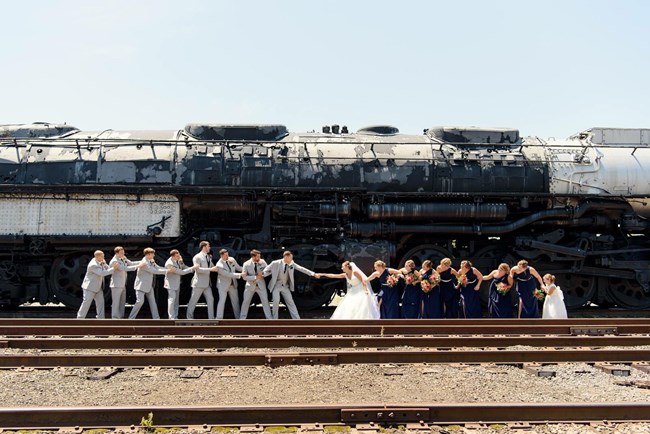 SPECIAL USE PERMITS
NOTE: Special Use Permits shall be very limited during the current pandemic as the park adaptively recovers operations. Please consider other non-site alternatives before applying in order to not be disappointed.

A Special Use Permit is a short-term activity that takes place in a park area and provides a benefit to an individual, group, or organization, rather than the public at large. The National Park Service may permit a special park use providing the activity will not cause derogation of the park's resources or values, visitor experiences, or the purpose for which the park was established. Primary concern will be given to the potential for resource damage and to anticipated disruption of normal public use.

Special Use Permits must be obtained in advance. Permit processing typically takes 30 days but could be longer for larger events that require park participation in planning or for events that require that a park monitor be present for the event.

Although most activities do not require insurance, large events do, so it pays to apply well in advance of your large event. All permits require an application and a non-refundable application fee. Depending on the type of activity, additional fees may apply.

Examples of events that require a Special Use Permit are cultural programs, picnics, festivals, wedding ceremonies, film and photography projects, static displays, etc.

Within your application, the Superintendent will look for a meaningful association between the park and the event and how the event contributes to visitor understanding of the park's significance. Conflicts with other events and park staffing are other considerations taken into account during the approval process.

PLEASE NOTE: Permission is not granted until the permit is fully executed and authorized by the Superintendent.
1) BASIC PERMITS
A basic permit is required for, but is not limited to: special events, wedding ceremonies, festivals, cultural programs, contractor/public utility work, and displays. There are two types of applications we use for specific requests.

For basic requests like children's birthday parties you may apply using our short form. For any other type of request please use our long form.

Instructions on how to submit these forms are listed on the application. Depending on the size and type of event, insurance may be required. Applications are also available by contacting the park at the contact links below.

2.) COMMERCIAL USE AUTHORIZATIONS
A commercial use authorization is defined as any activities, services, agreements, or anything offered to park visitors and/or the general public for recreational purposes which uses park resources or is undertaken for or results in compensation, monetary gain, benefit, or profit to an individual, organization, or corporation, whether or not such entity is organized for purposes recognized as non-profit under local, state, or federal law.

In Steamtown, Commercial Use Authorizations (CUAs) are most commonly required for vendors that wishes to sell food or souvenirs during a special events.

If you are a business operator and want to conduct business within the park, you are required to obtain a Commercial Use Authorization (CUA) (36 CFR Sec. 5.3).

Commercial Use Authorizations (CUAs) are one method of authorizing commercial visitor services.
• CUAs may be issued for up to two years.
• There is no right or guarantee of renewal.
• CUAs require a $50 application fee.
• CUAs are not considered concession contracts.
• Commercial business activity is prohibited within the park unless a CUA has been granted by the park (36 CFR Sec. 5.3).

To apply for a CUA, please fill out an application with as much information as possible, including dates and times of the requested event. A CUA holder must provide commercial liability insurance as part of the application. Applications are available by contacting the Special Park Use Coordinator at the contact information below.

Please also note that any food being sold on NPS property requires a valid/current "ServSafe" certificate as well as a copy of a valid and current food license.

Other Federal, state, and municipal laws may be required and additional permits may be required.

Event requests involving alcohol shall be determined based on the event and activities and, if permitted, additional insurance will be required.

3.) RIGHT OF WAY PERMITS
The National Park Service has specific Department-wide guidelines on Right of Way Permits. Please refer to the link for rules, regulations, and applications.

For Fees and payment information, please see the Payment Information section.
Lands of the United States were set aside by Congress, Executive Order, or otherwise acquired in order to conserve and protect areas of untold beauty and grandeur, historical importance, and uniqueness for future generations. The tradition of capturing images of these special places started with explorers who traveled with paint and canvas or primitive photo apparatus. It was the sharing of these images that led to the designation of these areas as national parks and monuments. Visitors to national parks today continue to memorialize their visits through videos and photographs.

FILMING
Changes to Commercial Filming Permits on Park Land
On January 22, 2021, the US District Court for the District of Columbia issued a decision in Price v. Barr determining the permit and fee requirements applying to commercial filming under 54 USC 100905, 43 CFR Part 5, and 36 CFR Part 5.5 are unconstitutional. In response to the decision, the National Park Service issued interim guidance on February 22, 2021, to manage filming activities. Under the interim guidance, filming activities may require a permit if they would impact park resources or the visitor experience. The National Park Service intends to update regulations addressing filming activities that are consistent with the outcome of Price v. Barr. Once effective, those regulations will replace and supersede the interim guidance.

Those interested in commercial filming activities on land managed by the National Park Service are encouraged to contact the park directly for more information about filming in the park and to discuss how to minimize potential impacts to visitors and sensitive park resources.

Do I need a permit to film?
Under the interim guidance, the National Park Service is not distinguishing between types of filming, such as commercial, non-commercial, or news gathering. Low-impact filming activities will not require a special use permit, but non-low-impact filming activities may require a permit to address their potential impacts on park resources and visitor activities.

Low-Impact Filming
"Low-impact filming' is defined as outdoor filming activities in areas open to the public, except areas managed as wilderness, involving five people or less and equipment that will be carried at all times, except for small tripods used to hold cameras. Those participating in low-impact filming activities do not need a permit and are not required to contact the park in advance. If low-impact filmers have questions about areas where they want to film, they should contact the park directly.

Videographers, filmers, producers, directors, news and other staff associated with filming are reminded that rules and regulations that apply to all park visitors, including park hours and closed areas, still apply to filming activities even if a permit is not required. Check with the park staff for more information on closures, sensitive resources, and other safety tips.

Non-Low-Impact Filming
Filming activities that do not meet the description of low-impact filming require at least ten days advance notice to the National Park Service by contacting the park directly in writing. The park's superintendent will determine whether the filming activities will require a special use permit for filming. Based on the information provided, a permit may be required to:
- maintain public health and safety;
- protect environmental or scenic values;
- protect natural or cultural resources;
- allow for equitable allocation or use of facilities; or
- avoid conflict among visitor use activities.

Examples of requests that may require a permit include, but are not limited to: entering a sensitive resource area, filming in areas that require tickets to enter, or filming in visitor centers, campgrounds, or other visitor areas. The decision to require a permit rests with the park superintendent based on potential impacts to park resources or the visitor experience.

Contact the park directly if unsure whether or not a filming activity is considered low-impact or may require a permit.

Filming in Wilderness Areas
The National Park Service manages and protects more than 67 million acres of park lands and waters as wilderness areas. These areas have additional laws and policies to preserve their wilderness character for future generations. Filming activities in wilderness areas must follow all applicable laws and regulations that govern wilderness areas in the park, including prohibitions on structures, installations, motor vehicles, mechanical transport, motorized equipment, motorboats, or landing of aircrafts.

Except for casual filming by visitors, special use permits for filming are required for all filming activities in wilderness areas, no matter the group size or equipment used.

Are filmers still required to pay fees to film in parks?
Under the interim guidance issued on January 22, 2021, the National Park Service is not collecting application or location fees, or cost recovery for filming activities.

STILL PHOTOGRAPHY
When is a permit needed?
Price v. Barr had no impact on how the National Park Service regulates still photography, so there are no changes in how the National Park Service regulates that activity. Still photographers require a permit only when:
1) the activity takes place at location(s) where or when members of the public are generally not allowed; or
2) the activity uses model(s), sets(s), or prop(s) that are not a part of the location's natural or cultural resources or administrative facilities; or
3) a park would incur additional administrative costs to monitor the activity.

Lands of the United States were set aside by Congress, Executive Order, or otherwise acquired in order to conserve and protect areas of untold beauty and grandeur, historical importance, and uniqueness for future generations. The tradition of capturing images of these special places started with explorers who traveled with paint and canvas or primitive photo apparatus. It was the sharing of these images that led to the designation of these areas as national parks and monuments. Visitors to national parks today continue to memorialize their visits through videos and photographs.
All SUP and CUA requests are subject to a review process to ensure compliance with the National Environmental Policy Act (NEPA). This review period is the opportunity for all departments to consider potential impacts and staff needs prior to permitting a special use request. Once an application is submitted, most special uses take 30 days for review. Permits could require a much longer review period, especially if the proposal is new or for a very large event, so please plan accordingly. If you have questions or concerns, contact us.
Insurance
Large events and commercial activities require a certificate of general liability insurance. Contact the Special Park Uses Coordinator for questions related to liability insurance.

Bonding
Large events may trigger the need for the Permittee to post a refundable performance (damage) bond. The amount of the bond will be equivalent to the estimated cost to the NPS for clean-up, repair or rehab of resources that could potentially be impacted by the permit activities. At the conclusion of the permit, the bond will be returned to the Permittee after costs of clean-up, repair, or rehabilitation are deducted.
Limits to the area, type, duration, and scope of park use are codified in Title 36 of the Code of Federal Regulations, where general park regulations may be found, and within the Superintendent's Compendium, where park-specific regulations are posted.

In addition, specific, park-mandated use limits are listed within the conditions of the permit. Failure to abide by any of the above conditions may be grounds for a permit violation, resulting in fines, or immediate cancellation of the event.

When applying for a Special Use Permit, remember to attach maps, diagrams, script pages or storyboards to assist the park staff in evaluating your request.
Freedom of speech, press, religion, and assembly are Constitutional Rights. However, the courts have recognized that activities associated with the exercise of these rights may be reasonably regulated to protect park resources. Therefore, all First Amendment activities with over 25 participants require special use permits, and the park may regulate the time, place, and manner in which they are conducted. First Amendment activities with less than 25 participants who utilize designated areas (see the shadded areas) do not require a permit. First Amendment permit requests will be processed within two business days. Some examples of special events that require permits include:

- Distribution and/or sale of printed matter
- Religious services
- Public demonstrations or assemblies, etc.
- Collecting signatures for petitions

Also, review the Superintendent's Compendium for more details concerning park regulations.
The permit office cannot accept credit cards. All permit applications must be paid by checks, cashier checks, or money orders made payable to "National Park Service." Final payment cost will be determined after we receive your permit application. Below are some of the fees you may incur.

Application Fee: $50.00.This is due when submitting your application. This fee is non-refundable and does not guarantee that you can have your event at Steamtown NHS.

Cost Recovery Fees: The National Park Service must recoup costs associated with the management of a private event. Personnel and other costs are determined by the type and scope of activity, the location, the time of day, the utilities used, the security required, and other factors. Each permit will be reviewed on a case-by-case basis. The applicant will be notified of an estimate of charges prior to the event, and the permittee will be billed for actual expenses at the conclusion of the permit.
SUBMITTING YOUR APPLICATION:
Please be sure to provide as much detail as possible in order for a timely response. Submitting information regarding maps, dates/times, equipment, locations will help speed up the review process.
| | |
| --- | --- |
| Application Due to SPU Coordinator | Type of Activity |
| 30 days prior | Birthday party, meetings, use of theater |
| 45 days prior | Weddings, most SUP's |
| 60 days prior | Any event involving catering; Photography for advertising purposes. |
| 180 days prior | Any event involving use of either our or visiting railroad equipment for special excursions. |
CONTACT INFORMATION:
Mail applications and application fee payments to:

Steamtown National Historic Site
Attn: Special Use Permit Coordinator
150 South Washington Avenue
Scranton, PA 18503-2018

For any questions regarding permits or general questions about the park, send us an email.

NOTE: Application fees MUST be received before your application can be reviewed. Applications are not accepted via email as they contain confidential information and email is not secure (encrypted).

Thank you for your interest in Steamtown National Historic Site, a unit of your National Park Service.
Last updated: June 11, 2021