Train Rides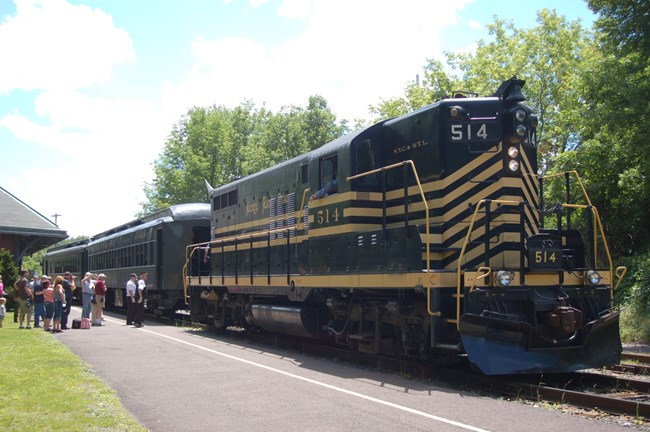 Steamtown has not announced its 2021 excursion season. Due to federal COVID-19 restrictions, excursions cannot safely run at this time. This also includes the Scranton Limited short train rides. Please continue to check back for updates.





Short Train Rides

The "Scranton Limited" short train rides is a 3-mile, 30-minute round-trip ride which travels through the rail yards, crosses the Lackawanna River, passes the historic Radisson at Lackawanna Station hotel and stops at the University of Scranton before returning to the Steamtown boarding area. Rides that operate on a Friday, Saturday, Sunday, or holiday will typically be powered by a steam engine. Rides that run on other days of the week are typically powered by a diesel engine and operate with vintage passenger cars.

The cost for the "Scranton Limited" short train ride is $5.00 per person, all ages 6 and older. The trains will be powered by a historic locomotive On Sundays, if we operate to the tunnel, also known as "The Gorge," "Nay Aug Ltd." or "Nay Aug Gorge," the ride usually lasts about 45 to 50 minutes.

The Caboose Experience
The "Caboose Experience" is a short 15-20-minute ride in our historic caboose within the park boundaries. It gives visitors a chance to experience what life was like at the back of the train. Visitors can even experience riding in the Copula of the caboose. The Experience is included in the $5 Scranton Limited ticket.

The cost for both the "Scranton Limited" and "Nay Aug Gorge Limited" short train rides is $5.00 per person, all ages 6 and older; the park does not charge an entrance fee.
Excursion Train Rides
You can watch this space for our trips and excursions when it becomes available for the season, for planning of your visit as well as information about our fees and passes. Locations and destinations are subject to change.
PLEASE NOTE: Our train cars are antiques and are not equipped with heat or air conditioning. Please be sure to dress accordingly.
Refund Policy
In the event you miss your Short Train Ride (yard shuttle), we can put you on the next shuttle as long as the train is not sold out or was the last train of the day. If you miss the train for a special event or excursion program, tickets cannot be refunded or transferred and you are responsible for getting transportation back to your point of origin.
Last updated: April 28, 2021