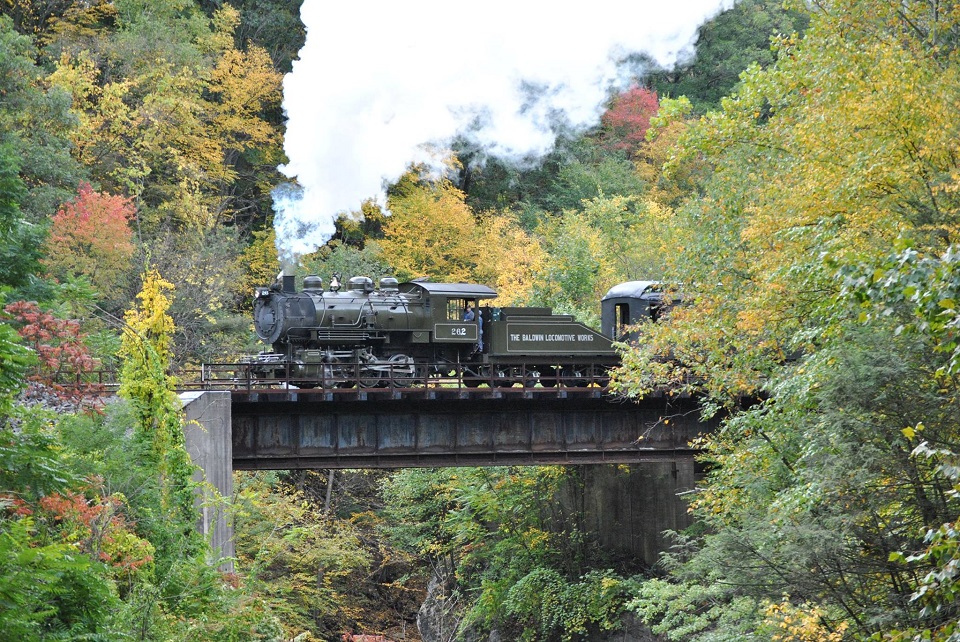 News Release Date:
September 21, 2017
Contact: Train Ride Info & Reservations, 570-340-5204 beginning 9/24
Contact: Media Contact: Bill Nalevanko, 570-241-8258
Steamtown National Historic Site, downtown Scranton, plans a special steam-powered excursion to Carbondale, Pennsylvania, on Columbus Day, Monday, October 9.  
The park's Baldwin #26 0-6-0 steam locomotive is scheduled to operate this special trip through the Lackawanna Valley, along a portion of former Delaware & Hudson Railway mainline. It is scheduled to depart the Steamtown Boarding Platform at 10:00 a.m. and arrive back at the park at 4:00 p.m. Join us as park staff describes the importance of the Valley's towns to the Industrial Revolution en route to the Pioneer City - Lackawanna County's first city.  Excursion passengers will receive a downtown map of the city to explore and discover where, among other "firsts," the first commercially successful railroad – the Delaware & Hudson Gravity Railroad – opened in 1829. Reservations open on Sunday, September 24.Tickets are priced at $24 for adults 16-61, $22 for seniors 62 and older, and $17 for children ages 6-15. Children to age 5 require a "no-charge" ticket.  (NOTE: Locomotive power is subject to change without notice.)  
The 30-minute
"Scranton Limited"
short train rides inside the park boundaries will operate on Fridays and Saturdays through November 11; the
"Nay Aug Limited
" short train rides will operate on Sundays thru November 12. All short train rides depart from the Roundhouse boarding area at 10:30 and 11:30 a.m., and 1:15 and 2:15 p.m. There is an additional $5 charge for this ride. The daily entrance fee is $7 per person, all ages 16 and older. Children 15 and under, accompanied by an adult, are admitted to the park at no charge. The entrance fee includes parking and access to the outdoor grounds, the museum complex, scheduled walking tours, and the park movie,
"Steel and Steam."
Located in downtown Scranton, Pa., Steamtown NHS is open daily from 9:00 a.m. – 5:00 p.m. From I-81 follow exit 185 (Central Scranton Expressway); then, follow the brown and white signs to the park entrance at Lackawanna and Cliff Avenues (GPS: N 41.41, W 75.67). For train ride reservations, phone (570) 340-5204, 9:00 a.m. – 4:00 p.m. daily beginning Sunday, September 24.