Campground Reservations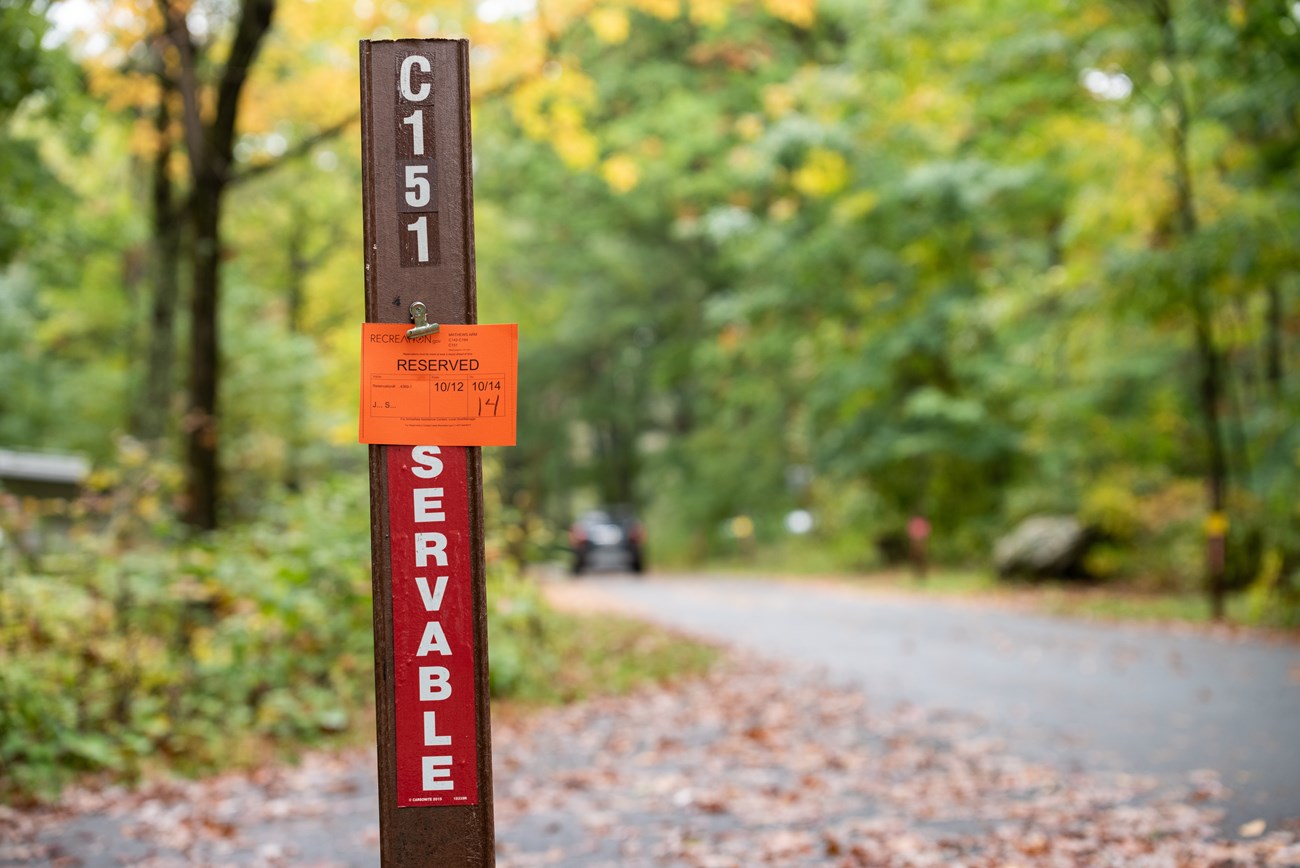 Reserving a Site
Reservations can be made through Recreation.gov as well as the site map on each campground's page. Check the map for each campground to see when specific sites are scheduled to be released. Reservable sites for Mathews Arm, Big Meadows, and Loft Mountain Campground will be released in sections.
6 months prior to the date of your arrival - 50% of reservable sites will be released
2 weeks prior to the date of your arrival - 25% of reservable sites will be released
4 days prior to the date of your arrival - the remaining 25% of reservable sites will be released
No reservations can be made for Loft Mountain Campground or Mathews Arm Campground 48 hours before your selected date. Reservations for Big Meadows Campground can be made online at anytime. No-shows who have more than one night reserved will be contacted by 1 p.m.; if they have not arrived, their reservations might be cancelled.

How does this work? Let's look at Memorial Day weekend as an example -- all sites released during the first wave of reservations for May 27th at Big Meadows Campground have been booked. However, on May 13 at 10 a.m., 30 more sites will be available and then on May 23 at 10 a.m., 21 more sites will be available. If you weren't able to make a reservation 6 months in advance, you still have a chance to claim a site.
Changes to Big Meadows Campground
Starting May 3, 2023, all sites at Big Meadows Campground are by reservation only. Rangers can make limited reservations on site, but availability is not guaranteed. It is recommended you make your reservation ahead of time on Recreation.gov.

Payment for reservations made on site can only be made using a debit or credit card. Cash cannot be accepted. If you arrive after hours without a reservation, you must go to an area where there is cell service or Wi-Fi and make a reservation.
Why Has the Reservation System Changed?
These changes have been made to improve your visitor experience! The demand for reservations has increased over the years. With this new reservation system, visitors will know they have a campsite before they arrive at the park, can check to see how full the campground is before starting their trip, and can pick out what site they want or know if the site they want is not available.
Tips for Choosing Your Site
When making your reservation, its important to choose the site that's right for you! Some sites are suited for tents only, while others will accommodate larger vehicles like RV's. Pay close attention to how each site is marked when making your reservation.

Rangers cannot alter your reservation. All changes need to be made by you on Recreation.gov and are dependent on availability.
Camping without a Reservation
Reservations are highly recommended, especially during the busy season. Here are some options if you haven't reserved a site but still want to camp in Shenandoah:
Claim a first-come, first-served site. Even when all reservable site have been claimed, there may still be first-come, first-served sites (FCFS) at Mathews Arm, Lewis Mountain, and Loft Mountain Campground. You must be on site at the campground to get a FCFS site. Generally, during the fall the campgrounds fill on Thursdays or early Fridays for the weekend. Wondering whether there's first-come, first-served site availability? You can opt in to our alert system to find out. Simply text SHENCAMP to 888777. On weekends you will receive twice daily updates on campsite availability. You can opt out at any time.

Plan a backcountry camping trip. Dispersed camping, or "Backcountry Camping" is a popular option in Shenandoah. It requires a permit and there are important regulations. Find out more here on our backcountry camping pages.
Car camping or "boondocking" with an RV or any other vehicles is prohibited in Shenandoah. RV and other overnight stays must be in one of our five campgrounds. When campgrounds are closed for the season, car and RV campers must seek campsites outside the park.
Last updated: May 30, 2023