Science & Research
National parks are outdoor laboratories for studying ecological processes. As potentially adverse impacts of human activities on the globe have become more widely recognized, national parks have become the best indicators of ecological effects of anthropic perturbations such as air pollution and climate change. Resource specialists and researchers develop sound technical information on park resources. Our knowledge of
nature in Shenandoah
would be minimal if it were not for these people. The National Park Service, in turn, is positioned to actively manage those resources and to participate in broader regional conservation programs. Learn about the work that we do and become a steward of our shared resources.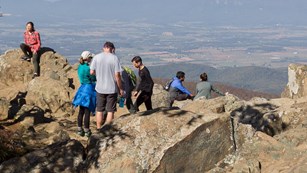 Rock Outcrop Management
Learn how the Park studies and manages rock outcrops and the closures that are in effect to protect these fragile places for the future.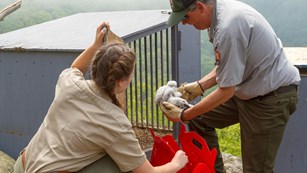 Peregrine Falcon Restoration
Park staff and partners are a part of regionally coordinated efforts to reintroduce the peregrine falcon to the Central Appalachians.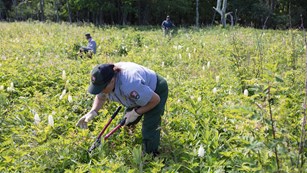 Nonnative Species Management
Resource specialists take action when nonnative species are known or suspected to cause harmful damage to natural systems.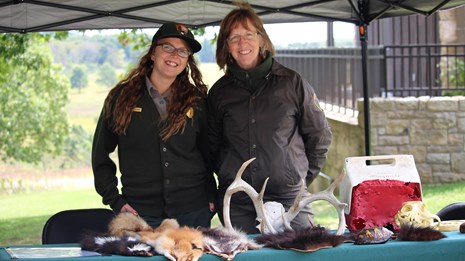 Behind the Scenes
Resource management hinges on the work of many people - learn the who's who of protecting Shenandoah's resources for the future.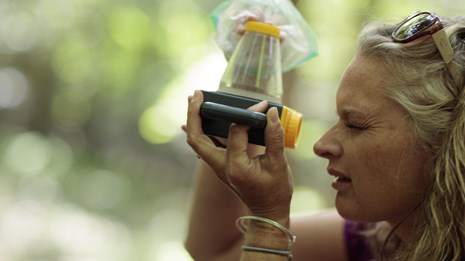 Research
Shenandoah is a living laboratory. Learn how to apply for a research permit and about funding that may be available.
Shenandoah staff inventory, or record information about the presence, abundance, and distribution, certain plants and animals in the park. From these data, they can create maps and species lists. Condition and trend programs, often referred to as monitoring, track changes over time. This helps park scientists understand if species are declining, stable, or improving. Scientists also monitor air and water quality in the park.
Last updated: March 4, 2019