Exploring Giant Sequoia Groves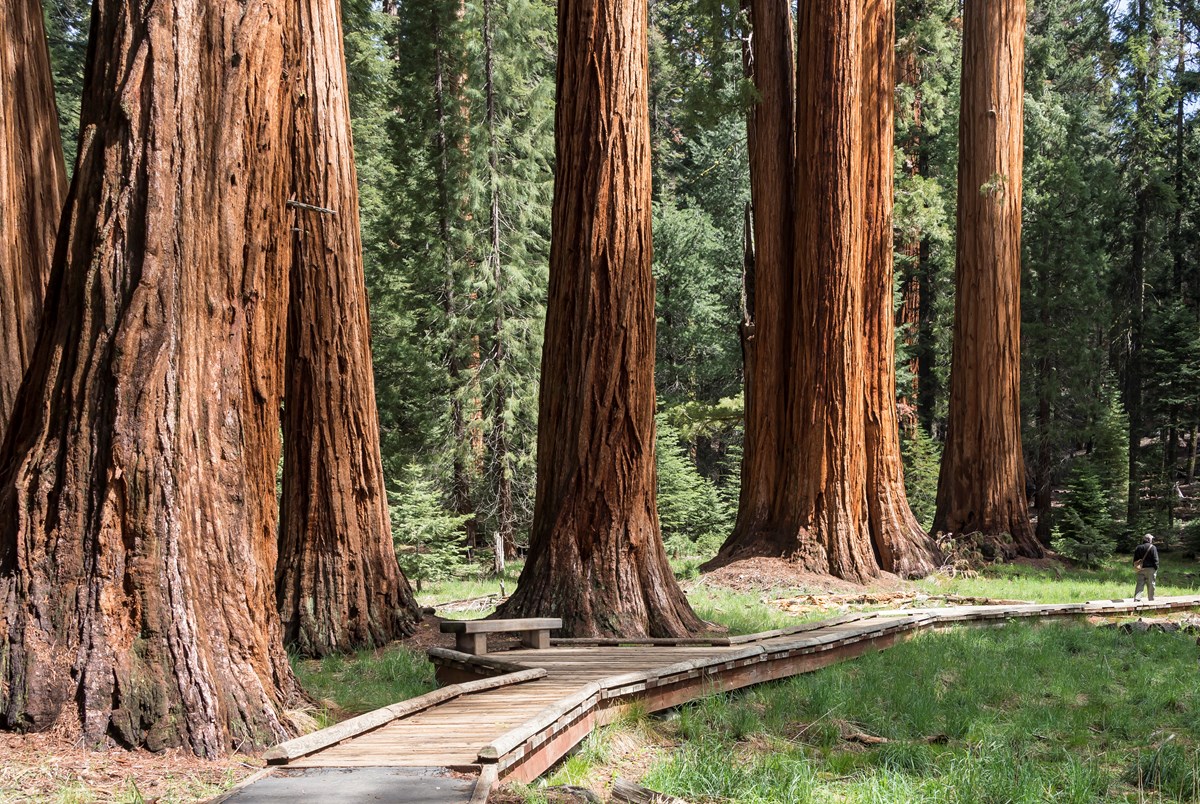 What is a Sequoia Grove?
Giant sequoia groves are portions of Sierra Nevada mixed conifer forest that contain giant sequoias. In most groves, giant sequoias are fewer in number than other tree species, but are the most visually striking and dominant in size. Giant sequoias grow only on the western slopes of the Sierra Nevada in California, between 4,000 and 8,000 feet (1219 and 2438 m) in elevation. Within park boundaries, park staff distinguish approximately 40 different giant sequoia groves, ranging from one to tens of thousands of sequoia trees per grove. Numerous groves can be reached by road, while others are remote and involve an arduous hike to visit. In all the groves – from heavily visited to remote – these immense, majestic trees and sunlight filtered through lofty branches bring a sense of peace and wonder.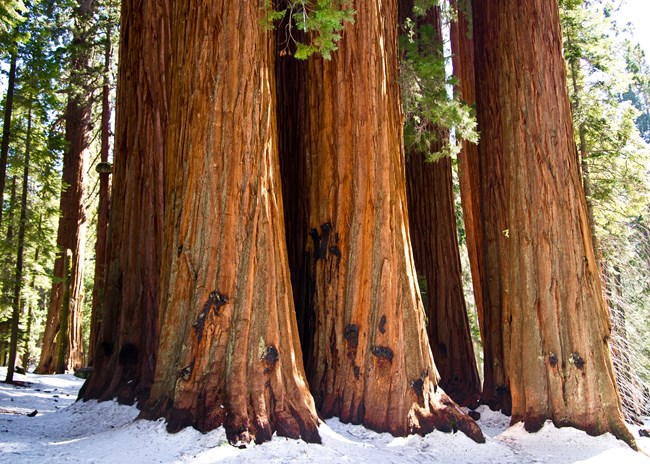 Giant Forest
Giant Forest is a large sequoia grove, set on a rolling plateau between the Marble and Middle Forks of the Kaweah River in Sequoia National Park. It is the largest of the unlogged giant sequoia groves, and it contains more exceptionally large sequoias than any other grove. It hosts the largest living sequoia, the General Sherman Tree. In this grove, visitors can see the effects of decades of prescribed burning: open forest conditions and clumps of giant sequoia seedlings that establish after fire. Giant Forest has an extensive network of hiking trails that range from 1-2 hour hikes to half-day or longer explorations of this grove. From spectacular giant sequoia trees to historic structures leftover from the time cattle grazed in this area, one can learn about both natural and cultural history. Enjoy views from Moro Rock, or wildlife-viewing opportunities amongst the trees and scattered meadows. Visit the Giant Forest Museum for a good introduction, and explore from there by foot, shuttle bus, or car.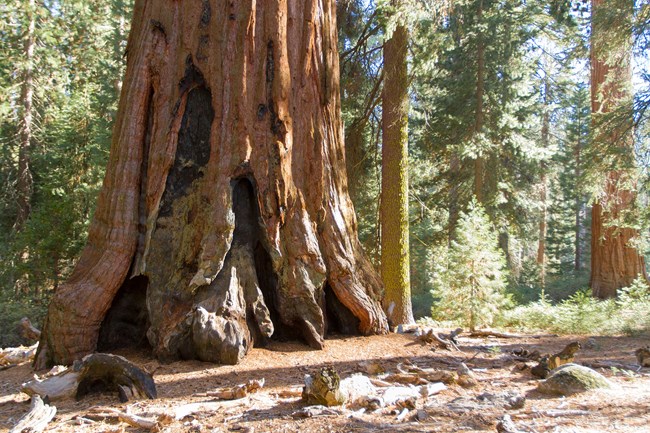 Grant Grove
Grant Grove is located in Kings Canyon National Park, accessible by a short spur road from Highway 180 and located just 1.5 miles from the Kings Canyon Visitor Center. This grove has numerous exceptionally large sequoias grouped in a 90-acre area. A higher percentage of this grove's mature sequoias reach sizes of ten, fifteen, and twenty feet (3, 4.5, or 6 m) in diameter than in any other grove. For those who are interested in photographing an entire giant sequoia, a visit to Grant Grove provides a great vantage point of the immense and stunning General Grant Tree, celebrated each year as the nation's Christmas tree. The 1/3-mile (.05 km) paved loop trail leads to the General Grant Tree and includes other named trees and features, including the Gamlin Cabin, the Fallen Monarch, and the Centennial Stump. Explore this and other trails to see sequoias, meadows, and wilderness views. Nearby campgrounds and a summer shuttle bus facilitate visits to the Grant Grove area.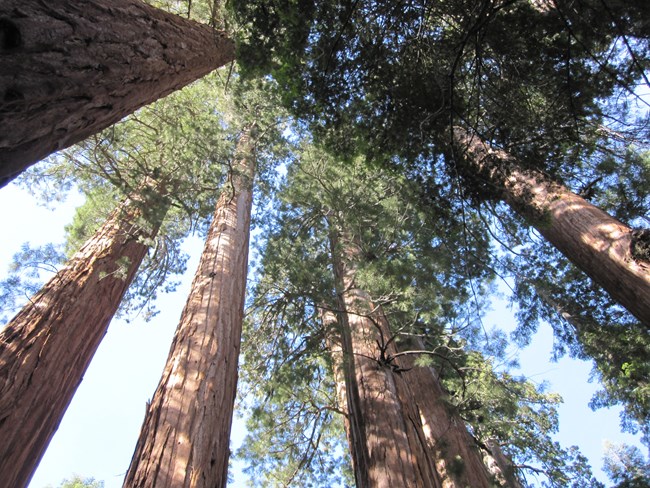 Redwood Mountain Grove
Redwood Mountain Grove is a very large grove with spectacular old growth sequoias and a diversity of plants on the forest floor. In the spring, the colorful mix of wildflowers along the ridge trail and near Redwood Creek will delight hikers as much as the giant sequoias. In the fall, the dogwood shrubs turn a deep red color, and the fall light provides good photo opportunities.
Redwood Mountain Grove is the largest grove in total area, has the largest area of old growth giant sequoias, and contains more mature sequoias than any other grove. This grove was one of the first areas where Sequoia and Kings Canyon National Parks started prescribed burning to reduce fuels and stimulate giant sequoia reproduction. The large fire scars on some of the monarch giant sequoias are a testament to the presence of fire over many centuries in sequoia groves. Today, the open stands of trees and the growth of young giant sequoias at Redwood Mountain Grove illustrate successful outcomes of the parks' fire program.
At Redwood Mountain, you will find a grove within a grove if you hike out the ridge 2.5 miles to the Sugar Bowl Grove. The Sugar Bowl Grove is one of few examples of a nearly pure giant sequoia forest, rather than the typical mix of giant sequoias with other types of trees. From one spot along trail, one sees more than 50 giant sequoias.
In addition to the hike out to the Sugar Bowl Grove, additional trails provide access to giant sequoias along both sides of Redwood Creek and to vistas with views of the grove. The several loop hikes here range from 6.5 to 10 miles in length and involve some climbing. See the Redwood Canyon Trail webpage for more detailed information about hikes in this area.
To access this grove, you will need to drive down a short (about 1 mile) stretch of somewhat bumpy dirt road to the parking area and trailheads.
Muir Grove
For those who are seeking more solitude in a giant sequoia grove, the mid-sized Muir Grove in Sequoia National Park is a two-mile hike from the parks' Generals Highway and is much less-visited than Grant Grove or Giant Forest. The Muir Grove features a high density of mature sequoias as well as a dramatic approach and entrance to the grove, with views across a creek gorge of the impressive giant sequoias on the grove's east side. The trail to this grove continues further into the grove for those who want a longer hike. This is a perfect day hike for visitors traveling between Sequoia and Kings Canyon National Parks, and for those camping at the nearby Dorst Creek Campground.
Big Stump Grove
Beginning in the late 1800s, numerous sequoia groves in an area that would later become the parks, and in the neighboring Sequoia National Forest, were logged. Big Stump Grove, near the entrance to Kings Canyon National Park, is worth a visit for those interested in exploring the site of the Smith-Comstock Mill and logging camp. Here, you'll find several remaining old growth stumps and the young sequoia trees that regenerated following historic logging operations.

Most of the old growth giant sequoias were logged here between about 1883 and 1891. Tree ring data indicate that many of the logged giants were relatively young for sequoias (approximately 500-600 years old). A combination of fire scar dating and aging of tree-ring samples indicates that prior to logging, most of the grove comprised sequoias that established after a large, severe 14th-century fire. In this grove, scattered old growth sequoias were spared from logging, and many young sequoia stands have established in the openings created by logging. Many of these trees are over a century in age and four to six feet in diameter.

This grove is known for the stump of the huge Mark Twain Tree. Sections of this tree are still on display in the American Museum of Natural History in New York City, and dramatic photographs document its cutting in 1891.

In addition to a hiking trail, there is also a picnic area. The Kings Canyon Visitor Center and Grant Grove Village is just 3.5 miles (5.6 km) away.
Converse Basin Grove
The Converse Basin Grove, managed by the U.S. Forest Service in the Giant Sequoia National Monument, is one of the largest sequoia groves in total area and provides a window into an era of large-scale logging involving ingenuity and strong will. Imagine cutting a giant sequoia with cross-cut saws and axes, milling the wood on-site, then transporting it down waterways called flumes that floated the timber to towns in the Central Valley. Despite the lack of power saws during the time frame of logging here (1893-1908), the clear-cutting of Converse Basin was extensive. It is likely that more mature and old growth sequoias were cut here than in all other groves combined. Although the logging was destructive, the grove remains a remarkable site with its significant historic forest as well as its existing scattered old-growth sequoias, and the most extensive young sequoia stands of post-logging regeneration found in any grove.
The most noted sequoia spared by the loggers is the 269-foot (82 m) tall Boole Tree. It is the largest tree in America's national forests, and it contends with two other living sequoias as the sixth largest in overall volume. This tree bears the name of the general manager of the Sanger Lumber Company, Frank Boole, thought to have ordered this particular tree spared. Many other mature sequoias are widely scattered throughout the grove, including the largest surviving old growth group (including more than 25 trees), located along Cabin Creek in Kings Canyon.
Three developed recreation sites lie within Converse Basin Grove:
Stump Meadow: You pass this meadow on the drive to the Boole Tree Trail. Stump Meadow is filled with sequoia stumps that allow visitors to visualize the size of the trees that were cut. Thousands of 100-year-old sequoias surround the meadow. The stumps have provided a wealth of information for scientists who use tree rings to study past climate patterns and fire history. The oldest stump in this grove dates to just over 3,200 years old.
The Boole Tree Trail is a family-friendly 2.5 mile (4 km) loop trail with great views of Kings Canyon and the park's high peaks.
The Chicago Stump Trail is a flat trail and short walk (.5 mile or .8 km) that will bring you to the former site of the General Noble Tree, which was cut down in 1895 and sent to the World's Columbian Exposition of the World Fair in Chicago. What remains is a 20-foot-high stump, called the Chicago Stump. In 2015, the Rough Fire burned through the Converse Basin area, and fire fighters were successful in protecting the Chicago Stump by wrapping it in fire-resistant fire shelters.
Visit the Sequoia National Forest Converse Basin Grove web page to learn more, or the Giant Sequoia National Monument page that provides an overview of other national forest groves in the area.
Last updated: January 12, 2022