Camping
General Information
There are fourteen campgrounds in these parks, including three that are open year-round. Campgrounds require reservations in advance, and sites are usually full. Make reservations at at Recreation.gov. Each campsite can hold up to six people and has a picnic table, fire ring with grill, and a metal food-storage box. Campground opening dates may be affected by tree hazards, fires, weather, or other conditions.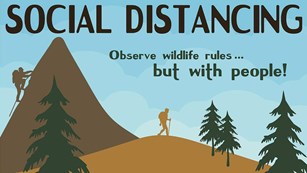 COVID-19
Here, we share tips for responsible recreation during the COVID-19 pandemic.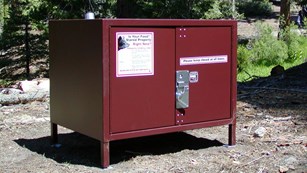 Store Food to Protect Wildlife
Bears are active day and night. When camping or picnicking, all food, trash, and any item with a scent must be stored in food-storage boxes.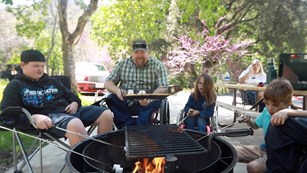 Camping Accessibility Film
Take a tour of accessible campground features with a family as they share insider tips for your visit.
The Lodgepole area is centrally located in Sequoia National Park at an elevation of 6,700 feet (2050 m). The area is a 45-minute drive from the Hwy 180 entrance in Kings Canyon National Park, or a one-hour drive from the Hwy 198 entrance in Sequoia National Park. Enter the parks via Highway 180 if your vehicle is over 22 feet (6.7 m) long.
Grant Grove Village serves as the gateway to Kings Canyon National Park. At 6,500 feet (2000 m), this area offers moderate temperatures in the summer, and is usually snow covered in the winter. Trails lead to giant sequoia groves, meadows, waterfalls and vistas of the high Sierra. Numerous services are available a short distance from all three campgrounds.
Located at 4,000 feet (1,200 meters) and an hour's drive from Grant Grove, the Cedar Grove area is a more remote area of Kings Canyon National Park. It is open from early spring to late fall. Campgrounds are next to the South Fork of the Kings River and offer views of the glaciated Kings Canyon. Trails lead to meadows and waterfalls, and also provide some of the best access to the high Sierra wilderness. All campgrounds in this area contain a bicycle trail which connects them to services at Cedar Grove Village.
The Mineral King area features the highest elevation campground in the parks. At 7,500 feet (2280 m), it is only open during the summer months. A narrow, winding, largely unpaved road leads to the area and its two campgrounds. RVs and trailers are not recommended on Mineral King Road and are not permitted in campgrounds. Mineral King is not connected to the rest of Sequoia National Park by roads. To get here, turn off of Highway 198 in Three Rivers, California.
At an elevation of 2,500-3,000 (750-920 m), the foothills of Sequoia National Park are hot and dry in summer, and cool and wet in winter with occasional light snow. Nearby trails lead to oak woodlands, river canyons, and spring wildflowers. A 45-minute winding drive leads to the Giant Forest sequoia grove—vehicles over 22 feet (6.7 m) are not advised on this road. In summer, fire restrictions are often in effect in these campgrounds due to high temperatures and dry conditions.
Wolverton Stock Campsites
Campsites cost $22 per night. Reservations will be available on Recreation.gov. No first-come, first-served sites are available.
U.S. Forest Service Campgrounds
The U.S. Forest Service maintains campgrounds in the Hume Lake District that borders Sequoia and Kings Canyon National Parks. These campgrounds are not managed by the parks.


Last updated: September 23, 2021