Grant Grove Trails

Check at visitor centers located in Lodgepole, the Foothills (also referred to as Ash Mountain), Grant Grove and Cedar Grove for more details on these and other trails in the area. Maps and trail guides can also be purchased at visitor center bookstores.
Please be aware that pets are not allowed on any trails in Sequoia and Kings Canyon National Parks. Also note that there is no shuttle operating in the Grant Grove area, despite websites that still mention the Big Trees Transit shuttle, which is no longer operational.
General Grant Tree Trail
One of the world's largest living trees. President Coolidge proclaimed it the Nation's Christmas tree in 1926. Visit the historic Gamlin Cabin and the Fallen Monarch along this 1/3 mile (0.5 km) paved trail. Start at the General Grant Tree Parking area, 1 mile (1.6 km) northwest of the Kings Canyon Visitor Center.
North Grove Loop
This lightly traveled, 1.5 mile (2.4 km) trail provides an opportunity for a close look at the big trees. Enjoy a quiet walk past meadows and creeks, through mixed conifer and sequoia forest. The trailhead is at the Grant Tree parking area, 1 mile (1.6 km) northwest of the visitor center.
Big Stump Loop Trail
Located just past the Big Stump Entrance to Kings Canyon National Park, walk through an old-growth giant sequoia grove that was logged in the late nineteenth century. This 2-mile loop trail passes along a meadow, a great place to see wildlife, and gives visitors an up-close look at large sequoia stumps.
Buena Vista Peak
The 2 mile (3.2 km) round-trip hike up this granite peak begins just south of the Kings Canyon Overlook on the Generals Highway. Drive 6 miles (9.7 km) southeast of Grant Grove Village, and park at the indicated area near the trailhead. From the top of Buena Vista Peak, a 360-degree view looks out over the majestic sequoias in Redwood Canyon, Buck Rock Fire Tower, and beyond to a splendid panorama of the high Sierra.
Redwood Canyon
This grove burned in the 2021 KNP Complex Fire. Forty percent of the grove burned at moderate to high fire severity, and many giant sequoias were killed. At this time, the trails remain closed due to hazardous conditions related to the fire.

The trailhead for Redwood Canyon is 2 miles (3.2 km) down a rough dirt road 6 miles (9.7 km) south of Grant Grove Village. This road is closed to vehicle traffic in the winter. Redwood Canyon is one of the largest of all sequoia groves. Sixteen miles of trail are available for short walks, day hikes and overnight backpacking trips. As you hike through sequoia/mixed conifer forest, meadow and shrubland, you will see sign of many fires, some recent, some ancient. The result of 30 years of prescribed fires, showing the positive relationship between fire and sequoias.
Big Baldy Ridge
This trail offers great views out and down into Redwood Canyon. A 2.2 mile (3.4 km) to the summit at 8209 feet (2,502 m). From Grant Grove Village, go 8 miles (13 km) south on Generals Highway to the trailhead. Park at the indicated area near the trailhead. Elevation gain 600 feet (183 m); roundtrip 4.4 miles (7.1 km).
USFS National Forest Area-Converse Basin
This trail is located in Sequoia National Forest/Giant Sequoia National Monument. It was once the world's largest sequoia grove, until virtually every mature tree was cut down early in the 1900s. The Boole Tree was spared, along with a few other less accessible giants. Boole is the world's eighth largest sequoia. Converse Basin is accessible by a graded dirt road off Highway 180, 6 miles north of Grant Grove. A 2-mile (3.2-km) round-trip loop trail leads to the Boole Tree from a parking area at the end of the road.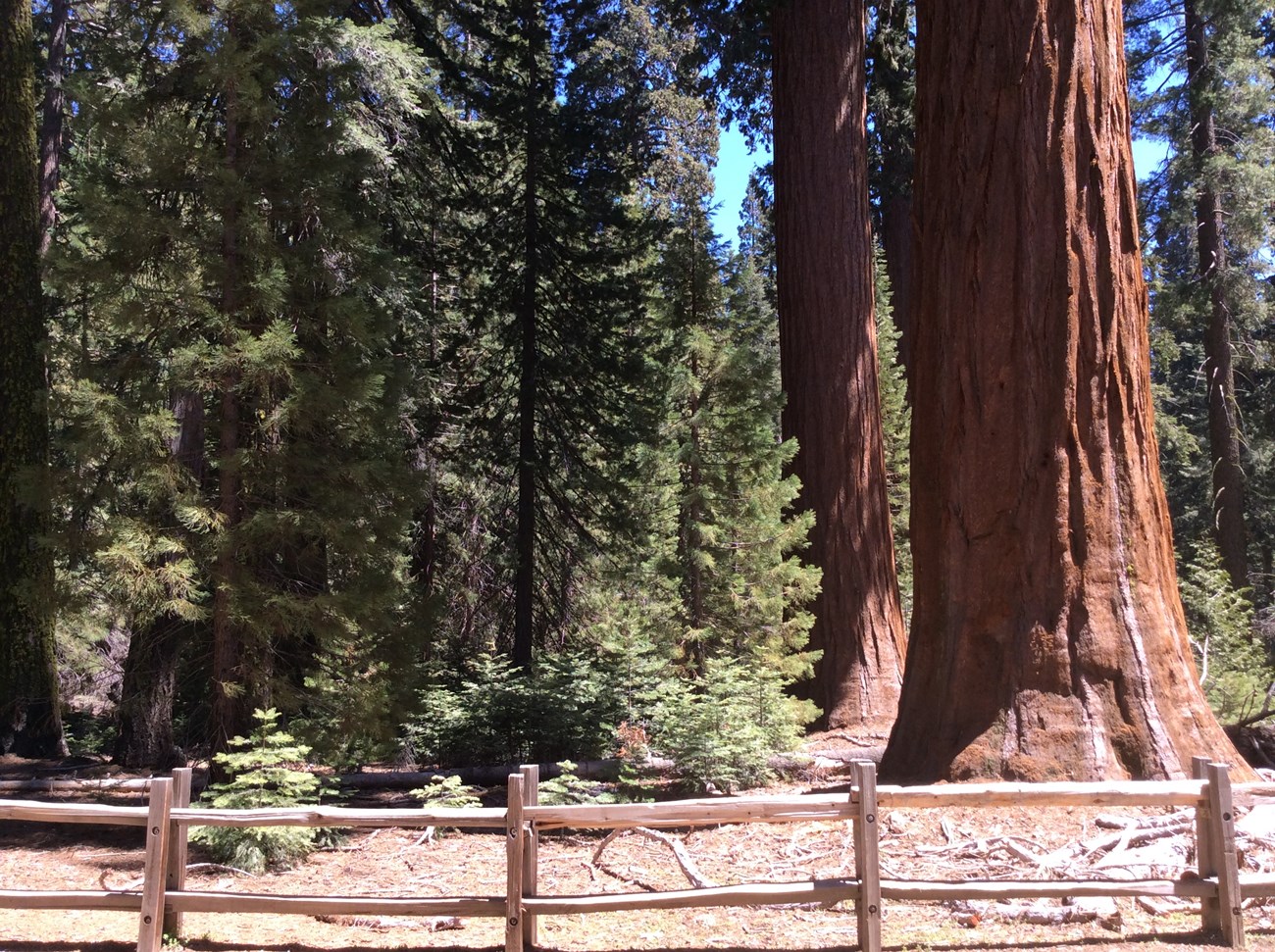 Last updated: July 25, 2023