Dorst Creek Campground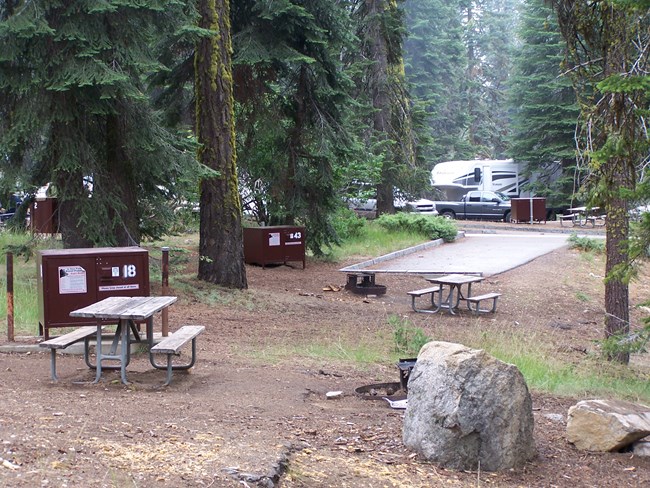 Dorst Creek Campground, located between Grant Grove and Giant Forest, offers a central location from which to explore the parks. This campground is 10 miles (16 km) from the Giant Forest, under open stands of evergreen trees at an elevation of 6,800 feet (2,073 m). The free Sequoia Shuttle stops at the campground.
Campground Information
This campground has 218 individual sites and four sites for large groups (15-30 people). Individual sites are $22 per night and large group sites are $40 - $60 per night. In 2020, reservations are available for sites from June 17 to September 8 and strongly recommended. From September 9 to September 30, sites 60 sites will be open for first-come, first-served camping. Sites 6, 11, 172-175, 177, and 180 are designated accessible. These sites feature paved accessible parking, level tent pads, grills, picnic tables, and access paths to campground facilities.
RV Information
Dorst Creek Campground has sites for RVs and trailers of nearly any length, including pull-through sites. When making reservations, you can filter available sites by entering the length of your RV. A dump station is available at the campground. Generators are allowed from 8 to 11 am and from 5 to 8 pm.
Amenities or Services
Dorst Creek Campground has:
A pay telephone

Flush toilets

Ranger programs offered in the summer at the amphitheater

Free Sequoia Shuttle to Giant Forest with a stop in the campground
Groceries, showers, and laundry facilities are available at Wuksachi Lodge (6 miles away) and Lodgepole Market (8 miles away).
Other Information
You are required to store food properly in order to protect bears. Each campsite has a large food storage locker (47"W x 33"D x 28"H) that is resistant to bears when properly latched. Learn more about bears and food storage in the parks.
Pets are permitted within the campground, but must be leashed at all times. Learn more about pet regulations.
Reservations: Go online to Recreation.gov or call toll free: 877-444-6777 (TDD 877-833-6777) from 10 a.m. - midnight EST March 1 through October 31, or 10 a.m. - 10 p.m. EST November 1 through February. Customer Service: 888-448-1474.
You may make reservations starting 6 months in advance of the date you would like to camp. For example, reservations for July 4 can be made starting January 4.
There is potential to have heavy snowpack in the campground in early spring. If the park is unable to open all or portions of the campground that could affect your reservation the park will help you find a different campsite in a different park campground at no additional cost. For updated information please contact the parks at (559) 565-3341.
A map of the campground is shown below.
Download the Dorst Creek Campground map for a larger, printable image. (PDF)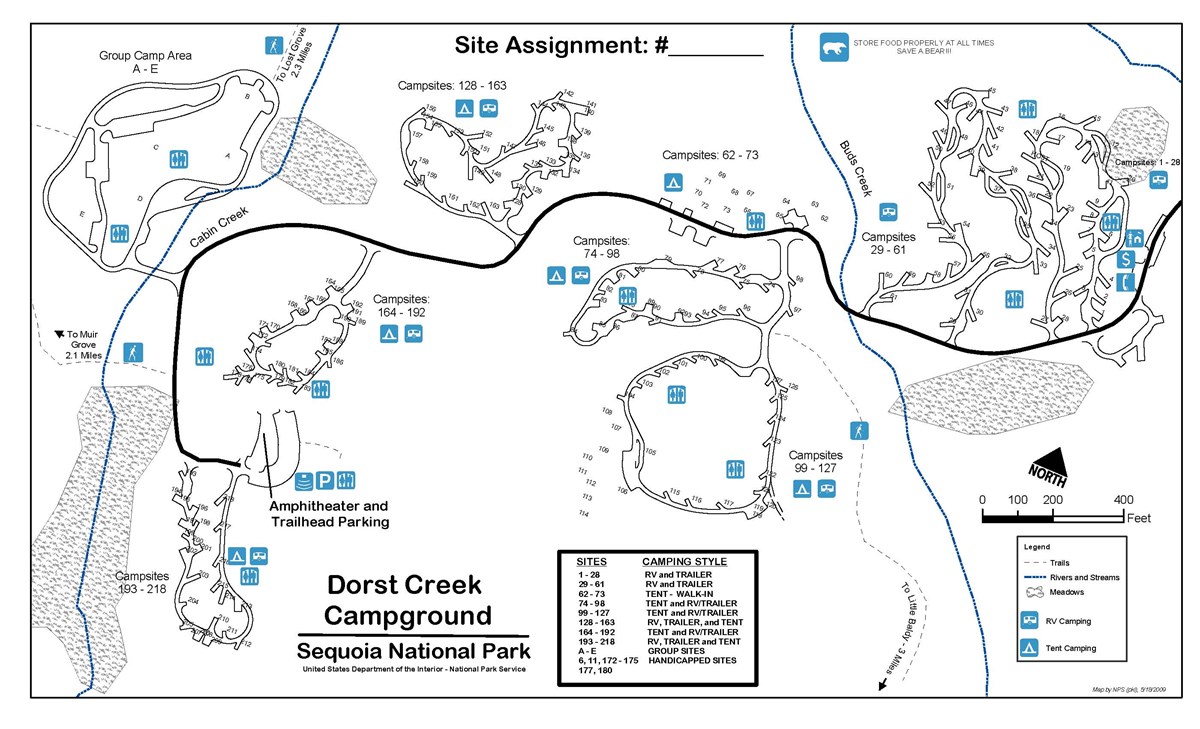 Last updated: March 20, 2020