Accessibility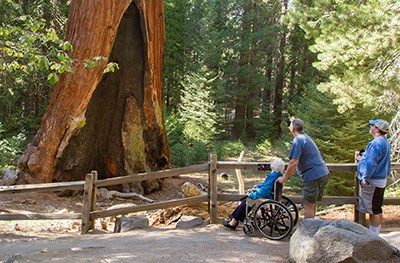 We are committed to a continuing effort to improve the accessibility of our trails and facilities so they can be enjoyed by all. If you have questions or suggestions about accessibility, please email us at SEKI_Interpretation@nps.gov or call us at (559) 565-3341.
For people with mobility impairments
Visitor Centers
All visitor centers and museums have paved, flat paths leading from parking areas to information desks, exhibits, bookstores, waterbottle filling stations, and restrooms. Cedar Grove Visitor Center is small, and may be difficult for people in wheelchairs to navigate. Mineral King Ranger Station has steps leading to the entrance and may not be accessible to people with mobility impairments.
Wheelchairs may be borrowed at no cost at Lodgepole Visitor Center and Giant Forest Museum. They can be used anywhere in the parks but must be returned by the end of the day, before each visitor center closes. Ask at information desks, and be prepared to provide your address and phone number.
Campgrounds
We're working to make at least one site at each campground accessible to people in wheelchairs. Most campgrounds have one or more sites with raised fire rings, extended picnic tables, and level approaches to accessible restrooms. Ground surfaces at accessible campsites or picnic tables are usually firm soil or compacted soil and gravel.
Campgrounds with sites that are most accessible for wheelchair users are Moraine, Sunset, Sentinel, and Canyon View in Kings Canyon National Park, and Buckeye, Potwisha, and Lodgepole in Sequoia National Park. Moraine has five accessible sites clustered together, and Canyon View has accessible sites for both large and medium groups.
Picnic Areas
Some picnic areas have at least one extended table and raised barbecue, with paved or hard-surface paths from the parking area and to nearby restrooms. Picnic areas that are most accessible for people who use wheelchairs include Hospital Rock (Foothills), Pinewood (Giant Forest), and Big Stump (Grant Grove).

Transportation
Free shuttle buses operating in the Giant Forest and Lodgepole areas in summer and during holiday periods are wheelchair accessible. Some buses kneel and others have mechanical lifts. For shuttle schedules, visit our shuttle web page.
A shuttle also runs between Visalia and the Giant Forest in summer; reservations are required. For more information, visit www.sequoiashuttle.com or call 877-BUS-HIKE (877-287-4453).

Trails and Park Features
Trails that are wheelchair-accessible include:
General Sherman Tree Trail (Giant Forest): This short trail leads a few hundred feet from an accessible parking area to the General Sherman Tree, the largest tree on earth. The entire trail is paved with inclines of up to 5% and limited cross-slopes. Benches along the trail provide places to rest.
Big Trees Trail (Giant Forest): Because of winter flood damage to the trail, a 50-foot section is no longer paved. Repaving is underway. This level, ⅔-mile loop trail circles a meadow surrounded by giant sequoias. Trailside exhibits interpret the natural history of the grove. The portion of the trail from Giant Forest Museum to the accessible parking area is packed soil with a slight incline and cross-slope. The remaining loop portion is paved and wooden boardwalk and is nearly flat.
Zumwalt Meadow Trail (Cedar Grove): A portion of this trail is accessible to wheelchairs**. It begins on a hard-packed gravel surface, and continues along a boardwalk to the edge of Zumwalt Meadow. Heavy rains and river flooding have damaged portions of this trail. From the parking area, over the bridge, and to the boardwalk, the river washed away hardened surfaces, so some spots are now more difficult for wheelchair travel. The boardwalk remains passable, but the trail beyond the boardwalk is no longer accessible. Additionally, the Zumwalt Trail is partially closed due to construction. The riverside section of the trail will remain open for travel through the meadow, but may close intermittently.

Roaring River Falls (Cedar Grove)
A very short, shady walk to a powerful waterfall rushing through a granite chute. 3 miles (4.8 km) east of the Village road. Paved, relatively accessible. In 2017, the paving was improved and some grades reduced.
Muir Rock Trail (Cedar Grove): This short trail leads to the Kings River and Muir Rock, a large granite boulder at the river's edge named in honor of famed naturalist John Muir. The entire trail has a hard-packed dirt surface.
Some trails are paved but have running or cross slopes that are slightly steeper, but may be accessible depending on individual abilities:
Beetle Rock Trail, Crescent Meadow Trail, and Tharp's Log Trail (Giant Forest)
Grant Tree Trail and Panoramic Point Trail (Grant Grove)
If you do not have a placard for accessible parking, in summer, you can ride the free shuttle to popular features and facilities, including the accessible Sherman Tree Trail.
Many park features are easily visible from the highway and can be enjoyed while driving. Some of these include:
Historic Park Entrance Sign at Foothills:

This historic sign welcomes visitors to Sequoia National Park just beyond the southern entrance station.
Tunnel Rock:

This granite boulder created a tunnel over the Generals Highway until the road was rerouted. For those who want to take a closer look, accessible parking and a paved path provide easy access to the old roadway beneath Tunnel Rock.
Amphitheater Point and Eleven Range overlooks:

These turnouts offer views that range from the foothills to alpine peaks. Wayside exhibits describe the natural history at each location.
Giant Forest Sequoia Grove:

The Generals Highway passes through one of the largest−and finest−sequoia groves on earth.
Moro Rock / Crescent Meadow Road:

This narrow road winds through the Giant Forest Sequoia Grove. Along the way, drivers pass the Buttress Tree, Parker Group, and Tunnel Log. The road may be closed in winter or when the park shuttle is in operation. Park at Giant Forest Museum and ride the free shuttle to see these features.
Halstead Meadow:

A bridge along the highway crosses this recently restored meadow. Black bears can sometimes be seen grazing here.
Kings Canyon and Redwood overlooks:

These overlooks offer views deep into the parks' wilderness, and across the top of a large sequoia grove. Wayside exhibits describe the scenes.
Grant Grove Sequoia Grove:

Another spectacular sequoia forest provides a chance to see these trees without leaving your vehicle.
Hwy 180 to Cedar Grove:

This dramatic highway leads through national forest to the bottom of a deep granite-walled canyon. Wayside exhibits at Junction View and Canyon View describe how glaciers carved the surrounding granite cliffs.
Touring on horseback is offered at Cedar Grove and Grant Grove in summer. Hourly rides, spot trips, and guided trips are available. Check the park website or newspaper for seasonal availability, costs, and contact information.
For people with vision impairments and people who are Deaf or hard of hearing
Assistive listening devices and open captioning are available for films shown in park visitor center auditoriums, and most of these films are also audio-described. Ask for receivers and earphones at Kings Canyon Visitor Center (Grant Grove) and Lodgepole Visitor Center. You may also bring your own earphones to use with our receivers. Assistive listening devices are available at most campground amphitheaters for use during evening programs.

We will provide American Sign Language interpretation on request for our scheduled programs at no cost to the requestor. Please submit requests at least seven days in advance, preferably two weeks, in order to give adequate time to schedule an interpreter. To submit a request, please call 559-565-3729, or send us an email.
Cell phone service is not available in most areas of these parks. Depending on your carrier, you may be able to get service in Grant Grove and at Foothills Visitor Center. Wireless internet access is available at Foothills Visitor Center, Grant Grove Visitor Center, and in the lobby of Wuksachi Lodge.
Braille transcriptions of the park map and guide are available for loan from park visitor centers.
Service Animals
Service animals are allowed in National Parks, including facilities, trails, and campgrounds.


Last updated: January 7, 2020