Accessibility
Learn and Explore
We are committed to a continuing effort to improve the accessibility of Sequoia and Kings Canyon's trails and facilities so they can be enjoyed by all visitors. If you have questions or suggestions about accessibility, please email us at SEKI_Information@nps.gov, or call us at (559) 565-3341.

We have published an Accessibility Guide that highlights accessible features by area, and by user group. Information contained in the Accessibility Guide is available on this webpage, or in print in standard and large-print formats.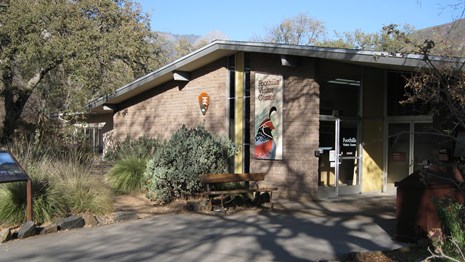 Foothills Area Accessibility
This area features accessible picnic areas, cultural sites, and wildflower viewing.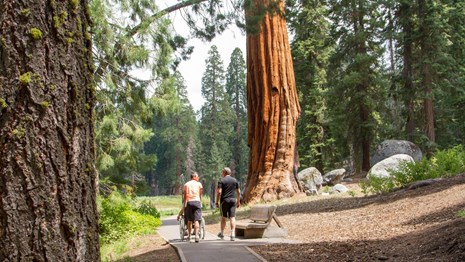 Giant Forest & Lodgepole Accessibility
Here, you'll find several accessible trails and accessible park transportation.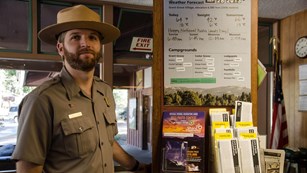 Grant Grove Area Accessibility
From camping, to trails and scenic overlooks, Grant Grove offers many accessible features.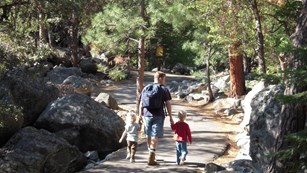 Cedar Grove Area Accessibility
Travel the paved Roaring River Falls trail, or stay in accessible campsites suitable for family or large groups.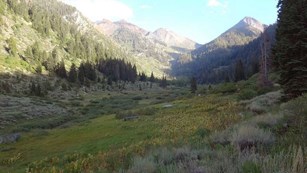 Mineral King Area Accessibility
Enjoy amazing views in this remote and historically rich area. Some accessible camping is available here.
Parks App for Mobile Devices
The NPS Sequoia & Kings Canyon App is fully accessible and includes alternative text for images, combined with your device's built-in accessibility features. Download it for free before you arrive.
Transportation
Free shuttle buses operating in the Giant Forest and Lodgepole areas in summer and during holiday periods are wheelchair accessible. Some buses kneel and others have mechanical lifts. For shuttle schedules, visit our shuttle web page.
A shuttle also runs between Visalia and the Giant Forest in summer; reservations are required. For more information, visit www.sequoiashuttle.com or call 877-BUS-HIKE (877-287-4453).

Touring on horseback is offered at Cedar Grove and Grant Grove in summer. Hourly rides, spot trips, and guided trips are available. Check our Horseback Riding webpage for seasonal availability, costs, and contact information.
Accessible Parking Placards
Temporary accessible-parking placards are available for people who have limited mobility but do not have a DMV-issued, accessible-parking placard or driver's license. Ask at visitor centers for a placard. No documentation is required.

If you do not have a placard for accessible parking, in summer, you can ride the free shuttle to popular features and facilities, including the accessible Sherman Tree Trail.
Wheelchair Loan
Borrow a manual wheelchair at Giant Forest Museum, Lodgepole Visitor Center, or Kings Canyon Visitor Center. Wheelchairs are free and available on a first-come, first-served basis. Be prepared to provide your address and phone number. Wheelchairs may be used anywhere in the parks, but must be returned to the visitor center where they were borrowed by closing time on the same day.
Obtaining an Access Pass
The free Access Pass is available for all U.S. citizens or permanent residents with permanent disabilities. This pass covers admission at more than 2,000 federal recreation sites, including national parks, wildlife refuges, national forests, BLM sites, and more. The Access Pass also provides a discount on some federal facilities and services fees, such as camping. The pass generally does not apply to special recreation permit fees or fees at businesses in the parks, including Crystal Cave tickets. To get your pass, ask at any park entrance station or purchase one online. You'll be asked to sign a form confirming your eligibility. Medical documentation is not required.
Contact Information
TTY Federal Relay Service: (800) 877-8339
Voice Carry Over (VCO): (877) 877-6280
Speech-to-Speech: (877) 877-8982
(800) 845-6136 Spanish
(866) 893-8340 TeleBraille


Last updated: November 19, 2020