Sentinel Campground
Sentinel Campground is on Highway 180, adjacent to Cedar Grove Visitor Center and ¼ mile (.4 km) from Cedar Grove Village. The campground is in the canyon along the South Fork of the Kings River under open stands of evergreen trees at 4,600 ft (1,402 m) elevation.
Campground Information
Sentinel Campground has 82 sites open to tents, RVs, and trailers from early spring through late fall. The camping fee is $22 per night. Site reservations are available online at Recreation.gov or by phone at 877-444-6777 (TDD 877-833-6777). For customer service, call 888-448-1474.

Sites 10, 11, 12, and 14 are accessible. Each includes accessible parking, an extended picnic table, a raised fire ring, a hard-packed surface and tent site, and a paved route to an accessible restroom via the slightly-sloped campground road. Site 14 has parking for an RV.
RV Information
The length of RV or trailer that can be accommodated varies by site. The campground has no hookups or dump stations. The nearest dump station (available in the summer only) is at Princess Campground along Highway 180 at the Hume Lake junction in Sequoia National Forest. Generators are allowed between 9:00 am to 9:00 pm.
Amenities or Services
Flush toilets

Ranger programs from July to early September
A pay phone, restaurant, showers, and laundry facilities are available in the Cedar Grove Village, and horseback riding is offered (for a fee) nearby.
Other Information
You are required to store food properly in order to protect bears. Each campsite has a large food storage locker (47"W x 33"D x 28"H) that is resistant to bears when properly latched. Learn more about bears and food storage in the parks.
Pets are permitted within the campground, but must be leashed at all times. Learn more about pet regulations.
A map of the campground is shown below. Download the Sentinel campground map for a larger, printable image.
For more information, call: (559) 565-3341.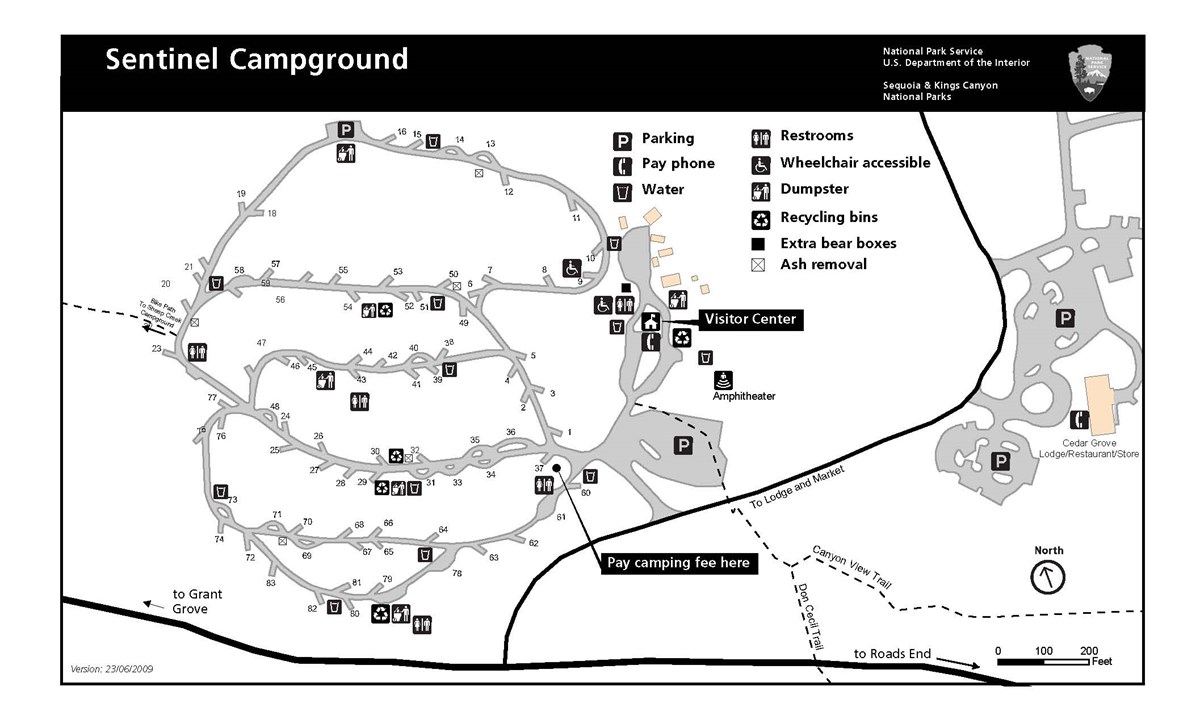 Last updated: September 2, 2020