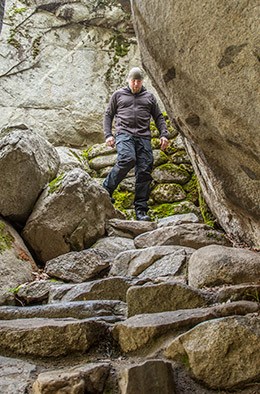 You are responsible for your safety.
Natural areas present hazards. Cold temperatures, icy or uneven ground, wild animals, biting insects, and changing weather all pose dangers. Rocks roll, trees topple, and limbs drop without warning. People create other hazards with campfires, traffic, snowplay, and poor decisions.
The National Park Service works to reduce risks, but your safety is in your own hands. Keep alert. Read warnings and ask a ranger for advice.
Falling Objects
Branches and entire trees may fall at any time. A pine cone falling from a great height can be dangerous. Rocks may tumble from above you. Watch for potential hazards while you are out exploring the parks.
Trees and branches have been falling frequently, possibly due to the drought and beetle damage.Branches may fall whether or not they appear dead, even when there is no wind, so avoidance is the safest response.
Don't linger under dead, cracked, or broken branches.
Watch/listen for falling trees! Run if you hear cracks or snapping from tree roots, trunks, or branches (know that sometimes there is no sound, and very little time to react).
Report falling branches or trees to a ranger.
Dangerous Rivers!
Most park deaths result from drowning in rivers. Many drowning victims were playing near rivers and unexpectedly fell in. Rivers present a far greater danger than lakes or pools. Surfaces may look calm, but strong currents often run below. Be cautious walking near rivers as rocks can be smooth and slippery or shift unexpectedly. Getting out of a cold, swift river is often impossible.
Air Quality
Ozone and other air pollutants are an increasing problem in the parks. Each day, the park issues an air-quality index forecast available in visitor centers. Ozone levels are highest from May-October and peak in late afternoons, and sometimes reach levels rated as unhealthy by state or federal standards and can affect respiratory systems. If the air quality index is poor, consider restricting your activities.
Carbon Monoxide
This odorless, colorless gas can be fatal. Never burn charcoal in closed spaces such as a tent or RV.
Plague, Hantavirus, and Other Diseases
Fleas on rodents can carry plague and deer-mouse feces can carry hantavirus. Avoid walking, camping, or allowing pets near burrows or other rodent activity. Do not feed or touch any wild animals. Tell a ranger if you see a dead rodent. For more information, visit the Center for Disease Control web page.
Biting Insects and Ticks
Ticks are common in foothill and Kings Canyon grasses; check yourself after a walk. Tuck your pant legs into your socks when you walk in these areas to help you to spot them before they get to your skin. Their bite is painless, but a small percentage carry Lyme disease. Remove them carefully with tweezers; seek a doctor's advice.
Mosquitoes can carry West Nile virus and other diseases. Human illness is uncommon, but take steps to avoid mosquito bites. Effective repellents include DEET, IR3535, Picaridin, and oil of lemon eucalyptus (Para-menthane-diol); learn before you come about how to use them safely and effectively.
Locations and numbers of insects vary by season and year to year. Be prepared!
Giardia
This protozoan in lakes and streams causes intestinal upset. Iodine and other chemicals may not be as reliable as heat in killing bacteria and Giardia, bu can be effective if used properly. Boil drinking water from waterways for at least 3 minutes.