Service Animals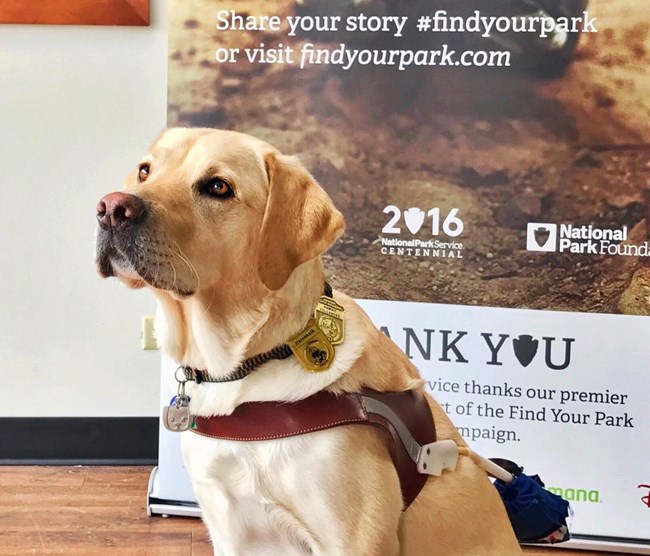 Service animals are welcome in Sequoia and Kings Canyon National Parks, including trails, facilities, and programs.
What is a service animal?
Under the Americans with Disabilities Act (ADA) regulations, a service animal is any dog that is individually trained to do work or perform tasks for the benefit of an individual with a disability, including a physical, sensory, psychiatric, intellectual, or other mental disability. Individually trained miniature horses may also be allowed. Other animals, such as cats or birds, are not considered service animals. Service animals must perform work or tasks directly related to the individual's disability. They do not include:
Emotional support, comfort, or companion animals

Animals used for the purpose of crime deterrence

Service animals in training
Requirements and Service Animal Safety
Service animals must be under control and on a leash, except when a leash interferes with the service animal's tasks. Park staff may ask individuals to remove service animals if the animals are out of control or are not housebroken.

Animal food can attract bears and must be kept in bear-proof storage containers.

Beware— taking a service animal into the parks may put you at increased risk for confrontation with bears, coyotes, and other wildlife. Dogs may trigger an aggressive response from wildlife, even deer. This can be harmful, or even deadly, to you, your service animal, and wildlife. While more likely in the backcountry, these encounters can happen in developed areas. Keep your service animal on a tight leash at all times. If camping with your service animal in the backcountry, please keep it in your tent at night.

Disease can be passed between dogs and wildlife. This includes canine distemper, parvovirus, rabies, and mange. To help prevent the spread of disease, keep animals close and under control, securely store pet food, and properly dispose of pet waste. Fecal matter should be placed in a trash receptacle, toilet, or pit toilet. If none of those are available (such as in the backcountry), bury waste in a hole dug at least 6 inches deep and 200 feet from water sources, campsites, or trails.

River, stream, and lake water in this parks may contain giardia, which can infect both humans and dogs. Treat water before drinking.
For more information on service animals, please go to www.ada.gov/service_animals_2010.htm.
Last updated: August 13, 2020