Information for People with Limited Mobility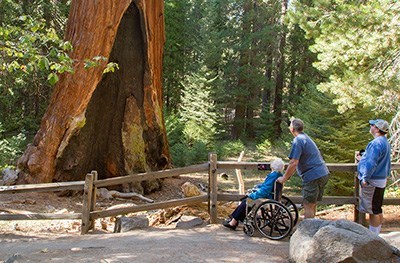 Accessible Parking
All striped and paved parking lots in Sequoia and Kings Canyon have at least one parking space that is designated accessible, including van parking with access aisles. Unmarked spaces are generally paved and even. Some, however, include slopes or limited space. Temporary accessible-parking placards are available for people who have limited mobility but do not have a DMV-issued, accessible-parking placard or driver's license. Ask at visitor centers for a placard. No documentation is required. In summer, parking at the Big Trees Trail and the General Sherman Tree accessible parking areas is only available with an accessible parking placard.
Borrow a Wheelchair
Borrow a manual wheelchair at Giant Forest Museum, Lodgepole Visitor Center, or Kings Canyon Visitor Center. Wheelchairs are free and available on a first-come, first-served basis. Be prepared to provide your address and phone number. Wheelchairs may be used anywhere in the parks, but must be returned to the visitor center where they were borrowed by closing time on the same day.
Sequoia Shuttle
In summers and during some winter holidays, free shuttles provide service to visitor centers, campgrounds, trails, and other points of interest throughout the Giant Forest and Lodgepole areas. The shuttle also offers service from Visalia and Three Rivers, California, with the park entrance fee included in the fare (reservations required). For reservations, visit https://www.sequoiashuttle.com/ or call (877) BUS-HIKE. All shuttles are wheelchair-accessible and drivers announce all stops. The shuttle schedule can be found at the website above, or in your park newspaper.
Lodging
Wuksachi Lodge in Sequoia National Park and John Muir Lodge in Kings Canyon National Park have rooms with roll-in showers, widened doors, grab bars in toilet stalls, raised toilet seats, low-density carpet, and peepholes at a lower height. Beds are between 24 and 29 inches in height, depending on room type. Lodge parking and common areas follow ADA standards. Learn more by calling (866) 807-3598.
Campgrounds
Campsites designated as accessible are available in most campgrounds. Each of these sites generally includes an extended picnic table, raised fire ring, raised grill, accessible parking space, level tent pad, food storage locker within reach, and stable and level paths to campground facilities. Some park campsites may not be designated as accessible, but may be suitable depending on your abilities. First-come, first-served accessible campsites are available for general use if unoccupied after 5:00 pm. Please contact a campground host or park ranger if an accessible site is improperly occupied before 5:00 pm while other sites remain available.

Trails
Park trails range from paved and accessible, to rugged and leading deep into wilderness. Get trail information online and at visitor centers, and check conditions before heading out. Trail conditions and accessibility can change quickly due to weather, falling trees, rockfall, erosion, flooding, snow, and more. Park crews work as quickly as possible to clear obstacles, but conditions may differ from descriptions, especially from fall through late spring.
Restaurants and Markets
Most dining opportunities are located at Lodgepole, Grant Grove Village, and Cedar Grove. Restaurants and markets in Sequoia and Kings Canyon are operated by Delaware North Company and generally follow ADA guidelines.
Picnicking
Picnic areas with spots that are designated as accessible include accessible parking, at least one extended picnic table, and accessible restrooms. Some also feature wheelchair-accessible barbecue grills. Not all picnic areas are accessible.
Visitor Centers
Foothills, Lodgepole, and Kings Canyon visitor centers, and Giant Forest Museum are wheelchair-accessible. However, the historic Cedar Grove Visitor Center building has barriers (uneven thresholds, narrow passages) that may impede the use of some mobility devices. Mineral King Ranger Station is only reachable by stairs.
Ranger Programs
Rangers offer a variety of programs, including visitor center talks, walks, evening programs, and special events. Many ranger walks are on short, paved paths, but some involve navigating rugged terrain. Evening programs are generally held in campground amphitheaters with bench seating and assistive listening devices available. Check at visitor centers or campground bulletin boards for program descriptions, times, and accessibility information.
Winter
Winter in Sequoia and Kings Canyon is beautiful, but can bring its own challenges. Check weather conditions before your trip. Although some years see very little snow, winter storms may cover the parks in snow and ice as late as Memorial Day. Some park roads close or have reduced access, including access to Kings Canyon and Mineral King. The Generals Highway and Highway 180 are regularly plowed, but tire chains are occasionally required. In severe weather conditions, the highway between Giant Forest and Grant Village may close. Two paved trails, the Big Trees Trail in Giant Forest and the Grant Tree Trail in Grant Grove, are both open in winter. Due to rapidly changing weather conditions, however, these trails may not always be accessible. Rangers offer free snowshoe walks from Giant Forest Museum and Kings Canyon Visitor Center, conditions permitting. Assistive snowshoes and poles for balance stabilization are available.
Amphitheaters
In the summer, check at visitor centers and campground bulletin boards for evening ranger program schedules. Some amphitheaters are within campgrounds, but programs are open to everyone. Some amphitheaters have parking and restrooms nearby. Seating consists of wooden benches on a slight to moderate slope. Assistive listening devices are available for programs.
Restrooms
Accessible restrooms with sinks and flush toilets are located at all major developed areas within the parks. Some picnic areas, campgrounds, and other more rustic locations have accessible vault toilets with sinks. Accessible restrooms have routes with a wide turning radius and grab bars. Sinks are at an approachable height with front wheelchair clearance and water faucets are operable with a closed fist. Utilities are generally within reach range.
Showers
Accessible pay showers are available at Lodgepole Market and Cedar Grove Village. Showers are open during market business hours.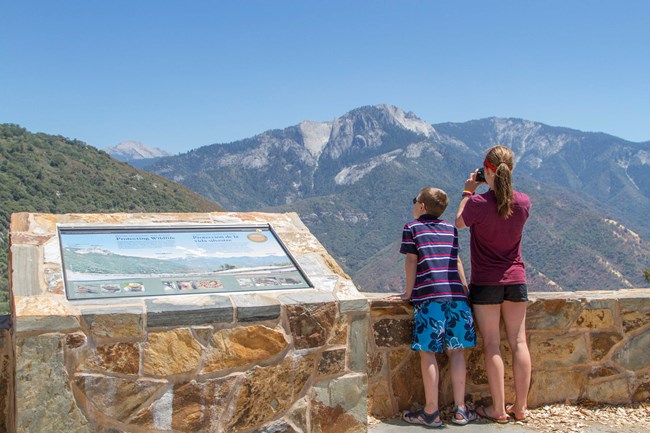 Viewpoints and Overlooks
Scenic viewpoints and pull-outs are located throughout Sequoia and Kings Canyon National Parks, primarily on the Generals Highway and Highway 180 between Grant Grove and Cedar Grove. Most do not have designated or striped parking, but are on flat asphalt. Many viewsheds are visible without exiting your vehicle.
Last updated: October 2, 2023