Beaches of Point Reyes
Woodward Fire-related Trail Closures: All beaches south of Limantour Road and north of Stewart Trail are closed until further notice due to the Woodward Fire.
Download a map indicating the area closed due to the Woodward Fire. (8,066 KB PDF)
---
A Stay at Home (also known as Shelter-In-Place) Order is in place for Marin County until further notice. Please help do your part to slow the spread of the coronavirus by staying close to home; if you do visit Point Reyes, please maintain at least six feet of physical distance. Individuals engaged in outdoor exercise, such as walking, hiking, running, or bicycling, are not required to wear a face covering, but should carry one with them and must wear a facial covering when interacting with others who are not members of their household in public and private spaces if they cannot practice physical distancing. Visit our Recreate Responsibly page for guidelines for responsible recreation in the outdoors at Point Reyes and other park lands during the COVID-19 Pandemic. Updates will be posted to our Current Conditions page and social media channels.
---
Point Reyes National Seashore contains approximately 130 kilometers (80 miles) of shoreline, much of which park visitors may safely explore. Some beaches—such as Palomarin and Sculptured Beaches—are good for tidepooling, while other beaches are covered by vast expanses of sand.
Getting to the Beaches
Visitors may drive almost right up to Drakes Beach, Limantour Beach, and the Great Beach (at the North and South Beach parking lots). The rest of the park's shoreline may only be accessed by trail or by boat. For driving directions to beaches or trailheads for beaches, visit our Directions to Park Destinations page.
Safety
The ocean water rarely exceeds 10°C (50°F), so those without wetsuits rarely stay in the water for long. Hypothermia, sneaker waves, and rip currents are just a few of the hazards of which visitors should be aware. Please visit our Safety Issues Associated with Beaches page.
Beach Closures
Beaches may be closed at various times of the year to better protect northern elephant seals and harbor seals during their pupping seasons, snowy plovers while they are nesting, or for visitor safety. Please visit our Current Conditions page to learn about any current beach closures.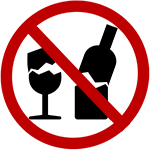 Rules and Regulations
While most beach-goers follow park rules and regulations and Leave No Trace principles, every now and then, park staff encounter someone who isn't taking only pictures and leaving only footprints. Some of the park regulations commonly violated by beach-goers include:
Glass: Possession of a glass container within fifteen meters (fifty feet) of any riverbank, lakeshore, or beach, or on the water, or in a vessel is prohibited. This restriction is necessary to reduce the amount of injurious trash in the park and for the protection of visitors who frequent these areas in bare feet.
Take only pictures; leave only footprints: Almost everything one finds at Point Reyes' beaches is protected by law, including shells, rocks, fossils, flowers, and artifacts.
Wildlife: Do not chase or feed the gulls (or any other birds) and keep your distance from seals and sea lions.
Drones: Launching, landing, or operating a remotely operated aircraft (aka "remotely piloted aircraft," "unmanned aircraft," or "drone") from or on lands and waters administered by the National Park Service within the boundaries of Point Reyes National Seashore is prohibited.
Metal-detectors: Metal-detectors are prohibited throughout the National Seashore.
Pets: Pets are permitted on certain sections of Kehoe, Limantour, and Point Reyes Beach (aka, Great Beach) and must be restrained by a 1.8-meter (6-foot) leash at all times. Visit our Pets page for more information.
Camping: Camping on beaches is prohibited, with the exception of some beaches on the west side of Tomales Bay. Visit our Backcountry Camping page for more information.
Wood fires: Within the National Seashore, visitors may have wood fires only on park beaches if a Beach Fire Permit has been obtained in advance. Visit our Beach Fires page for more information.
Fishing: Fishing is permitted along most park beaches, but not along Drakes Beach or the western end of Limantour Beach. Visit our Fishing page for more information.
Please visit our Park Regulations page to familiarize yourself with some of the other rules pertaining to visiting the park.
If you observe violations of any of the above regulations in Point Reyes National Seashore, please call park dispatch at 415-464-5170 or contact staff at the nearest Visitor Center as soon as possible. If you observe drone use in other National Park Service areas or if you find photographs or videos online or elsewhere that were illegally taken within National Park Service areas from drones, you can report the violation to the National Park Service tip line at 888-653-0009 or by email.
Although it is not a regulation, the following request is in line with Leave No Trace principles: if you build any driftwood structures during your visit, take them down before leaving the beach so that future visitors arriving at the beach might have the chance of feeling as if they are the first persons to set foot on the beach.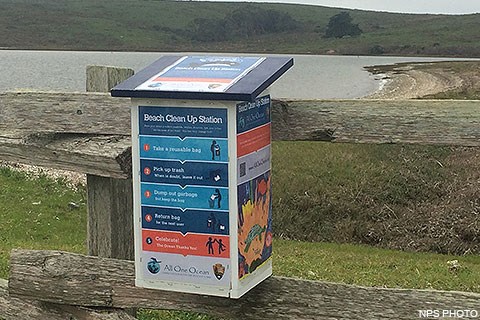 Help Keep Your Beaches Clean
The beaches of Point Reyes frequently are named as some of California's cleanest beaches. Please help protect marine life and keep your park's beaches clean by disposing of refuse in the garbage cans/dumpsters located at beach and trailhead parking lots. Or come out to help clean up the beaches on California Coastal Cleanup Day on the third Saturday of September.
We hope that your visit to these beaches is safe and enjoyable.
Descriptions of Beaches
Abbotts Lagoon Beach
A 2.5-kilometer (1.5-mile) walk through coastal scrub, across a bridge over a stream between two lagoons, and over sand dunes brings you to this ocean beach. The lagoons attract large numbers of migrating shorebirds in the fall, followed by the wintering ducks. Occasionally peregrine falcons are seen selecting their meals amongst these tasty morsels. The sand dunes backing the beach are home to the endangered snowy plover. The eggs and young of this ground-nesting bird are easily destroyed. Be especially careful in this area during their nesting season, June 1–September 15.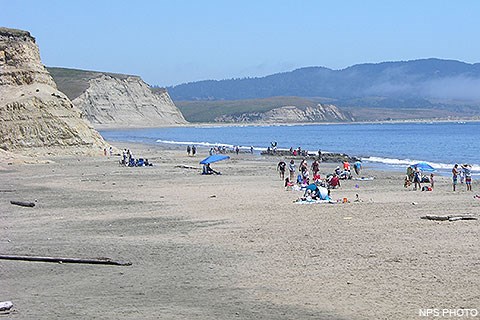 Drakes Beach
A wide stretch of beach backed by dramatic white sandstone cliffs makes this a very popular place. Drive-up access, a bookstore, and a visitor center add to its appeal. The sands of the Drakes Bay cliffs were deposited in a shallow sea 10–13 million years ago, compacted, then uplifted. Erosion has revealed the striations of this story in the cliff faces.
Heart's Desire Beach
Heart's Desire Beach is part of Tomales Bay State Park. It is a nice sheltered cove on Tomales Bay that is excellent for families with small children. The ocean water tends to be a little warmer at this beach.
Kehoe Beach
A 1-kilometer (0.6-mile) walk alongside a marsh and over a sand dune takes you to the northern end of the Great Beach, called Kehoe Beach. Once at the beach, turn left to explore a stream meandering its way into the Pacific Ocean. To the right, giant dunes make explorations fun. Follow the beach further north to see the dramatic juxtaposition of rocks. The first cliffs you see are the smooth Laird sandstone, which change abruptly to granite. A reverse fault displaced the sandstone against the granite upon which it was deposited, creating a continuous cliff made of very different rock types. Dogs are allowed on a 1.8-meter (6-foot) leash on this beach to the north of the trail. Dogs are not permitted south of the trailhead as this area is protected habitat for the endangered snow plover.
Kelham Beach
Kelham Beach is closed until further notice due to the

Woodward Fire.

A 7.7-kilometer (4.8-mile) trek from the Bear Valley trailhead brings hikers to an overlook above this quiet, secluded beach. The trail leading from the Coast Trail down to Kelham Beach was repaired during the summer of 2009 and is now open. The beach access trail was washed out a number of years ago during a winter storm. Visitors should use caution when visiting this beach. High tides frequently cover much of the beach.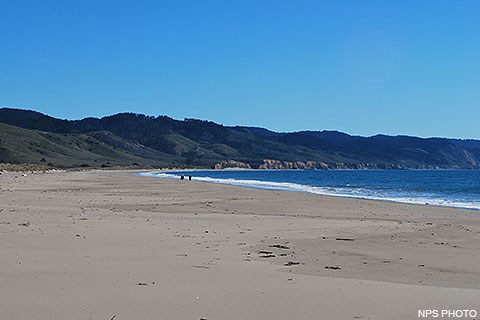 Limantour Beach
Limantour Road is closed to all access (vehicular, bicycle, and pedestrian) until further notice due to the
Woodward Fire
. Limantour Beach southeast of the main parking lot is closed until further notice.
A long, narrow spit of sand, bound between Drakes Bay and an estuary, is a bountiful wildlife area. Scores of shorebirds feed in the wetlands and along the beaches during the fall. Ducks abound in winter at old, freshwater stock ponds created during the peninsula's ranching era. Harbor seals are often seen bobbing offshore in the gentle waves or basking in the sun's warmth. Mother gray whales guide their calves along the shoreline during the spring. Dogs are allowed on a 1.8-meter (6-foot) leash on the southeast end of this beach. Dogs are not permitted to the northwest as this area is protected habitat for harbor seals and the endangered snowy plover.
Marshall Beach
Marshall Beach is on the Tomales Bay side of Point Reyes National Seashore, south of Tomales Point. The parking area is a 3-kilometer (2-mile) drive on a dirt road. It is then a 1.9-kilometer (1.2-mile) hike from the parking area to the beach.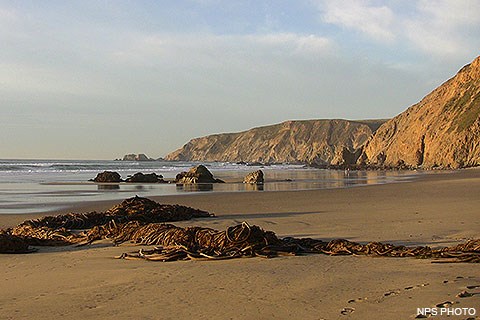 McClures Beach
A short, steep, downhill hike leads visitors to this small but exciting cove with intense surf. The rocks at either end of the beach add to the drama and danger. It is tempting to venture around the southern corner to explore the adjacent beach, but use caution! This area can only be safely accessed during the outgoing low tide.
Palomarin Beach
Palomarin Beach is at the south end of Point Reyes, between Bolinas Point and Wildcat Beach. This trail is a strenuous walk down the cliff. The beach is good for tidepooling at minus tides.
Sculptured Beach
Sculptured Beach is closed until further notice due to the

Woodward Fire.

Sculptured Beach is located two miles south of Limantour Beach. Winter rains feed two creeks which stream across the sand into the ocean creating a wet barrier for beach walkers wishing to keep their feet dry. Once at Sculptured Beach, look for its namesake rocks lying on the shoreline. The sculptured rocks are exposed at low tide, along with the organisms that cling to them, creating an exciting area to go tidepooling.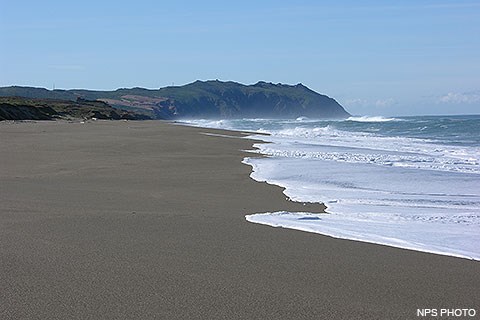 Point Reyes Beach
Point Reyes Beach—also known as the Great Beach or Ten-mile Beach—is an incredible expanse of over 17 kilometers (11 miles) of undeveloped ocean beach visitors are welcome to explore. If you are looking for the drama of heavy surf this is the place to be. Drive-up access is located at the North Beach or South Beach parking lots. Dogs are allowed on a 1.8-meter (6-foot) leash on this beach. Dogs are not permitted north of the North Beach entrance as this area is protected habitat for the endangered snowy plover. And during the winter when elephant seals are present, both people and dogs are not permitted too far south of the South Beach access. Please be very cautious near the water as sneaker waves have been known to drag unwitting victims out to sea.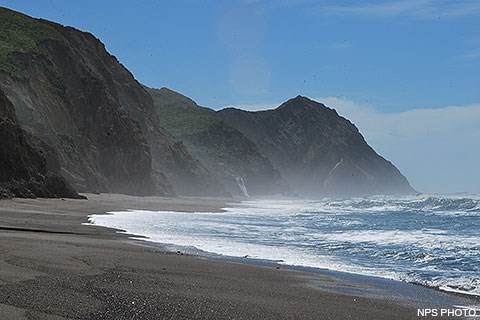 Wildcat Beach
Wildcat Beach is a 4-kilometer-long (2.5-mile) beach deep within the Phillip Burton Wilderness in the southern part of the national seashore. The only safe location to access Wildcat Beach is at Wildcat Campground, which is at least 8.8 kilometers (5.5 miles) from the nearest trailhead. The shortest route to Wildcat Campground is along the Coast Trail from the Palomarin Trailhead in the southern part of Point Reyes National Seashore near Bolinas. Visitors may also ride their bicycles 10.7 kilometers (6.7 miles) from Five Brooks along the Stewart Trail to get to Wildcat Campground. A mile south of Wildcat Campground is Alamere Falls.


Last updated: September 10, 2020