Water Quality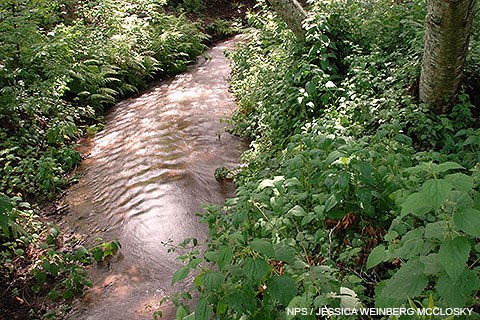 Water quality affects people's enjoyment of Point Reyes National Seashore's resources, and plays a direct role in the health of aquatic habitats. Water quality is a key indicator of the condition of aquatic resources and overall ecosystem health. Freshwater quality directly impacts marine water quality, human recreation and enjoyment, riparian habitat and wetland health, and nearly all aquatic and terrestrial species. It also affects the plants and animals that depend on these habitats, including threatened and endangered species like California freshwater shrimp, coho salmon, steelhead trout, and the California red-legged frog, which need high-quality freshwater.
In 2006, the National Park Service's Inventory and Monitoring Program began monitoring freshwater quality year-round under a long-term monitoring plan developed for the Golden Gate National Recreation Area, John Muir National Historic Site, Muir Woods National Monument, Pinnacles National Park, and Point Reyes National Seashore. Park staff measure basic parameters (such as temperature, pH, dissolved oxygen, and conductivity) on-site, collect water samples to measure turbidity, nutrients, and bacteria in the lab. Long-term water quality monitoring helps to document stream conditions, create a baseline dataset that can be used to look at changes over time, assess the effects of contamination or erosion, and provide direct feedback to guide management actions. In time, we will be able to analyze freshwater quality datasets in four of the network park units in order to determine range, variability, and trends. At present, we compare our observations with federal and state water quality objectives and publish these results on a biannual basis.
Learn more...
San Francisco Bay Area Inventory & Monitoring Network: Water Quality Monitoring
Pacific Coast Science and Learning Center Research Project Summaries
From 2006 to 2009, Pacific Coast Science and Learning Center (PCSLC) communication interns assisted scientists conducting research through the PCSLC and the San Francisco Bay Area Inventory & Monitoring Network to produce a series of Resource Project Summaries, two of which were about water quality. These two-page summaries provide information about the questions that the researchers hoped to answer, details about the project and methods, and the results of the research projects in a way that is easy to understand.


Last updated: July 16, 2020