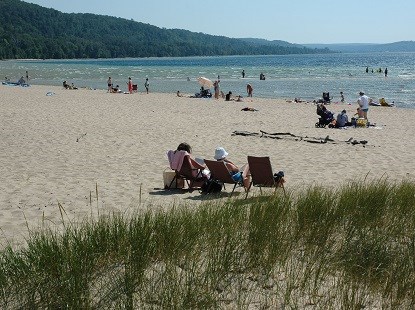 Swimming and Wading
The clean and clear waters of Lake Superior are tempting, though the water is typically cold for even the hardiest swimmers.
There are no lifeguarded beaches at Pictured Rocks National Lakeshore or its surrounding communities.
Rip currents
can and do occur. Rip currents do not always appear in the same spot every time; they can change position. Please use extreme caution if you choose to venture into Lake Superior waters.
Caution: Do not jump off rocks or cliffs into the water! The sandstone cliff edges are fragile and eroding. They may give way at any time. What you can't see can hurt you! The water depth can be difficult to predict and there's a good chance of rocks or logs in the water. Impact with the water can cause injury, and injury can lead to drowning. Hitting a solid surface under water is often deadly. If you want to go in the water, walk in from the beaches.
Please help keep our beaches clean.