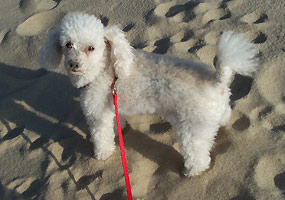 "Woof!"
"Woof, woof, bark!"
"Sniff, sniff, squat."
"Bark, sniff, woof!"
Translations:
1. "YES!" in response to the question, "Are dogs allowed in the park?"
Pets are permitted along roads and in designated developed areas such as Munising Falls and Miners Castle. While they are allowed in the park, only certified help animals are allowed in park buildings.
2. "Please keep me safe!"
A reminder from your canine companion to keep it in control and on a leash at all times during your visit.
Pets must be on a 6-foot leash at all times, their owners must be holding the other end. It's for your pet's protection!
3. "I can't flush!"
Please be considerate of other visitors and clean up after your pet.
4. "Oooh! New people to meet!"
Your pet might want to meet others, but please remember that some people may be nervous around dogs.
Pets are permitted at
drive-in campgrounds
. Keep pet bowls in your vehicle when not in use, and clean up any spilled food. Pet food can attract bears and other wildlife into your camp.
Pets are
not
permitted in the park's hiking trails,
backcountry
and backcountry campgrounds, and in the forests and fields because they may become lost; be injured by porcupines or other wildlife; intimidate other visitors; harass, injure, or kill wildlife; or disturb other hikers and campers.
Though pets are permitted on personal or rental boats on Lake Superior, they are not permitted on lakeshore beaches in the backcountry. This includes - but is not limited to - Mosquito and Chapel Beaches.