Your Safety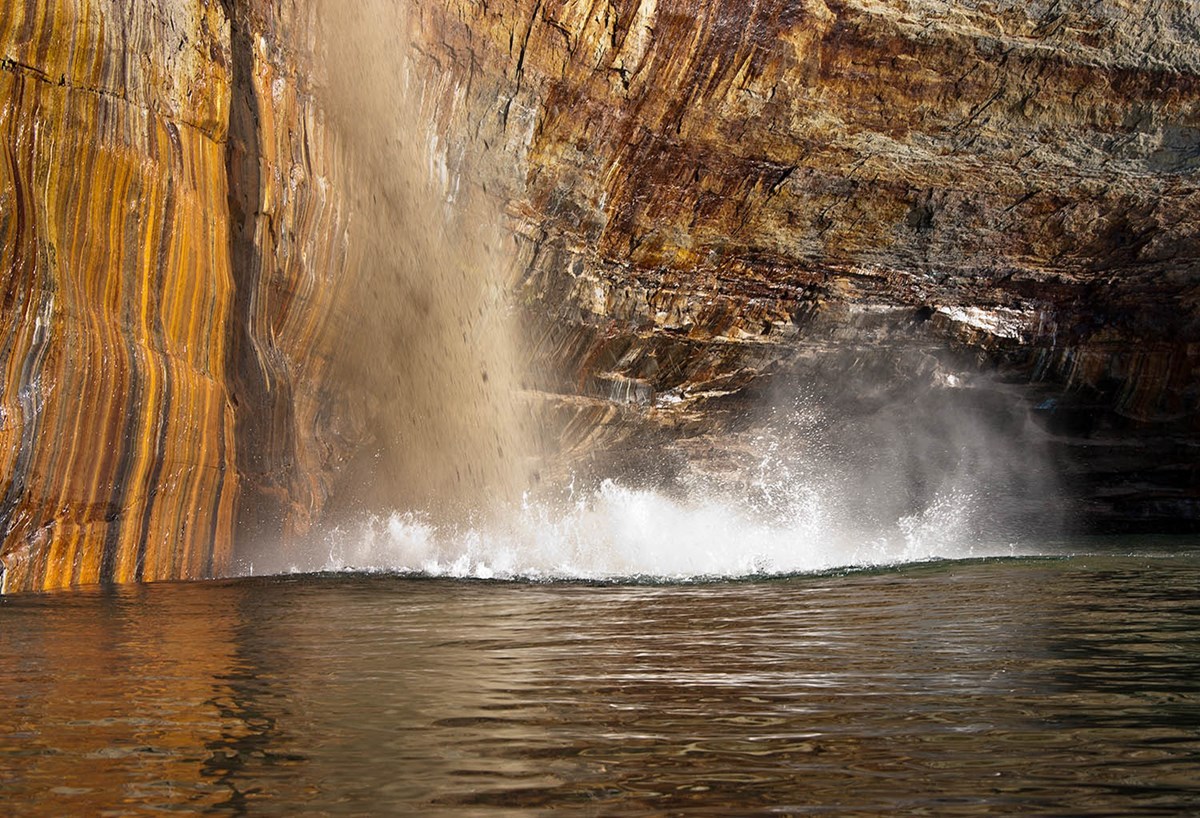 When you visit the lakeshore come prepared for a variety of weather, terrain, and unexpected situations. Conditions can change quickly!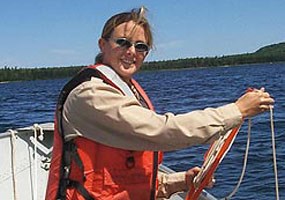 The Pictured Rocks cliffs are spectacular but can be dangerous to the careless hiker. Fifteen miles of the North Country Trail are atop 50-200 foot high cliffs. Cliff tops are covered with loose sand and gravel. Unsupported overhangs of soft sandstone are common. Rockfalls along the cliffs happen periodically.
For your safety, stay away from the cliff edge.
Boating
and
sea kayaking
are great ways to see the Pictured Rocks, but can be extremely dangerous due to rapidly changing weather and lake conditions. Only experienced boaters with appropriate skills and equipment should go out on Lake Superior. Take care on the park's inland lakes as well.
The
weather
near Lake Superior is unpredictable. Summers are often warm but be prepared for cool, rainy, windy weather. Hypothermia can occur at any time; know the symptoms. Use a layered clothing system.
Cold related emergencies
Heat related emergencies

MORE SAFETY ISSUES

* Swimmers should be aware of rip currents.

* Sand is unstable and may collapse. Do not build sand tunnels. Observe closure areas around sand dunes where posted.
* Do not jump off rocks or cliffs into the water!
It is illegal within the national lakeshore to jump off any part of cliffs or rocks higher than 15 feet above the lake level.
Climbing up on Miners Castle or Chapel Rock from the water is prohibited.
*
Biting insects
such as black flies, mosquitoes, and stable flies can be a nuisance between late May and early September. Long pants and shirts and
insect
repellent are recommended.

* Poison ivy exists in certain parts of the park, especially in drier sandy soils near the shore and throughout the sand dunes. Stay on the trail!

* Be aware of wild parsnip in and around the park.
Wild parsnip is an invasive, non-native plant that can cause serious chemical burns if the sap comes into contact with skin in the presence of sunlight. Chemical burns and blistering can appear up to 48 hours after contact. Discoloration might last as long as 6 months. The toxic reaction can take place any time of the year, but it is most potent when the plant is flowering. Wild parsnip is a biennial related to carrots, parsley, celery, and dill. It resembles Queen Anne's Lace, but with pale yellow flowers instead of white.
* Be conservative with your trip itinerary so you can safely reach your next campsite. Always let someone know when you will return, whether for an extended
backcountry
trip or a
day hike
.
*
Bears
and other wildlife may be encountered in the backcountry. Maintain a respectful distance while observing wildlife. Keep a clean camp and exercise caution.
* The lakeshore is closed to
hunting
April 1 through Labor Day, but is open to hunting the rest of the year during small and large game seasons. A Michigan hunting license is required; state and federal regulations apply. Wear "hunter orange" during hunting seasons.
* Do not count on your cell phone. Many areas of Pictured Rocks National Lakeshore do
not
have cellular coverage.
For more information on planning a safe outdoor trip, check out the
National Park Service Health and Safety page!
Important Warning - Falling Trees and Branches!
Be alert! Look up! Beech Bark Disease has spread throughout the national lakeshore, resulting in many dead and dying beech trees. Be aware of these trees and the potential for falling branches and trees.

This disease is initiated by a non-native insect accidentally introduced into the United States. Secondary attack by both native and non-native fungi further stresses American beech trees and causes an unusually large number of weakened and dead beech trees. The insect and fungus pose no direct threat to humans. There is no practical control method in large natural forests.

The National Park Service is making every effort to identify and remove dying and dead trees from developed areas as quickly as possible. However, all park visitors - particularly hikers and overnight backcountry campers - should be alert for trees that are weakened, have large dead limbs or are completely dead, especially in windy conditions.


Last updated: September 12, 2022