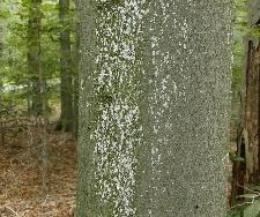 The American beech, a dominant species in the upland forests of Pictured Rocks National Lakeshore, is seriously threatened by Beech Bark Disease (BBD). This tree disease originated in Europe and was accidentally introduced to Nova Scotia around 1890, most likely from infected European beech brought for a horticultural exhibit. It has been spreading slowly through the eastern United States ever since.

Beech bark disease was first detected in Michigan in 1990 and discovered at Pictured Rocks in 2001. Advanced primarily by wind, BBD has moved from east to west through the national lakeshore. Biologists estimate that 80 to 90 percent of the park's mature beech trees will not survive.

Beech bark disease is the result of a complex interaction between three non-native pests (a tiny scale insect and two species of Nectria fungus) and a native Nectria fungus. The beech scale insect wounds the tree by piercing the bark with sharp mouth parts and sucking out the sap. Nectria fungus is then able to enter and infect the tree through these wounds. Once infected, most mature beech trees weaken and die slowly over the span of several years. Older and larger trees are more susceptible to BBD than younger ones.

Infected trees can be recognized by obvious fuzzy white "cotton ball" bumps or other white patches on the bark. The white color is caused by waxy secretions from the scale insects. Other signs include dark cankers on the bark, loss of leaves, broken branches, and discolored foliage. Healthy beech trees have smooth grey bark and dark green shiny leaves. Beech bark on older trees is often covered with patches of lichen and/or moss, which are harmless and should not be mistaken for BBD.